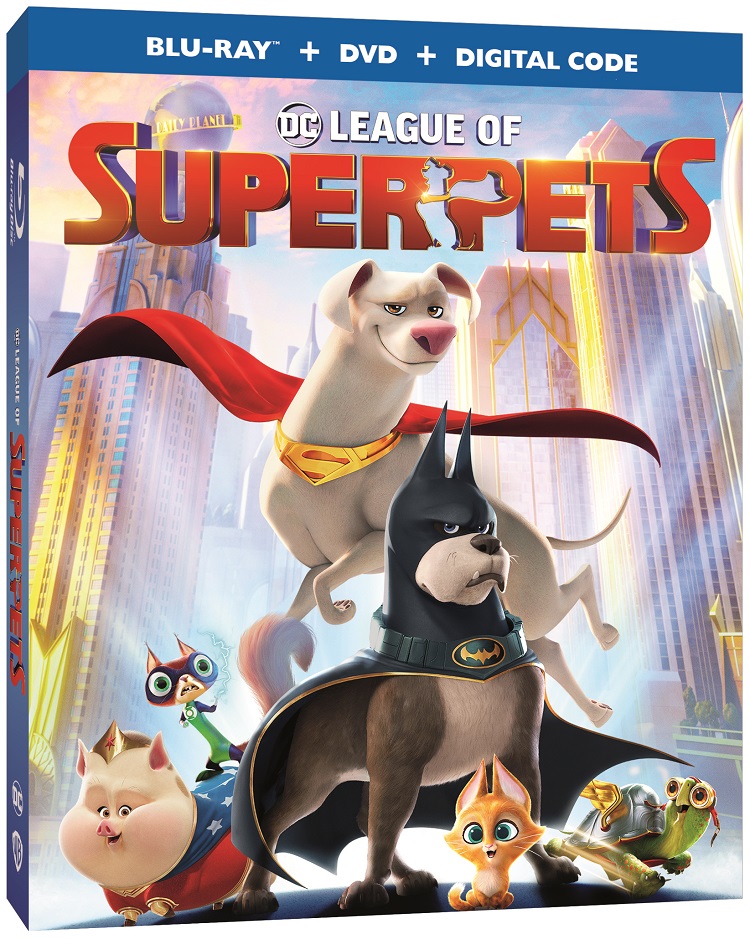 Usually known for being much darker and more adult than its cinematic competitor Marvel, DC films will, on the very rare occasion, side-step for something that is light and silly. It's typically in the animated format, which was proven several years ago with The LEGO Batman Movie and Teen Titans Go! To the Movies. The studio does it again with DC League of Super-Pets, which imagines a world in which your favorite DC characters have their own animals. And not only do your favorite superheroes have their own pets; those pets even have their own superpowers and fight crime, too.
Much like The LEGO Batman Movie, DC League of Super-Pets doesn't take itself too seriously and takes jabs at the popularity of other characters.  Of course, it mirrors the same sense of humor due to being written by Jared Stern and John Whittington, who also brought us The LEGO Batman Movie. When Superman (John Krasinski) gives his dog Krypto (Dwayne Johnson) a "squishy Bruce" chew toy, Batman (Keanu Reeves) demands that it "better be licensed." Its self-awareness can be a little overwhelming, but the movie is a charming addition to the endless catalog of DC films being released. Plus, as long as you have some sense of awareness of the main human characters, you'll find something to enjoy here.
The movie starts with a brief glimpse at the origin of Superman, which most people already know. When his home planet of Krypton is collapsing, Kal-El's parents Jor-El (Alfred Molina) and Lara (Lena Heady) place their one and only son into a space pod to be sent to a place where it will be safe. The twist here is the family puppy Krypto decides he wants to not leave his human companion alone and joins Kal-El. The movie then shows what life is like with a pet and how they can be a bit intrusive, but, obviously, this one throws in the comic book twist.
Stern pulls double duty as co-writer and as director for DC League of Super-Pets, making the film a light take on the superhero genre. The animation is solid, although nothing too groundbreaking. There's a scene in which Krypto goes into an adoption center with Superman – er, Clark Kent – and there's an array of other animals that one can kind of tell will go to other superheroes that appear throughout. There's Ace (Kevin Hart), a boxer with a troubled upbringing. PB (Vanessa Bayer) is a joyous pot-bellied pig. Merton McSnurtle (Natasha Lyonne) is a blind turtle who loves her leafy greens. It's unexpected and humorous when the turtle suddenly drops some rather colorful language, which gets censored. That's a bold move for a kids' movie, but one that's not too out of bounds.
One of the shelter animals is an evil, hairless guinea pig named Lulu (hilariously played by Kate McKinnon), who plans on world domination. If you're familiar with the DC Universe, you'll most likely easily figure out whose pet this is. When Lulu gets a hold of orange Kryptonite, she assumes that only she will be able to obtain superpowers. What she doesn't know is that the other shelter animals also get their own super strength. After the other animals obtain their own powers, they later partner with other members of the Justice League to fight off both Lulu and Lex Luthor from taking over the world.
Johnson is charming as usual as the lovable Krypto, who not only tries to save the day at every opportune moment but also tries to interject when his owner tries to bring someone else into his life. When Superman meets the lovely Lois Lane (Olivia Wilde), Krypto does what all dogs do and tries to make it to where Lois leaves. But, as comic book lore tells us, we know that doesn't happen.
There aren't any major risks taken in DC League of Super-Pets, nor should there be. The reuniting of Hart and Johnson in animated form is charming and fun to watch, and when the animals meet their future human owners, the film becomes an energetic blast. Reeves' interpretation of Batman is a perfect take, and Krasinski is enjoyable as Superman. The rest of the cast includes Jemaine Clement portraying Aquaman, Daveed Diggs voicing Cyborg, John Early as The Flash, Jameela Jamil as Wonder Woman, and Dascha Polanco as the female version of Green Lantern. All are good in their respective roles, but it's Reeves who really steals the show.
The film may take a few views to catch all of the in-jokes that are littered throughout. Thankfully, Stern and Whittington make it light and rewatchable for both kids and adults to catch all the humor that is in the film.
The Blu-ray for DC League of Super-Pets comes with a 1080p High Definition presentation and a Dolby Atmos-TrueHD track.  It looks and sounds nice when watching it from home, and I was pleasantly surprised by the soundtrack that contained songs from Queen and Sturgill Simpson coming out of my speakers. The special features are somewhat limited but are fun to get some more behind-the-scenes looks at the film. They include:
How to Draw Krypto
Behind the Super Voices
Super-Pets Animation 101
The World of Super-Pets
Find the Easter Eggs
Deleted Scenes
DC League of Super-Pets is a fun time for comic book fans of all ages, and can also serve as a good introduction for the young ones who have yet to be exposed to the DC Universe. It's light-hearted fun and not too crass or crude. I certainly recommend for a good family movie night.