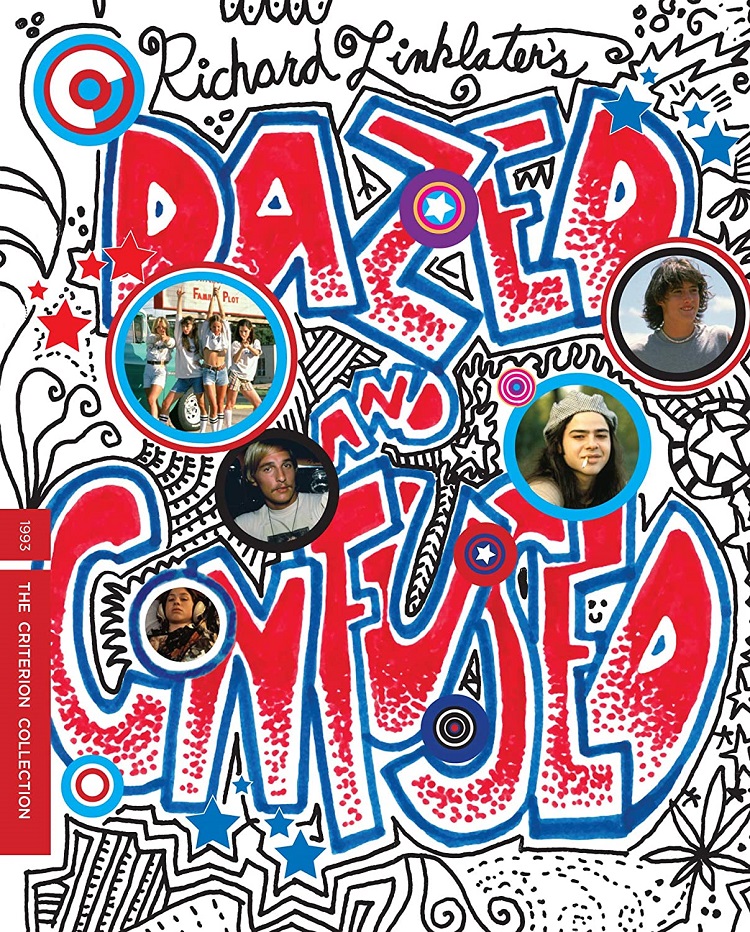 Set on the last day of school on May 28, 1976 in Austin, Texas, writer/director Richard Linklater's Dazed and Confused is an authentic, evocative slice of life. It will be recognizable to many who grew up during that era and familiar to those who didn't. Similar to George Lucas' American Graffiti, which focused on a group of young people one summer night in Modesto, CA circa 1962, Dazed and Confused is a coming-of-age story for a number of kids dealing with the expectations life has thrust upon them after completing another year of school.
Once the final bell rings, everyone moves up a level, and upper classmen have a hazing tradition for the incoming freshmen. Girls are humiliated, getting doused with condiments and proposing to seniors. Boys are hounded as seniors, including the returning O'Bannion (Ben Affleck), look to spank them with custom-made paddles. The more the freshmen run, the worse it will be when they get caught. Once hazed, they become accepted for the most part and join the community.
The night is supposed to culminate in a raging house party at Kevin's (Shawn Andrews) place because his parents are going out of town, but plans go awry and everyone has to improvise, leading to time spent cruising around town, hanging out at the Emporium pool hall, grabbing a bite at Top Notch Hamburgers, and playing mailbox baseball. A meeting place is set and all the kids congregate there.
Life is full of opportunities, and who we become is a result of what we decide. The choices may be insignificant in the grand scheme but seem of the utmost importance in the moment the options are weighed. Pink (Jason London), the gifted quarterback, is unsure if he'll sign a pledge regarding his behavior in order to remain on the team. His teammates lie, knowing they'll continue to drink, smoke weed, and have sex, and are counting on Pink to lead them, but he thinks there might be a principle at stake. A number of the characters take similar stands for what they believe in whether Mike (Adam Goldberg) facing off against a bully, or the many who make romantic/sexual connections. The movie ends as a new day dawns. Decisions have been made, lessons have been learned, and life goes on because "You just gotta keep on livin', man. L-I-V-I-N" as a wise man says.
Linklater and his cast do a great job bringing these people to life. They are so in tune, it has the feel of a documentary. Matthew McConaughey is the standout as Wooderson, a 20-something guy who still hangs out with high school kids. He especially likes the girls because he gets "older, they stay the same age." Though not a main part, McConaughey delivers a star-making performance that's head and shoulders above everyone else.
The video has been given a 1080p/AVC MPEG-4 encoded transfer from a 35 mm interpositive, displayed at 1.85:1. The colors look bold and bright, and blacks are rich. Detail is impressive and grain is noticeable. The image looks free of major defects. The DTS-HD Master Audio 5.1 track impresses most in delivering the great '70s rock soundtrack, although what would have been the title song is not included because Robert Plant nixed the idea. The surrounds get the most work during the music cues. Dialogue is clear throughout.
Special Edition Features include an entertaining commentary by Linklater who covers the film's production from script to screen. Deleted Scenes (26 min, 1080i) offer 17 scenes cut from the film. They add a little more info about what took place during the day, but nothing that was essential. Making "Dazed" (46 min, 1080i) originally appeared on AMC in 2005. Kahane Corn's documentary about the film combines behind-the-scenes footage with material recorded in Austin in 2003 during the film's 10th anniversary as Linklater, cast, and crew discuss the film's creation. Auditions (23 min, 1080i) offers 12 clips of the actors first working with the material.
Beer Bust at the Moon Tower (1080i) is about two hours material broken into three sections. They are Character Interviews (First Week of Rehearsals, 1992) with 13 actors responding in character directly to the camera (41 min), 12 segments of Cast and Director Interviews (48 min) conducted during the shoot, and miscellaneous Behind-the-Scenes Footage (31 min). These clips can be accessed individually, by section, or in a random selection. There is also the Trailer (2 min, 1080i), a 72-page booklet with essays by Kent Jones, Jim DeRogatis, and Chuck Klosterman; a piece from Oct 2003 Texas Monthly with cast and crew reflecting on film 10 years later; and a film poster.
Forget the skimpy Universal version; the Criterion Collection's Blu-ray delivers an impressive collection of extras to accompany this very entertaining film. For fans, this is a must-own.