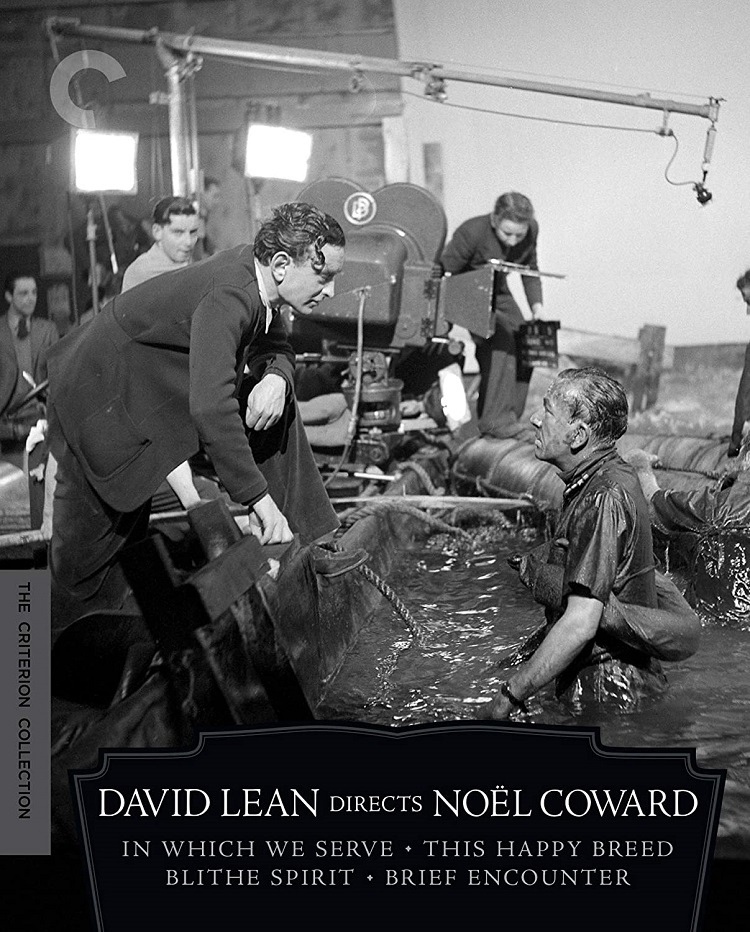 This week, the Criterion Collection is releasing a boxed set of four films written by playright Noel Coward and directed by David Lean. Of the four films (In Which We Serve, This Happy Breed, Blithe Spirit, Brief Encounter) I've seen exactly none. In fact, I've only seen two Lean-directed films at all (Oliver Twist and The Bridge on the River Kwai) but that won't keep the set from being my Pick of the Week. Lean's reputation simply precedes him. Not to mention those two films of his I have seen are two of my favorite films of all time.
The four films have been given new high definition transfers from the BFI National Archive's 2008 restorations, with uncompressed monaural soundtracks on the Blu-ray editions. Extras include audio commentary on Brief Encounter by film historian Bruce Eder, there are a couple of interviews, a short documentary on the making of In Which We Serve and Brief Encounter, a 1971 documentary on David Lean, an episode of The Southbank Show on Coward, an audio recording of a 1969 conversations between Richard Attenborough and Coward and theatrical trailers. Also there is a booklet featuring several essays.
Also out this week that look interesting:
Extremely Loud and Incredibly Close (Blu-ray/DVD/Ultra-Violet Digital Copy): Jonathan Safran Foer's book of the same name is a beautiful, incredibly moving if rather pretentious piece of work. I'm a little leery of seeing the film as there's a good chance Hollywood will completely screw up the subject matter (young boy dealing with the death of his father during 9/11) and the reviews have been rather mixed. But it did get some Oscar nods and it's got Max Von Sydow in it which is always a big plus in my book. Extras include a couple of making-of features, a documentary on Sydow, and remembrances about 9/11.
BBC Natural History Collection (Planet Earth: Special Edition / Galapagos / Ganges / Wild China): I'm a sucker for nature shows and while I've only seen the Planet Earth bit in this set, it was fantastic and the others look quite fascinating as well.
A Night To Remember (Criterion Collection Blu-ray): Marketing is a fascinating thing and here we have this 1958 film about the Titanic disaster coming out right about the time James Cameron's film on the same is getting a theatrical rerelease in 3D. I've not seen this version but now seems the perfect time to. Special features include a new high-def transfer, audio commentary, a 60-minute making-of documentary, a Swedish documentary on real survivors of the Titanic, an additional interview with another survivor, trailers, and a booklet featuring an essay by Michael Sragow.
A Dangerous Method: I know noting about this except it was directed by David Cronenberg which is enough to get me interested.
Casablanca (70th Anniversary Limited Collector's Edition Blu-ray/DVD Combo): There are all sorts of versions of this classic film on both DVD and Blu-ray. This edition includes lots of features previous seen in those sets plus a short documentary on the movie and another on its director.