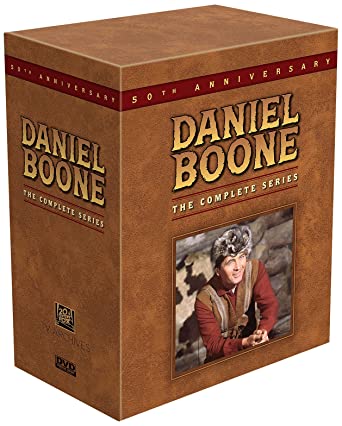 Since the building of the Manufactured on Demand bandwagon, nearly every major studio in the home video industry has begun the seemingly-endless process of making hundreds (if not thousands) of rarely-seen movies and television shows available to the public upon order. The process has also enabled certain moratorium materials to be put back into print. And with the debut of Fox Home Entertainment's new MOD sub-label "20th Century Fox TV Archives", fans of the classic adventure/western program Daniel Boone are now able to fill in the gap left behind by the inefficiency and abrupt departure of two minor distributors from the previous decade.
Daniel Boone originally received rocky DVD releases as individual season sets by the defunct Liberation Entertainment and Goldhil Entertainment labels, which viewers found many a flaw in. As a result, those season sets went out of print shortly after going on the market – enabling the average "eBay investor" to get as much as he or she could from fans who were eager to relive the vintage television magic Daniel Boone and its star, Fess Parker, exhibited. But now, more than fifty years after the series was first broadcast on NBC in 1964 – and approximately 280 years since the real life legend himself was born in 1734 – comes a 50th Anniversary collection featuring all six seasons in an attractive box set.
I suppose after having brought the equally larger-than-life character of Davy Crockett to small screens for Walt Disney in the '50s, Fess Parker was the natural selection to play that other famous American frontiersman. And right from Episode One, Parker made it perfectly clear that, not only was he more than comfortable in his coonskin cap, but that he was Daniel Boone. Sure, many a redcoat, Indian, and conspiring white man tried their very best to pull the wool over Boone's eyes, but Parker's personification always came out on top. In fact, considering that the timeline of the show's episodes vary between the pre-Revolutionary War days and during the historical war itself – none of the show's regular cast members ever any older – one can only assume Daniel Boone was actually a highly skilled time traveler.
Co-starring in this classic television family-friendly favorite are Albert Salmi (Season One) as Boone's ornery companion, Yadkin; Ed Ames as the Oxford-educated half-Cherokee warrior Mingo throughout the first four seasons; and the likes of Jimmy Dean and Rosey Grier (what a contrast!) as friends of Boone during the final two seasons of the series – wherein the theme song (which often serves as the show's own Greek chorus) was updated to a more groovy incarnation in order to keep up with the hip, mod, ever-changing world of the late '60s and early '70s (1970 being the final year Daniel Boone was on the air). Dal McKennon, Patricia Blair, and Darby Hinton appeared on and off throughout the run of the entire series, cast as an innkeeper and Boone's wife and son, respectively. A slew of familiar faces from yesteryear also adorn the 165 episodes contained in this set.
Another member of the Boone household, as played by Veronica Cartwright, inexplicably disappeared from the tail-end of the second season. According to the actress in question herself, her departure was because her on-screen mother didn't want to appear as being "old" as Cartwright's character began to "blossom". Of course, since we now know that Boone was a time traveler, we can only assume he sent his daughter forward in time in order to fight off the attacks of killer birds, an invasion of pod people, and then into a place where, ultimately, no one could hear her scream as she helped to eliminate another alien menace aboard the good ship Nostromo. Though I must admit my theory may be as flawed as Daniel Boone's own timeline.
Anachronisms and absconded actors and actresses aside – to say nothing of the show's occasional tendency to be less than politically correct by today's ultra-sensitive standards – Daniel Boone remains an enjoyable journey into a forming country. Fox TV Archive's box set presents all 165 one-hour episodes from the six seasons of the series on 36 discs, with initial pressings being on actual dual-layered DVD discs as opposed to dual layered DVD-Rs. The overall quality of the series itself is quite nice (and I can only assume is much better than whatever issues people had with the old Liberation/Goldhil transfers), while I noticed signs of compression in several instances (from there one too many episode on a disc).
The menus are as basic as can be here, dissolving from the FBI warning to the main/episode selection screen. The only downside here that I can see of note are the lack of multiple audio selections and extras that were present on the original individual season releases by those other guys. This is most likely due to licensing rights than anything else; those bonus materials were produced for those releases by the distributor's producers to the best of my knowledge, and purchasing/leasing the rights might have been too costly an option. However, the lack of any interviews and/or featurettes cannot measure up to the cost it would take to pick up all six individual, out-of-print season sets.
Recommended.