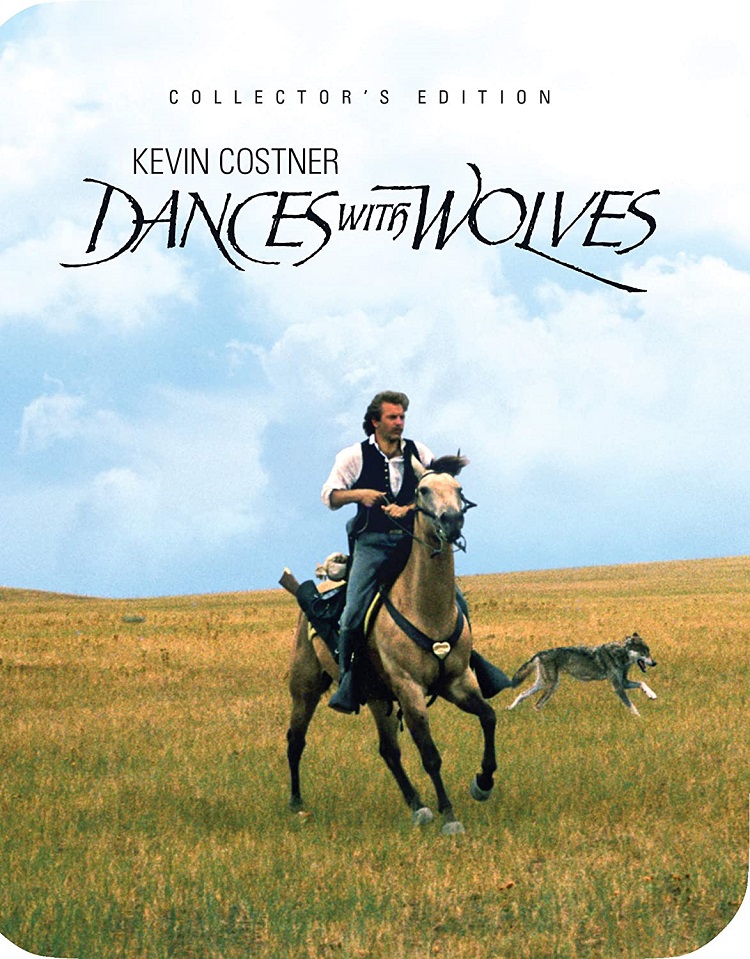 Thanks to Shout Factory, the theatrical cut of Dances with Wolves finally made its debut on Blu-ray as part of a three-disc Steelbook Collector's Edition that also offered previously available Extended Cut and extras. Winner of seven Oscars, including Best Picture and Best Director for Kevin Costner, the film is a three-hour Western epic that tells the story of John Dunbar (Costner), a Union soldier in the Civil War who forsakes the life he knows and becomes an honorary member of the Sioux tribe.
Based on the novel by James Blake, who won an Oscar for Best Adapted Screenplay, Dances with Wolves opens in 1863 during a standoff at St. David's Field, Tennessee. A perplexed and frustrated Dunbar, who nearly lost a leg to the doctors, rides back and forth on horseback in front of the Southern soldiers who shoot at him. Because he serves as a distraction, the North is able to take the field. Mistaking his death wish for bravery, Dunbar is promoted and requests assignment at Fort Sedgewick at the outskirts of the U.S. territory. He is unaware but accepts that it's an abandoned post. He is befriended by a wolf he names Two Socks.
John comes upon a bloody Stands with a Fist (Mary McDonnell), a Caucasian woman dressed in Sioux garb. He brings her back to the Sioux, and seeing he's not there for a fight, they later visit him to learn but communication between them is hard. Kicking Bird (Graham Greene) is Stands's adoptive father and hopes she will be able to remember how to talk to him.
After spending time with the Sioux, John realizes "nothing [he has] been told about these people is correct. They are not beggars and thieves. They are not the boogeymen they've been made out to be." He learns of a buffalo herd passing and goes to tell them. The buffalo-hunt sequence is amazing and likely wouldn't be shot with such scope nowadays. The power would be diminished shooting it digitally in a studio with green screens and computer-generated animals.
The Sioux also have to deal with Pawnee. While the former are shown to be three-dimensional characters no different under the surface than anyone watching in the audience in a way few, if any, Hollywood films had done so before, the Pawnee are shown only as savages with no explanation given to understand for their action. John arms the Sioux with guns, giving them an advantage. After the battle and a growing relationship between him and Stands, John feels purpose in life not felt before and leaves his old life behind.
The tribe is set to move, scared of the white man coming, but John realizes his journal reveals a great deal about the Sioux and rushes to get it. Unfortunately, he finds the fort full of soldiers. Considered a traitor, he is sent back to Fort Hayes to be hung, but his new family doesn't want that to happen.
While it certainly could use a trim, Dances with Wolves is an enjoyable, albeit unsurprising, western. The plot doesn't do anything unexpected, and the characters, while interesting during their interactions, are cliched. Not only are the good guys too good and the bad guys too bad, but John can be seen as a white savior to the noble savage Sioux although they each have something to offer the other. Yet, even with these flaws in the story, the actors make the material entertaining as it evokes a past era of the country and of filmmaking.
The video has been given a 1080p /MPEG-4 AVC encoded transfer displayed at an aspect ratio of 2.36:1. The colors come through in solid hues. In the opening scene, the red of the blood pops off the white and navy fabric. The earth tones of green and brown showcase the prairie, whose vastness is revealed through the depth within the shots. The image has a solid contrast and noticeable shadow delineation. Film grain is apparent and grows during low-lit scenes.
Audio is available in 5.1 DTS-HD Master Audio. The dialogue is clear. John Barry's Oscar-winning majestic score swells in the surrounds. Gunfire is powerful as Dunbar rides between the North and South troops thanks to the subwoofer's bass support, which is also apparent in the drums and the rumbling of the buffalo hooves. Effects, of bullets, of arrows, and of buffaloes, can be heard moving across channels, evoking the large open spaces on the screen.
Disc 2 is the Extended Cut, roughly 52 minutes longer and with a 7.1 DTS-HD Master Audio. This disc comes with a commentary by Costner and producer Jim Wilson, and another by Oscar-winners Director of Photography Dean Semler and Editor Neil Travis, who naturally focus on their area of expertise.
On Disc 3, all video extras are in SD.
A Day in the Life of the Western Frontier (14 min) — Historians gather for a look at what life was like for American settlers across the Great Plains.
The Original Making of Dances with Wolves (21 min) — A traditional behind-the-scenes package that sells the film with clips and interviews from the makers.
The Creation of an Epic – A Retrospective Documentary (75 min) — Made in 2003, a thorough exploration of the film's making with many involved who worked in it. This seven-part feature has chapters such as "Novel to Screen," "Actor Becomes the Director," "The Buffalo Hunt", and "The Look and Sound of Dances." It wraps up with "The Success of Dances."
Original Music Video (4 min) — Film clips set over composer John Barry's music, but it sounds like a modern arrangement of the score.
Second Wind (5 min) — A deleted scene from "The Creation of an Epic" of editor Neil Travis' presentation reel.
Confederate March and Music (2 min) — Extras dressed as Confederate soldiers march to the set.
Getting the Point (4 min) — Behind the scenes of Robert Pastorelli's character getting shot by arrows.
Burying the Hatchet (1 min) — An actor takes a hatchet.
Animatronic Buffalo (2 min) — More movie magic bring to life a dying buffalo.
Trailer/TV Spots — The theatrical trailer and two TV spots, including an Oscar campaign.
Galleries — Poster Gallery and Dances Photo Montage, with an introduction by still photographer Ben Glass.
While I have no idea what the hold up was, fans and Oscar completists can now add the version of Dances with Wolves that won Best Picture to their library and decide which cut they like better. (For those keeping track, the remaining Oscar yet to be mentioned in the review was for Best Sound Mixing.) The Blu-ray delivers a satisfying high-def experience and though not new, there's a large wealth of extras to explore.