How much do you love your favorite baseball team? Or, more accurately, how much do you hate the New York Yankees? That was the question posed by George Abbott's 1955 hit Broadway musical Damn Yankees. Filmed in 1958 with the original Broadway cast (except for Tab Hunter, who subbed in for the young Joe Hardy), Damn Yankees is a fun, song and dance-filled slice of Americana on the surface and a clever re-telling of the Faust legend at its core.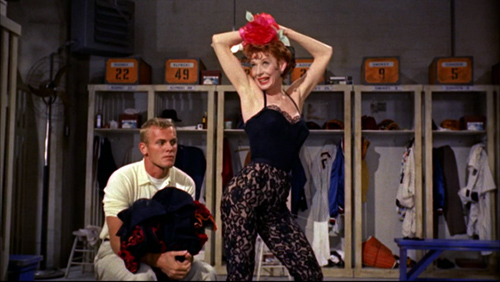 Middle-aged Washington Senators super-fan Joe Boyd would do about just anything to ensure that his beloved Senators team defeat that winningest baseball team from New York. Enter Ray Walston as the Mephistophelean "Mr. Applegate," who, with his luscious sidekick Lola (Gwen Verdon), takes Joe up on his soul-selling offer – but not just as a witness, but participant. Joe soon finds himself as the strapping young Joe Hardy (Tab Hunter), who never met a baseball he couldn't wallop into the bleachers.
Apart from the scenes shot at the ballpark (Wrigley Field in Los Angeles) directors George Abbott and Stanley Donen maintain a pretty stage-y look for their stage-to-screen musical. But that doesn't detract from the fabulous musical performances, especially Gwen Verdon as temptress Lola. Her show-stopping "Whatever Lola Wants" number is a mesmerizing combination of sex and whimsy. The set designs and costuming amp up the Technicolor film, especially whenever the devilish Walston or Verdon are on screen, with vibrant reds, pinks, purples, greens, and blues.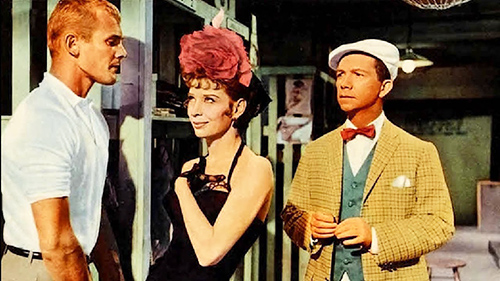 Broadway babies will love seeing favorite musical numbers like "Heart," "Two Lost Souls," and "Whatever Lola Wants" on screen, as well as a terrific dance duet performed by Verdon and choreographer and husband-to-be Bob Fosse ("Who's Got the Pain.") But everyone should love this fast-paced, fun-filled musical, that does, even in its most devilish musical numbers, have a lot of heart.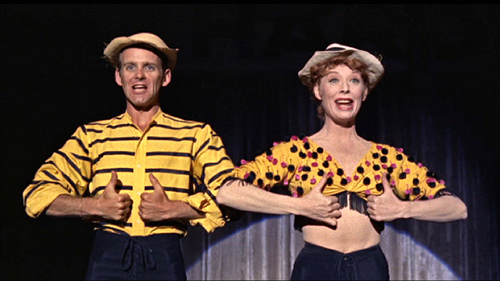 Warner Archive has done terrific job with this new release of the classic musical. Damn Yankees has a running time of 111 minutes. Sourced from a 4K scan of preservation separation masters the color film looks terrific, with an aspect ratio of 1.85:1, 16 X 9 widescreen, with a resolution of 1080p. Music and dialogue also sounds great, with DTS HD-Master Audio 2.0 English and Mono English. English SDH Subtitles are available.
Blu-ray extras include:
Song Selection – All songs are included: "Prologue," "Main Title," "Six Months Out of the Year," "Goodbye, Old Girl" (and reprise), "Heart" (and encore), "Shoeless Joe from Hannibal, MO," "There's Something about An Empty Chair" (and finale), "A Little Brains, A Little Talent," "Whatever Lola Wants," "Those Were the Good Old Days," Who's Got the Pain," and "Two Lost Souls" (and dance).
The U.S. and UK theatrical trailers. Amusingly, in the UK the film was marketed as What Lola Wants, as the British didn't want a film with "Damn" in the title (!) Whatever England wants …