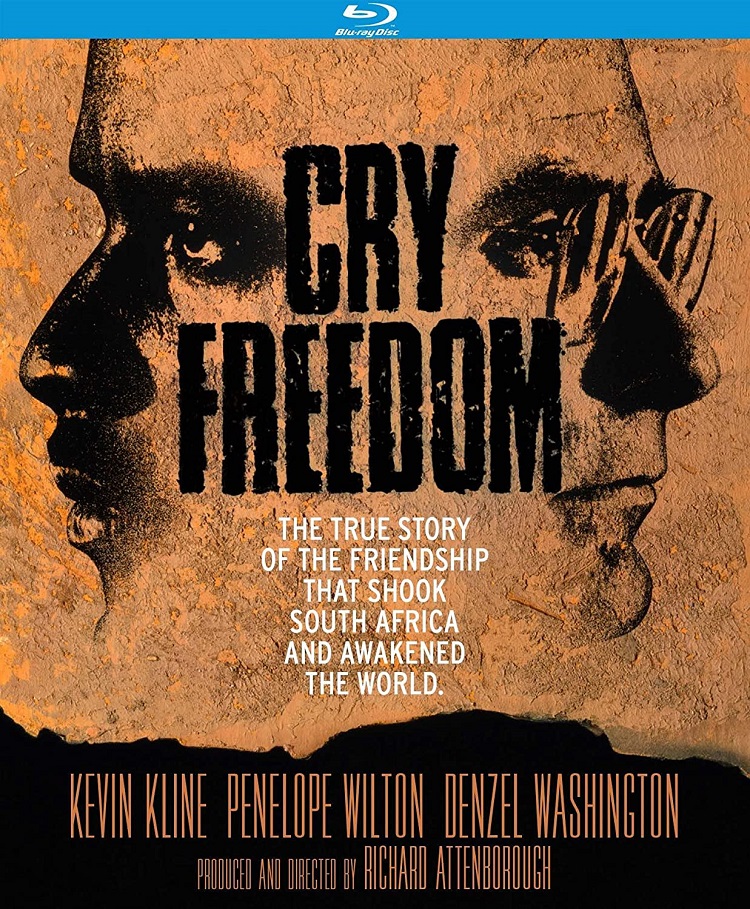 As our culture continues to shift towards something like equality, it is difficult sometimes to watch and critique older films containing instances of sexism, racism, or both. These films are sometimes made with good intentions, are often designed to oppose such inequalities, and yet are clearly a product of their time. Cry Freedom (1987) is a film ostensibly about Apartheid in South Africa, and its heart is in the right place, but it was made by a white filmmaker and focuses on a white family and its back half becomes just another action thriller where a man tries to make an escape.
Sir Richard Attenborough will probably always be known as the actor who played the old guy in Jurassic Park, but he had a long, storied career as an actor and directed 12 films including Gandhi in which he won two Oscars (Best Picture, Best Director). As a director, he tended to make important, sweeping epics about interesting, important people or events. They are generally good, but also overlong and a tad on the dull side.
So it is with Cry Freedom. Made in the late 1980s, it tells the true story of Donald Woods (Kevin Kline), a rich, white, liberal, newspaper editor living in East London, South Africa and how his friendship with Steve Biko (Denzel Washington), an anti-apartheid activist changed him. Woods initially decries Biko as a black racist but when Biko invites him to visit his home in the Blacks-only township of King William's Town, his mind is changed. Biko is smart and articulate, and rather than looking for violent means to take down the white leadership, he simply preaches a world in which blacks aren't looked down upon, where their culture is celebrated rather than destroyed.
The two become friends; they get to know each other's families and become part of one another's lives. Biko was officially banned by the government, which meant he cannot leave the township and is only allowed to be in the presence of one non-family member at a time. But he bucks the system, sneaking out to visit his friends and give speeches. Woods learns about the movement and sees first hand how his people are living and oppressed by the whites.
Eventually, Biko is arrested – sorry for the spoiler of a 33-year-old movie based on a historical event from 1977 – and dies from brain injuries due to being tortured by the police. This event leads Woods to write a book based upon Biko's life, a book which cannot be printed in South Africa and in fact, would get him arrested was it found. He takes photos of Biko's battered body to include in the book. At this point, Woods has also been banned by the government and thus must sneak out of his home and make a harrowing journey.
Disguised as a priest, he flees the country. His family is not banned and travels separately, but if he is caught, they too will be arrested. What follows is a pretty standard thriller full of cliched obstacles, long delays, and all the sorts of things one comes to expect from this type of escape picture.
Attenborough handles it well enough, but it is difficult not to be irritated at what this film could have been. The South African Apartheid is something I expect most Americans have heard of, but do not know any of the details from. I mostly know of it from U2 songs and pictures of Nelson Mandella. Cry Freedom takes us there, shows us the horrors, and introduces us to Steve Biko. That in itself is enough to make the film worth watching. But its focus on Donald Woods and the way it turns into a pretty generic thriller undercuts its importance and its enjoyability.
Kino Lorber Studio Classics presents Cry Freedom with a 1080p transfer. Extras include an audio commentary from film historian Eddy Von Mueller and a series of trailers.