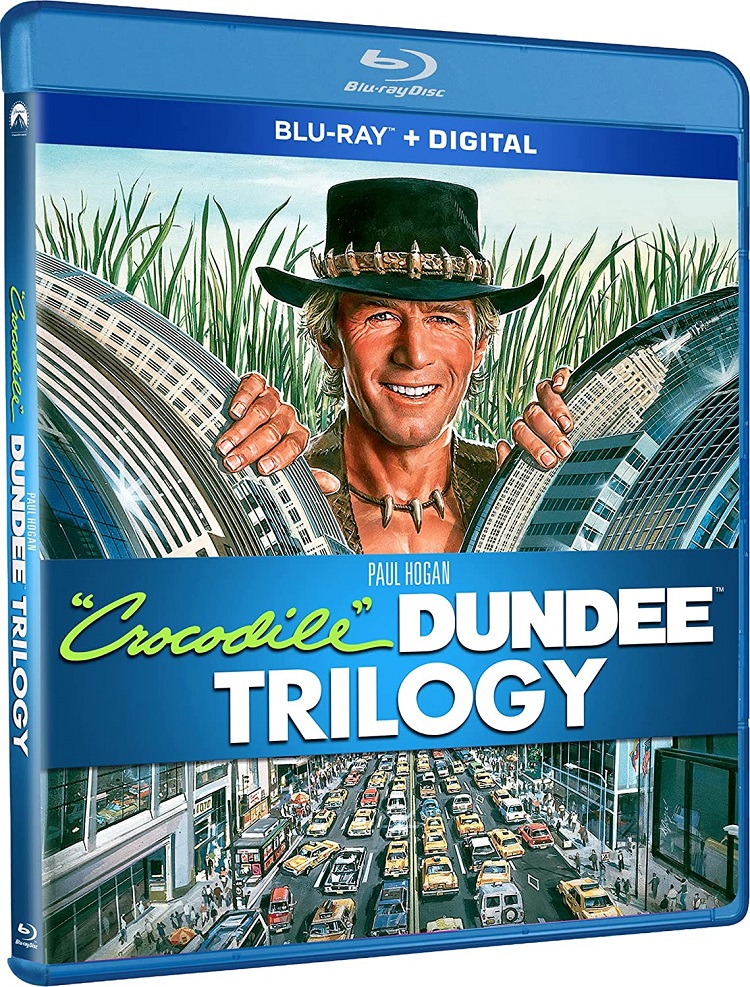 Paul Hogan had a successful career in Australia including his own sketch comedy show that was also popular in the UK, but it wasn't until the early 1980s, when he filmed a series of television ads promoting the Australian tourism industry, that he caught the eye of the U.S. entertainment industry. Hogan, who had written for the aforementioned series, already had the idea for the fish-out-of-water tale, Crocodile Dundee. It seems doubtful that anyone would have predicted that the film would lead to the Best Actor Golden Globe for for Hogan, a Golden Globe nomination for his costar (Linda Kozlowski), the screenplay being nominated for an Oscar, and Hogan cohosting the Academy Awards. Yes, Crocodile Dundee was an enormous hit.
Revisiting Crocodile Dundee was a nice trip down memory lane. A simple film that first puts reporter Sue Charlton (Kozlowski) in the fish-out-of-water role as she travels to the Australian outback in search of Michael "Crocodile" Dundee, who has quite the story to tell. As Sue explores with Mick, we see chemistry between the two characters that would carry over to the actor's real life. Eventually, Mick and Sue make there way to New York where our hero would get into adventures that generates laughs galore. At least it did in 1986. Watching it in 2021, I found it to be more cute than funny, and at only 97 minutes, it seems to end abruptly.
So, where do two stars go after such a massive hit? They would both make some interesting, if not poor, career choices before diving back into the same roles for a sequel two years later. Sadly, like most sequels, Crocodile Dundee 2 doesn't hold up. Billed as having more action and laughs than the first film, it is the direction of John Cornell, a producer on the first film, that sinks this ship. The story, by Hogan and his son, is contrived, but it does have more action than the first. Unfortunately, the pacing is just too slow to sustain any energy as Dundee returns to Australia to protect Sue from drug dealers who are chasing her.
Hogan has an interesting speaking style, where he seems to pause in thought before delivering a line. It appears that everyone in the second film has adopted the technique making Crocodile Dundee 2 hard to stick with. The critics of the time shared my opinion of the film, but it was still a commercial success.
So, Hogan has two hits on his hands, and a Golden Globe. How does he end up in Almost an Angel, Lightning Jack, and Flipper? Oh, the roles he must have turned down, including Ghost. Yes, you read that right. I can't really imagine Hogan in Ghost , but I can pretty much guarantee it would have been better than Almost an Angel. There must have been some bad decisions made by both Hogan and Koslowski that would lead the now married couple back to the characters of Mick and Sue 13 years later for Crocodile Dundee in Los Angeles. Why!? More importantly, how did the likes of Paul Rodriguez, George Hamilton, and Mike Tyson get talked into this misguided trip? Hogan once again contributes to the painful script, and everyone in the film just looks tired as Mick and Sue crawl through the story that leads them, and their son (Serge Cockburn) to Los Angeles for what was meant to be another fish-out-of-water tale, but we did that already! There are criminals and a lame case that leads Mick to a fictional jungle portion of the Paramount studio tour where he can use his skill set to catch the crooks. So awful.
The only thing more painful than Crocodile Dundee in Los Angeles is the bonus material included in the new release of the trilogy on Blu-ray from Paramount, which hit store shelves on September 21. We get the theatrical trailers, a behind the scenes featurette of Crocodile Dundee 2, and "The Making of Crocodile Dundee in Los Angeles". The "behind the scenes" and "making of" bonus features appear to be thrown together, but what we do see in both is Paul Hogan's sincere desire to please. That's what makes it so hard to be honest about the second two films.
Recommendation: Ultimately, the Blu-ray release of the trilogy earns "Ron's Rejection". Just get Crocodile Dundee and enjoy the chemistry and laughter that was created in a simple film that was such a huge hit 35 ago.