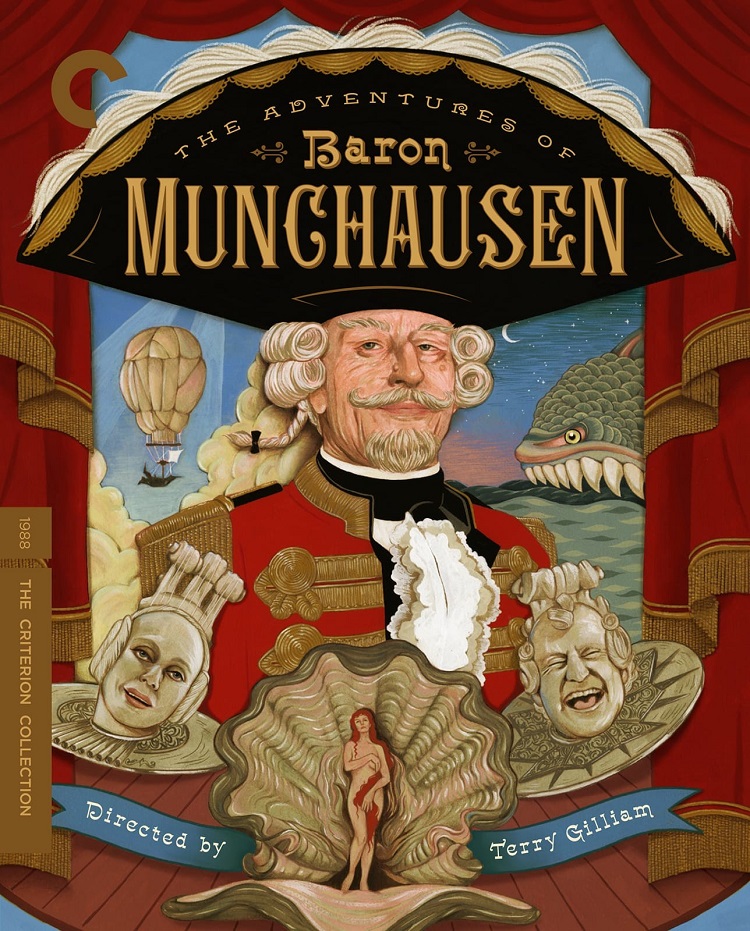 Welcome or welcome back, whichever is applicable. If you have left over gift cards or cash from the holidays and are wondering what to spend it on, you've come to the right place for a suggestion or two.
Writer/director Terry Gilliam followed up Brazil (1985), set in a drab, futuristic utopia, with The Adventures of Baron Munchausen, a colorful fantasy set in the 18th century when the Baron and his band of Merry Men travel from Europe to the Moon and back. It's a film filled with imagination, much like its titular character, and the Oscar-nominated art direction, costume design, visual effects, and makeup should be a wonder to behold in high definition. It has the distinction of being the sixth Gilliam-directed title (#1166) released by the Criterion Collection, alongside the aforementioned Brazil (#51), Jabberwocky (#903) Time Bandits (#37) The Fisher King (764), and Fear and Loathing in Las Vegas (175). It's a must-have for my collection and is my Pick of the Week.
Other titles of interest released this week:
Black Adam: After being freed from the earthly tomb he had been trapped in for thousands of years, Black Adam (Dwayne Johnson) appears in the fictional Middle Eastern country of Kahndaq. His powers bestowed upon him by the same wizards who granted Shazam his. Being so powerful, he garners the attention of U.S. government official Amanda Waller who sends the Justice Society (Hawkman, Doctor Fate, Cyclone, and Atom Smasher) to curtail his deadly ways, but that is easier said than done, especially when other villainy is afoot. This new chapter in the soon-to-be-ending DCEU offers a slight change of pace as Black Adam isn't a typical hero as he has no qualms about killing people in the name of justice.
Star Trek: Prodigy: Season 1 Volume 1: Appearing on Paramount+ and Nickelodeon, the tenth Star Trek series is an animated show that focuses on the adventures of a ragtag group of young aliens five years after the USS Voyager returned to Earth at the end of Star Trek: Voyager. They are assisted by their ship's Emergency Training Holographic Advisor, which is based on the likeness of Kathryn Janeway (Kate Mulgrew returns to voice the character). Although geared towards a young audience, I am still curious to see this different take on the Trek universe.
Armageddon Time: I am intrigued just from the actors who are starring in it: Anthony Hopkins, Anne Hathaway, and Jeremy Strong. Directed by James Grey, who based the story on his own childhood, I am also curious about this film set in 1980 Queens, New York City, as I was the same age (13) as the main character is, although living in Southern California, and am curious about any parallels.