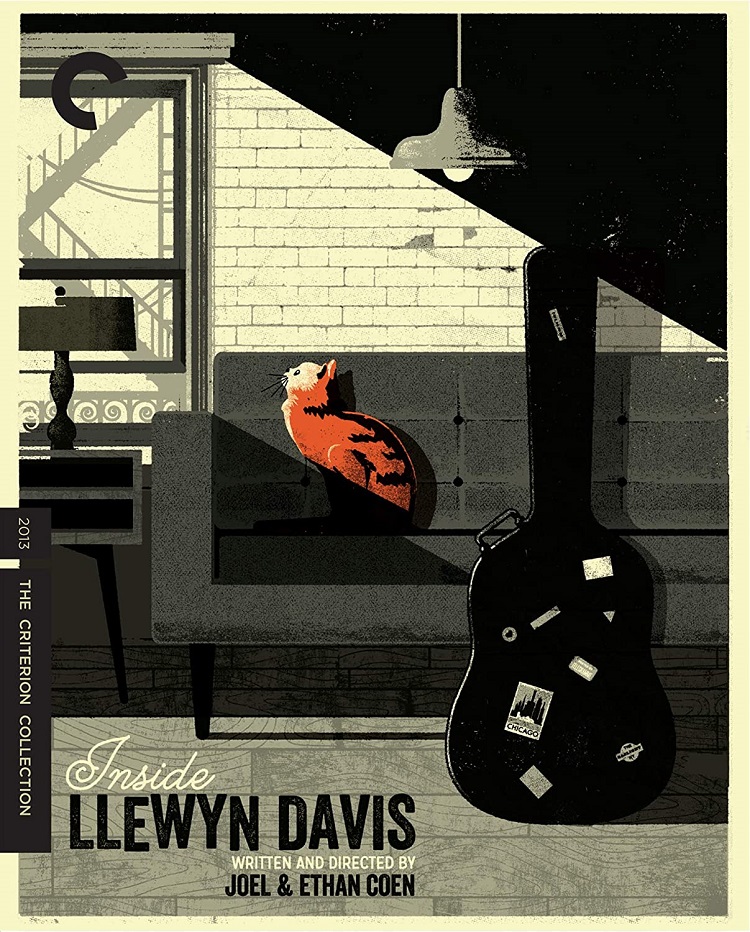 Many times in these pages I've mentioned my extraordinary love for both the Criterion Collection and the Coen Brothers. When you put them together, you pretty much have a guaranteed Pick of the Week. Surprisingly, Inside Llewyn Davis is the first time the two have met. You'd think the Coens' films would get the Criterion treatment every time like Wes Anderson films do. Seemingly, their films fit the Criterion niche perfectly. They are quirky, arty, funny and often strangely violent . They are well loved by critics and maintain a relatively small but highly devoted fanbase. I suspect there is some behind-the-scenes shenanigans with the studios (or possibly even the brothers themselves) that has kept their films from Criterion thus far. Whatever the case may be. I'm thrilled to get this one.
Inside Llewyn Davis is a quintessential Coen Brothers film. A pitch perfect Oscar Isaac stars as a down-on-his-luck folk singer in 1960s New York. He found some success as a duo before his partner committed suicide. Now he's floundering as a singer, as a lover, and as a human being, really. He's the kind of guy who wouldn't have any luck at all if not for bad. The film is beautiful and sad, funny in that darkly Coen Brothers way, and rather bleak. It's as if Larry Gopnik from the Coens' A Serious Man got lost on his way to O Brother, Where Art Thou? and forgot there was ever any joy in the music he's singing.
Criterion is presenting this one with their usual flair, giving it a 4K digital transfer and filling it with loads of extras including interviews, several documentaries, and even a folk concert featuring artists featured in the soundtrack.
Also out this week that looks interesting:
Straight Outta Compton: When N.W.A hit the national scene, I was too young to get it. My brother, four years older than me, loved them, and I occasionally heard them in his car, but their profanity-laden lyrics made it something I couldn't listen to at home and their anger was something my young ears didn't quit grasp. In the years since, I've still not paid them much mind, though certainly I recognize their influence. This means this biopic of the group never got me that excited. Still, it's gotten mostly good reviews, and I've been meaning to dig into early hip-hop for decades now so maybe this is the place to start.
Everest: In May of 1996, eight people died during a blizzard while trying to climb Mount Everest. Journalist Jon Krakauer was there and covered the disaster for Outside magazine and eventually turned it into the book, Into Thin Air. It's been tuned into this film starring Jason Clarke, Josh Brolin, Robin Wright, Keira Knightley, Sam Worthington, and Jake Gyllenhaal. I quite liked the book so I'm definitely on board for this. Though I expect watching it at home won't have quite the same effect as seeing it in IMAX.
The Intern: Terrible-looking comedy with Robert De Niro and Anne Hathaway. Both of them deserve better. Anne Hathaway will likely get it, but sadly, De Niro now seems stuck making lousy films.
All Things Must Pass: The Rise and Fall of Tower Records: Documentary about the record store that became one of the biggest chains in the world and slowly died as the industry changed.
Gilda (Criterion Collection): Rita Hayworth stars in this classic drama. The only thing I know about it is the famous hair-flip scene that was featured in The Shawshank Redemption.
Love: I've not seen any of Gaspar Noé's films, though Irreversible and Enter the Void have been on my must-see list for some time. This one's controversial for his use of explicit sex scenes (and explicit posters advertising the film). Also it's in 3D. I'll be waiting until I see some of his other films before plunging into this one.
John Huston's Wartime Documentaries: When the United States entered World War II, many of Hollywood's greatest directors created what were essentially propaganda films designed to get young men to joined the fight. This collection features several films made by John Huston.