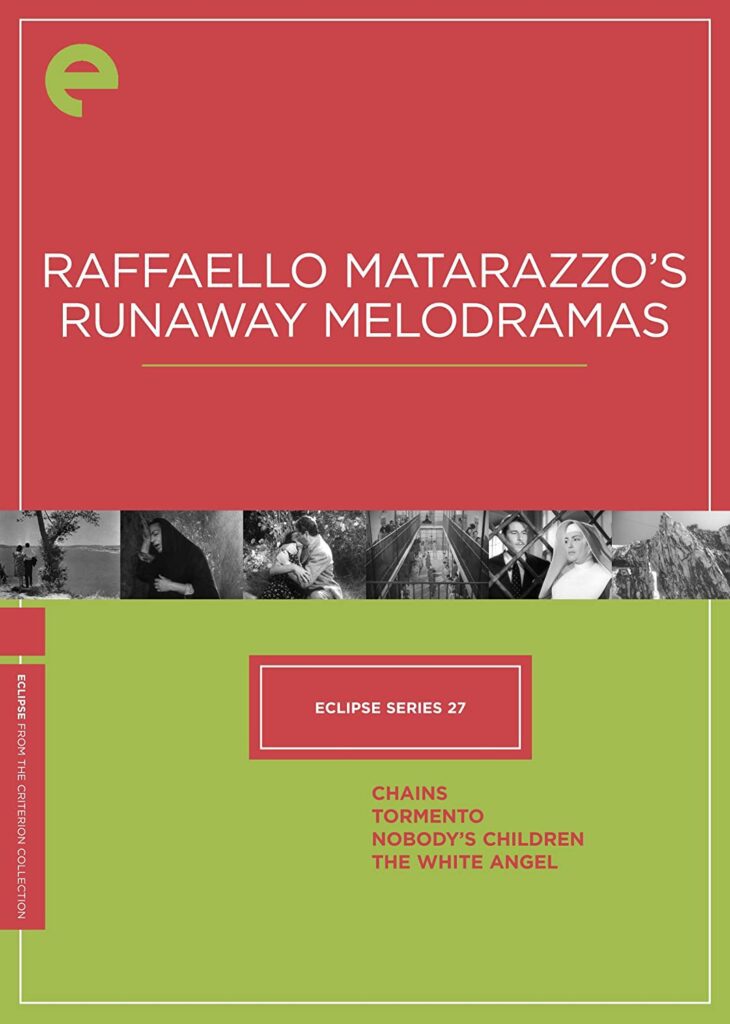 Raffaello Matarazzo (1909 – 1966) was an Italian director who specialized in some of the most melodramatic pictures to ever grace the silver screen. In the post-war period of the late forties and early fifties, Matarazzo enjoyed enormous success with tales of star-crossed lovers and the villains intent on keeping them apart. While these movies resonated with the public, critics hated them. For tastemakers, the neo-realism of Vittoria De Sica and Roberto Rossellini were very much the order of the day. Consequently, Matarazzo's name has been largely written out of serious studies of Italian film.
These factors make Matarazzo a perfect candidate for Criterion's Eclipse Series. Eclipse is an offshoot of the acclaimed imprint, which highlights rare and unknown films. In the Eclipse Series, there are none of the tremendous bonus materials or lavish booklets that Criterion is so known for – but there are numerous intriguing finds to be made. Raffaello Matarazzo is one of them. His Runaway Melodramas is the 27th entry in the Eclipse Series, and contains four full-length features.
During this peak of Matarazzo's career, he had something of a stock company going. His exclusive writer was Aldo De Benedetti, and the lovers were portrayed by Amedeo Nazzari and Yvonne Sanson. The collection is well titled, as each of these films are more extravagantly outrageous than the last.
Chains (1949) concerns a mechanic (Nazzari) and his wife (Sanson), a happily married couple with two young children. They live modestly, but happily in a small house adjacent to the auto-garage family business. Trouble appears in the form of a car thief who brings a stolen vehicle in for repairs. As it turns out, the thief's boss is the wife's former fiance, who attempts to woo her back. A considerable amount of misunderstandings, deception, and unusually noir elements follow, all leading to the predictably reinforced family values at the core of the story.
Key characteristics in Matarazzo's films include extravagant religious symbolism, outrageous plot twists, and plenty of randomly inserted traditional Italian songs. Chains introduces all of these components, and they became even more prevalent with successive films.
Tormento (1950) is an unparalleled tale of emotional martyrdom. Anna (Sanson) is a young woman who is verbally beaten down by her step-mother, virtually non-stop. Her spineless father is useless in protecting her, so Anna escapes her torment by running off with her fiance (Nazzari). Before the couple are able to marry, the man is accused and convicted of a murder he did not commit. During this time Anna finds out that she has become pregnant. The sinfully unwed mother has no place to turn, so she returns to the awful home she had run away from.
Things are even worse there than they were before. Her father has passed away, but not before making the step-mother promise to take care of his grandchild. She tells Anna she he will care for the baby, but only if the young lady agrees to never see the child again. Things look pretty dire, but have faith – this is a Matarazzo film after all.
The final two features, Nobody's Children (1952), and The White Angel (1955) form something of an epic tale. In Nobody's Children, we meet a young count by the name of Guido (Nazzari) and the pretty Luisa (Sanson). Louisa is the daughter of one of the miners who works for Guido's family. This is an unacceptable situation for Guido's mother, who comes up with some incredibly convoluted schemes to break the two up.
Nobody's Children contains some of the most elaborate schemes in all of filmdom to separate the pair. But in the end, love triumphs over everything else. Our fearless director was not yet through with the eternally harried Guido and Luisa however. The final installment in the Runaway Melodramas set is The White Angel (1955), which details the further adventures of the couple.
This time around, the situations are even more ridiculously elaborate, including look-alike villains intent on destroying Guido and Luisa's lives. The women in prison scene at the end is worth the price of the whole set alone.
It is easy to ridicule the films of Raffaello Matarazzo as overwrought, pedestrian fare – but by doing so we would be repeating the mistakes of his contemporaneous critics. A look beyond the histrionics reveals some glorious visual techniques. The director's panoramas of the Italian coast are just one example. Even in black and white, the vistas are gorgeous. There are also numerous noir-ish uses of shadows and light, and they are often utilized during completely unexpected plot points.
All four features are in Italian, with subtitles – and in black and white. As previously mentioned, this is a no-frills set. There are no DVD extras, however each DVD comes with an informative one-page summary of the movie in question. With the Eclipse Series, Criterion delves even deeper into the history of film – and the works of Raffaelo Matarazzo are definitely a forgotten chapter worth looking at for those so inclined.