Coming this September: one man's odyssey through sound and silence, a day in the life of an undocumented delivery worker in New York City, and a defining independent film of the 1990s, set in a Toronto strip club. Plus: Henri-Georges Clouzot's fable of suspicion in a Nazi-occupied French town on Blu-ray; a 4K UHD edition of Brian De Palma's stylish, paranoid political thriller; and a six-film collection of revelatory restorations from Martin Scorsese's World Cinema Project. Read on to learn more about them.
Blow Out (#562) out Sept 6 
In the enthralling Blow Out, brilliantly crafted by Brian De Palma, John Travolta gives one of his greatest performances, as a film sound-effects man who believes he has accidentally recorded a political assassination. To uncover the truth, he enlists the help of a possible eyewitness to the crime (Nancy Allen), who may be in danger herself. With its jolting stylistic flourishes, intricate plot, profoundly felt characterizations, and gritty evocation of early-1980s Philadelphia, Blow Out is an American paranoia thriller unlike any other, as well as a devilish reflection on moviemaking. Read Gordon S. Miller's review of the Blu-ray. The Director-Approved Special Features are:
New 4K digital restoration, with 2.0 surround DTS-HD Master Audio soundtrack
In the 4K UHD edition: One 4K UHD disc of the film presented in Dolby Vision HDR and one Blu-ray with the film and special features
Interview with director Brian De Palma, conducted by filmmaker Noah Baumbach
Interview with actor Nancy Allen
Murder à la Mod, a 1967 feature by De Palma
Interview with cameraman Garrett Brown on the Steadicam shots featured in the film within Blow Out
On-set photographs by Louis Goldman
Trailer
English subtitles for the deaf and hard of hearing
PLUS: An essay by critic Michael Sragow and, for the Blu-ray and 4K UHD editions, Pauline Kael's original New Yorker review of the film
Take Out (#1149) out Sept 13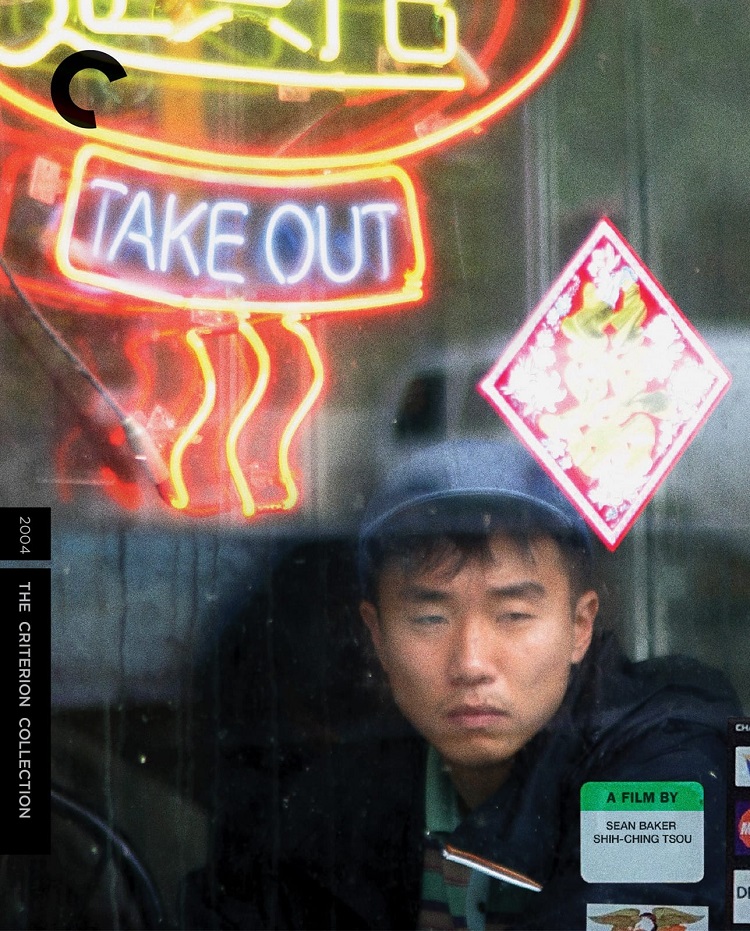 The American dream has rarely seemed so far away as in the raw, vérité Take Out, by Sean Baker and Shih-Ching Tsou, an immersion in the life of an undocumented Chinese immigrant struggling to get by on the margins of post-9/11 New York City. Facing violent retaliation from a loan shark, restaurant deliveryman Ming Ding (Charles Jang) has until nightfall to pay back the money he owes, and he encounters both crushing setbacks and moments of unexpected humanity as he races against time to earn enough in tips over the course of a frantic day. From this simple setup, Baker and Tsou fashion a kind of neorealist survival thriller of the everyday, shedding compassionate light on the too often overlooked lives and labor that keep New York running. The Director-Approved Special Features are:
New 4K digital restoration, supervised and approved by directors Sean Baker and Shih-Ching Tsou, with uncompressed stereo soundtrack
Audio commentary featuring Baker, Tsou, and actor Charles Jang
New interviews with Baker, Tsou, Jang, and actors Wang-Thye Lee and Jeng-Hua Yu
Program about the making of the film
Deleted scenes
Screen test
Trailer
New English subtitle translation
PLUS: An essay by filmmaker and author J. J. Murphy
Le Corbeau (#227) out Sept 20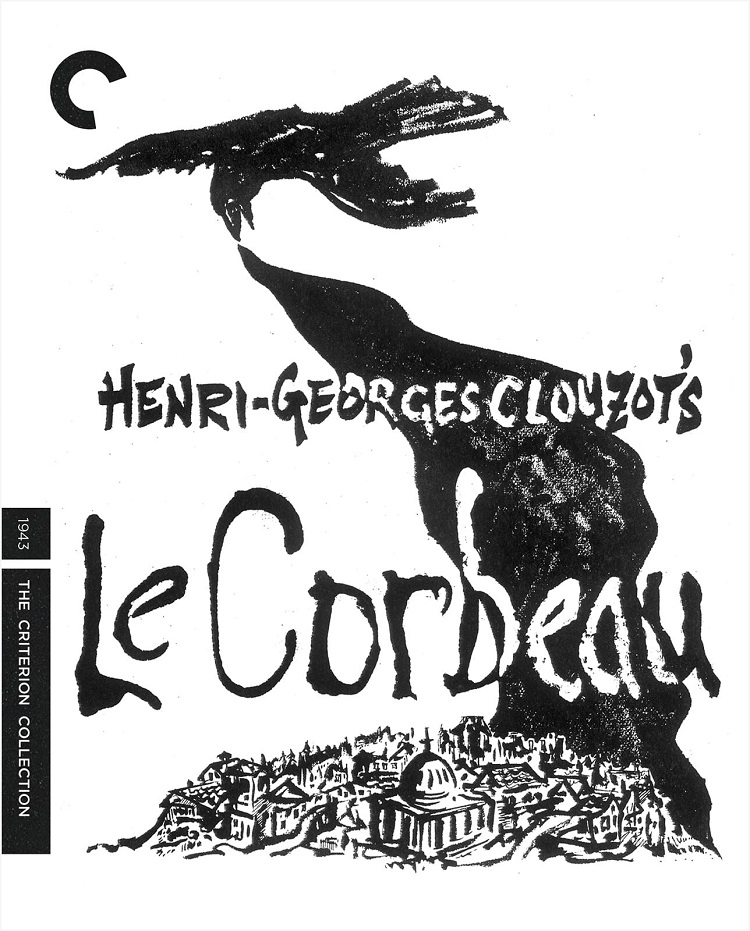 A mysterious writer of poison-pen letters, known only as Le Corbeau (the Raven), plagues a provincial French town, exposing the collective suspicion and rancor seething beneath the community's calm surface. Made during the Nazi occupation of France, this film by Henri-Georges Clouzot was attacked by the right-wing Vichy regime, the left-wing Resistance press, and the Catholic Church, and was banned after the country's liberation. But some—including Jean Cocteau and Jean-Paul Sartre—recognized the powerful subtext to Clouzot's anti-informant, anti-Gestapo fable and worked to rehabilitate his directorial reputation after the war. Le Corbeau brilliantly captures the spirit of paranoid pettiness and self-loathing that turns an occupied French town into a twentieth-century Salem. The Special Features are:
New 4K restoration, with uncompressed monaural soundtrack on the Blu-ray
Interview with filmmaker Bertrand Tavernier
Excerpts from The Story of French Cinema by Those Who Made It: Grand Illusions 1939–1942, a 1975 documentary featuring director Henri-Georges Clouzot
Trailer
PLUS: An essay by film scholar Alan Williams
Exotica (#1150) out Sept 20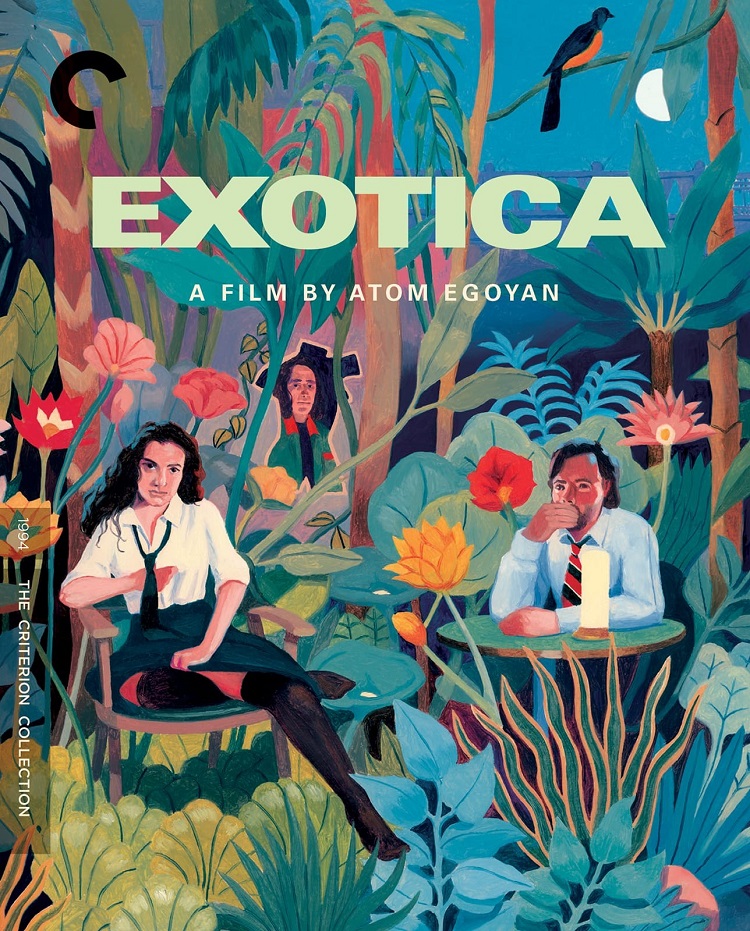 One of the defining independent films of the 1990s, Atom Egoyan's mesmerizing international breakthrough Exotica takes the conventions of the psychological thriller into bold new territory—unsettling, dreamlike, and empathetic. At the neon-drenched Toronto strip club of the film's title, a coterie of lost and damaged souls—including a man haunted by grief (Bruce Greenwood), a young woman with whom he shares an enigmatic bond (Mia Kirshner), an obsessive emcee (Elias Koteas), and a smuggler of rare bird eggs (Don McKellar)—search for redemption as they work through the traumas of their mysteriously interconnected histories in an obsessive cycle of sex, pain, jealousy, and catharsis. Masterfully weaving together past and present, Egoyan constructs a spellbinding narrative puzzle, the full emotional impact of which doesn't hit until the last piece is in place. The Director-Approved Special Features are:
New, restored 4K digital transfer, supervised and approved by director Atom Egoyan and director of photography Paul Sarossy, with 2.0 surround DTS-HD Master Audio on the Blu-ray
Audio commentary featuring Egoyan and composer Mychael Danna
New conversation between Egoyan and filmmaker and actor Sarah Polley
Calendar, a 1993 feature film by Egoyan, with a new introduction
Peep Show, a 1981 short film by Egoyan
En passant, a 1991 short film by Egoyan featuring Maury Chaykin and Arsinée Khanjian
Artaud Double Bill, a 2007 short film by Egoyan, commissioned for the sixtieth anniversary of the Cannes Film Festival
Audio from the film's 1994 Cannes Film Festival press conference, featuring Egoyan, Khanjian, actor Bruce Greenwood, and producer Camelia Frieberg
English subtitles for the deaf and hard of hearing
PLUS: An essay by author and filmmaker Jason Wood
Martin Scorsese's World Cinema Project No. 4 (#1142) out Sept 27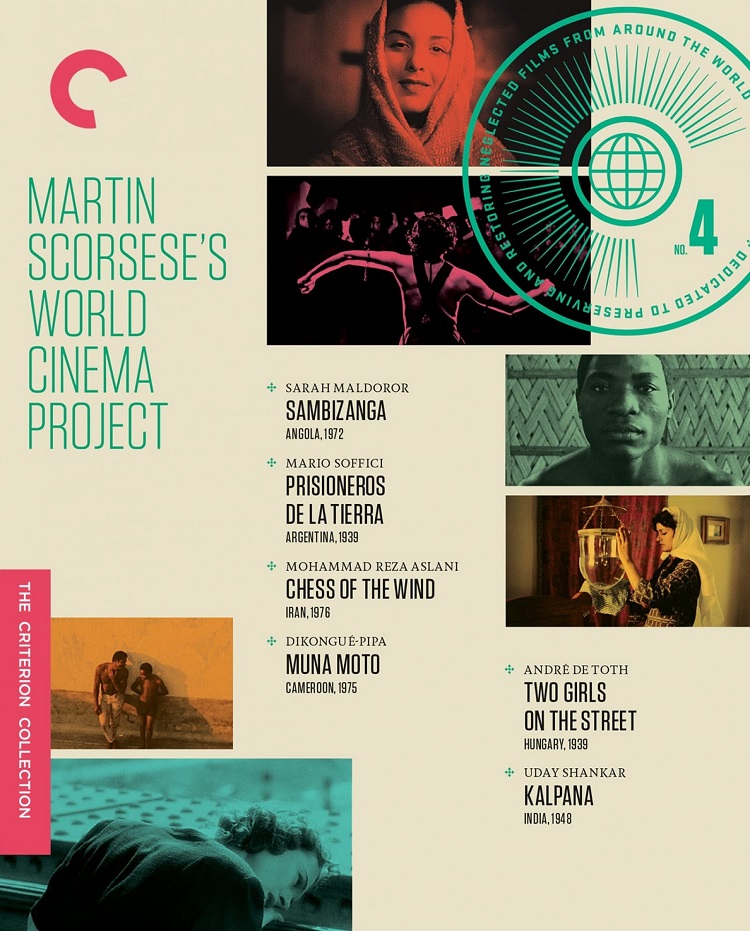 Established by Martin Scorsese in 2007, The Film Foundation's World Cinema Project has maintained a fierce commitment to preserving and presenting masterpieces from around the globe, with a growing roster of dozens of restorations that have introduced moviegoers to often overlooked areas of cinema history. This collector's set gathers six important works, from Angola (Sambizanga), Argentina (Prisioneros de la tierra), Iran (Chess of the Wind), Cameroon (Muna moto), Hungary (Two Girls on the Street), and India (Kalpana). Each title is an essential contribution to the art form and a window onto a filmmaking tradition that international audiences previously had limited opportunities to experience. Learn more about the individual films at the Criterion website.
Sound of Metal (#1151) out Sept 27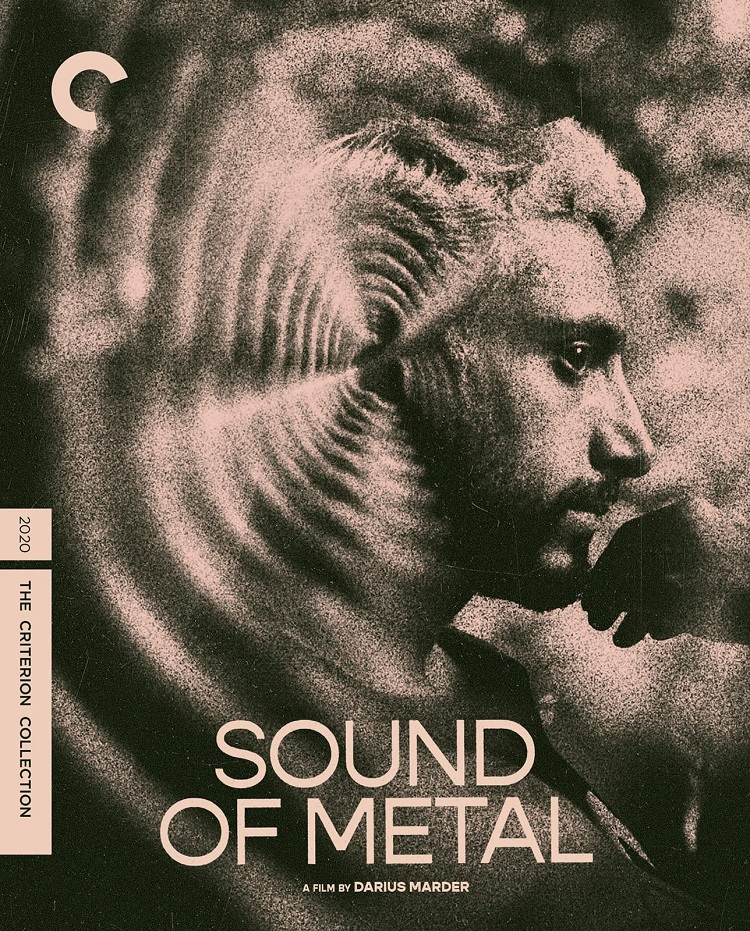 In Sound of Metal, a tale of sound, fury, and self-discovery, Riz Ahmed delivers an intensely committed performance as the volatile Ruben, who has found new purpose as a drummer in a noise-metal duo, playing blistering live shows with his singer girlfriend, Lou (Olivia Cooke). When Ruben suddenly loses much of his hearing, he is launched on a profound odyssey—through denial, anger, grief, and, gradually, acceptance—as he comes to understand what it means to live as a deaf person and to discover deafness as not a disability but a rich culture and community. Through stunningly immersive, Academy Award–winning sound design, director Darius Marder invites us to experience the world as Ruben does, capturing a sonic spectrum in which silence comes in a thousand shades. Read Matt St. Clair's review of the movie. The Director-Approved Special Features are:
4K digital master, supervised by director Darius Marder and cinematographer Daniël Bouquet, with 5.1 surround DTS-HD Master Audio soundtrack on the Blu-ray and 4K UHD editions
For the 4K UHD edition: One 4K UHD disc of the film presented in Dolby Vision HDR and one Blu-ray with the film and special features
New conversation between Marder and filmmaker Derek Cianfrance, who share a story credit on the film
New program about the film's sound, featuring Marder and sound designer Nicolas Becker
Music video for Abraham Marder's song "Green," featuring outtakes from the film
Featurettes
Trailer
English subtitles for the deaf and hard of hearing
PLUS: An essay by critic Roxana Hadadi