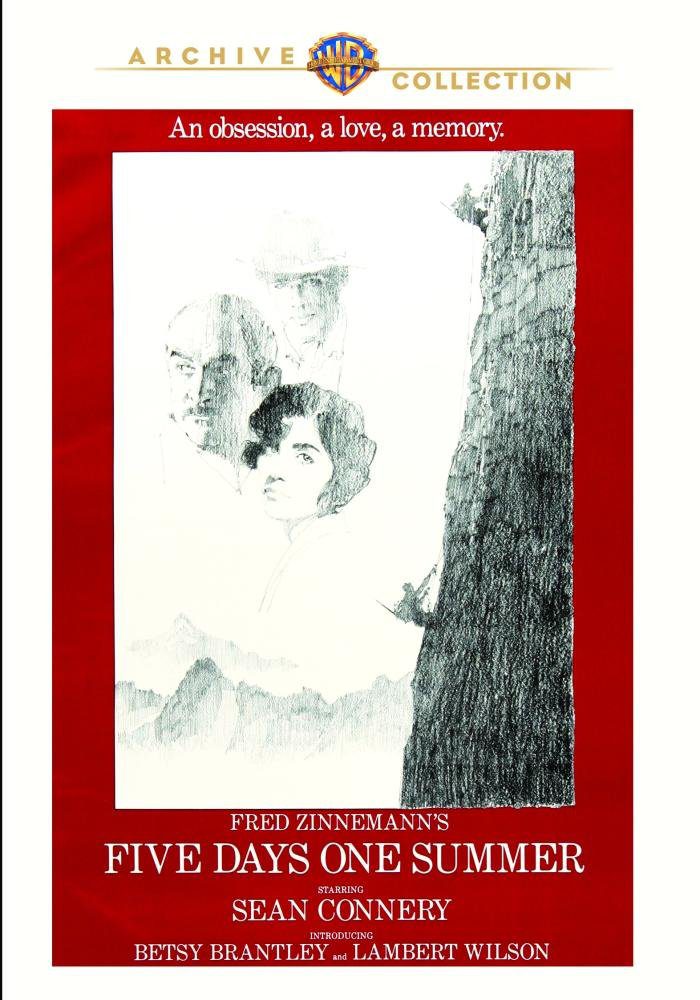 It is oft said one must reach the top in order to succeed, and this trio of minor motion pictures from Hollywood's past can serve as a painful reminder of how much of a fall you're in for should you slip up somewhere along the line. And both of those terrible analogies certainly come into play in the 1982 Warner Bros. drama, Five Days, One Summer, for it quite literally has to do with mountain climbing. But before you get your hopes up, this is not the sort of exciting cinematic fare like you might find in The Eiger Sanction. Rather, this final feature from director Fred Zinnemann ‒ who had certainly helmed much better pictures during his years, such as From Here to Eternity, High Noon, Julia, and The Member of the Wedding ‒ is about as dull of a mountain climbing picture as you could ever hope to not have the misfortune of sitting through.
Most of the insipidness present throughout this yarn set in the otherwise breathtaking Swiss Alps is attributable to the fact it's really a love story. But not even the element of incest is enough to break the ice (ha-ha) here as we watch ex-James Bond Sean Connery (in the midst of a dry spell) brave the harsh elements of the mountains without his signature hairpiece. Instead, Sean is carrying a young woman (Betsy Brantley, who debuted the year before in The Rocky Horror Picture Show's maligned sequel, Shock Treatment), whom he refers to as his wife. She's not, of course, but then, nobody in attendance ‒ be they onscreen or off ‒ really cares, since Five Days, One Summer is painfully dull. Even a score by Elmer Bernstein can't get this one off the ground. In fact, Fred Zinnemann officially considered himself over the hill after this one toppled to the ground at the box office, and retired.
Speaking of retiring greats, our next plunge from the top is the 1967 American/West German production Jack of Diamonds. Made at the height (boy, I'm really going to town with the subtle puns today) of the Eurospy/Krimi/Caper craze of the era, this cat burglar flick from MGM and former television director Don Taylor (who went on to bring us Escape from the Planet of the Apes and The Final Countdown) finds young George Hamilton as the eponymous thief with a flair for the dramatic (something John Phillip Law would perfect the following year in Mario Bava's Danger: Diabolik). This is embarrassingly evidenced immediately at the opening of the picture, with Hamilton climbing down the outside of a building in order to sneak in and steal Zsa Zsa Gabor's jewels ‒ leaving behind a very fey message to the actress, who plays herself, on her mirror in (her) lipstick.
Presumably cast to date the movie as much as it can, Zsa Zsa is one of three marquee value actresses who pop up for brief cameos, along with Carroll Baker and Lilli Palmer. None of them share any actual screen time with our star, making the whole thing seem like cinematic bait and switch (which I suppose is fitting, considering the nature of the feature). Despite his elan and agility, Hamilton takes a backseat once his character's mentor, the great Joseph Cotten (as the Ace of Diamonds), shows up along with a shapely Marie Laforêt and an overenthusiastic Maurice Evans. Alas, the grand heist they plan doesn't succeed in stealing much of a plot; rather Jack of Diamonds plays out its poorly-dealt hand, unable to bluff its way into a win. Wolfgang Preiss and Karl Lieffen co-star in this mediocre caper, which benefits from a funky score by Peter Thomas.
Well, we may not have reached the top with most of the films mentioned in this article, but I can safely say our final feature, Count the Hours, manages to shoot far above its chronological successors. And with very few recognizable names or faces in the mix, the sudden change in atmosphere can only be credited to director Don Siegel. His sixth feature film, made a year before Riot in Cell Block 11, this early crime noir tale of mistaken identity and bad luck from RKO finds innocent drifter George Braden (John Craven) accused of murder. While his pregnant wife Ellen (Teresa Wright) searches frantically for the gun she threw into the lake which will prove her hubby's innocence (which she tossed into the water originally out of fear, the silly girl), an ambitious attorney (Macdonald Carey) all but moves in to help her, leading to a lot of gossip and hearsay from the small town's small-minded population.
But the real star here is Jack Elam, who receives second-to-last billing as a local nutter who may or may not (but probably is) the actual killer. Competing against Elam in a few scenes ‒ never an easy task, unless you're Marty Feldman ‒ is sexpot Adele Mara, who plays Elam's alluring trailer trash girlfriend. Dolores Moran co-stars as Macdonald Carey's fiancée (who grows a little jealous of the interest her onscreen betrothed shows in the top-billed star). Another Dolores can also be seen in the distance here: Dolores Fuller, the then-tormented partner of B moviedom's greatest cross-dressing asset, Edward D. Wood, Jr.! Serial/oater regulars I. Stanford Jolley, George Pembroke, and Gene Roth also have bit parts in this fun little crime drama, expertly photographed by John Alton. The film made its official debut on April 1, 1953, but don't let that fool you: it's the best of the lost (in my opinion, at least).
All three films make their official home video debuts here from the Warner Archive Collection. Count the Hours sports the best-looking transfer of all, its noir-like cinematography shining throughout. Jack of Diamonds' presentation is even flatter than the feature itself, looking like it may have been matted just a wee too much in the process. Five Days, One Summer looks much better than the latter flick, though it too shows off a few (mostly unnoticeable) flaws throughout its runtime. An original theatrical trailer accompanies each release, which you ‒ fortunately ‒ won't have to scale a mountain or pull off a big heist in order to obtain.
Enjoy.