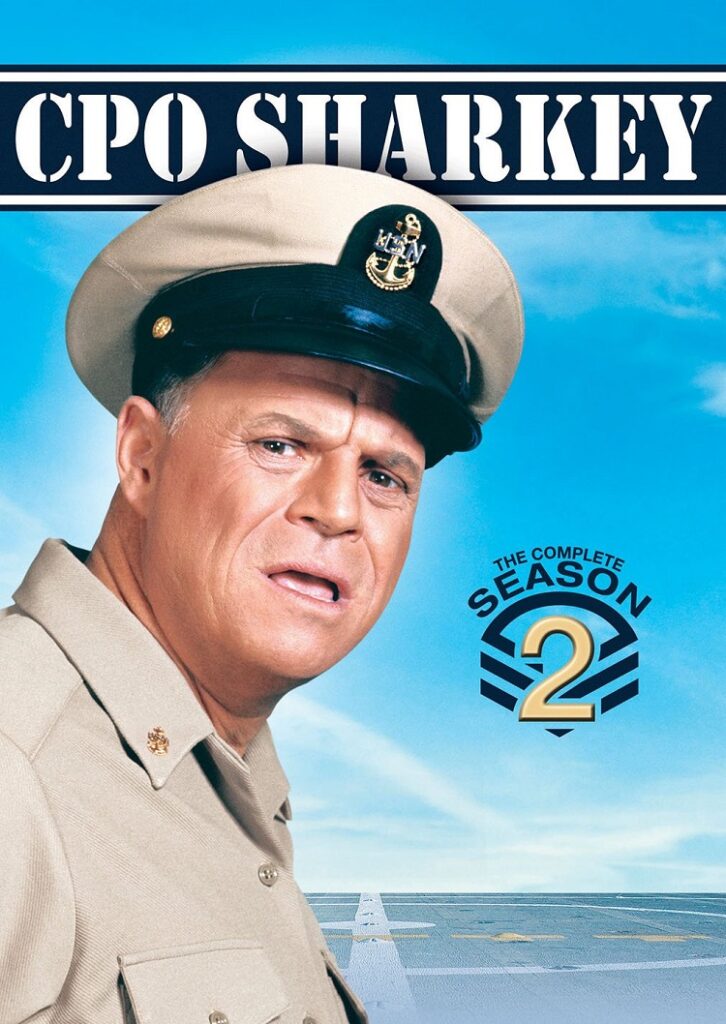 In a clear effort to counter-program against CBS, who was having plenty of Good Times on Wednesday nights at 8:00 pm in 1976, NBC gave the world CPO Sharkey, starring Don Rickles as an overbearing, insensitive, and politically incorrect leader and shaper of young men.
In the second season, CPO Sharkey would go up against the CBS superheroes, Wonder Woman and the Incredible Hulk, and the super smiles of Donnie and Marie Osmond on ABC. The shark got beat up and eaten which was too bad because the series really began to develop in Season 2.
With the release of CPO Sharkey: The Complete Season 2 on September 22, thanks to Time Life, we've had the opportunity to compare and appreciate the two seasons. Sure, the fine print on the back of the cover states, "Some of the jokes and ethnic references heard in these episodes would most likely not be allowed on network television today and reflect the tenor of the times," but hey, that was and is Rickles. In Season 1 (previously reviewed), the stories were quite limited. There was an effort to make, "I'm gonna keep my eye on you" a catch phrase, and the running gag of having someone repeat what Sharkey said so he could unload on them was a standard bit. For example:
Sharkey: Rodriguez, come into my office.

Rodriguez: Your office, sir?

Sharkey: No, come into my garage so I can change the oil in your hair!
In Season 2, the above referenced bit remained a constant, the writers let go of trying to get America to embrace "I'm gonna keep my eye on you," and took pages out of the Gomer Pyle book of scripts by creating situations with more depth. Though familiar, the stories allowed Rickles to expand on the character while maintaining the humor he was famous for. Season 2 was more about the situations and less about what Sharkey would say next.
Given a time slot where Sharkey could have been competitive in a television landscape filled with both milquetoast and milk bone, the show might have had a chance. Sharkey had the bite of Archie Bunker and the stories of Gomer Pyle but could not seem to find an audience that wanted both. Sadly, the show was canceled after thirty-seven episodes.
The bonus material is listed on the package as: CPO Sharkey Cast Reunion Las Vegas 2015 with Don Rickles, Harrison Page, David Lansberg, Tom Ruben, and Barry Pearl. This could easily evoke visions of a Paley Center panel discussion in front of a live audience. Sadly, what we get is a single camera shoot of the four co-stars cramming on to a couch in the green room prior to a Rickles performance. Rickles is 89 years old and his memory and faculties are not what they once were. The others fawn over Rickles a bit too much and the scene ends up being more awkward than entertaining.
Recommendation: Though CPO Sharkey may not be legendary, Don Rickles is a legend. The series is a pleasant distraction in doses that never really caught on. Rickles fans will enjoy watching him in a vehicle that allows him to do his thing, while others may simply not get it because they are not familiar enough with whom Rickles was and thus cannot appreciate his legacy of cutting-edge comedy. Comedians of today can't hit as hard as Rickles without being crude or offensive. Rickles has a gift. He is able to get people to look at themselves and laugh at who they are even though he is an outsider. Rickles will hit all genders, races, and religions and leave everyone wanting to hug him. CPO Sharkey hits less and thus leaves less desire to hug him.