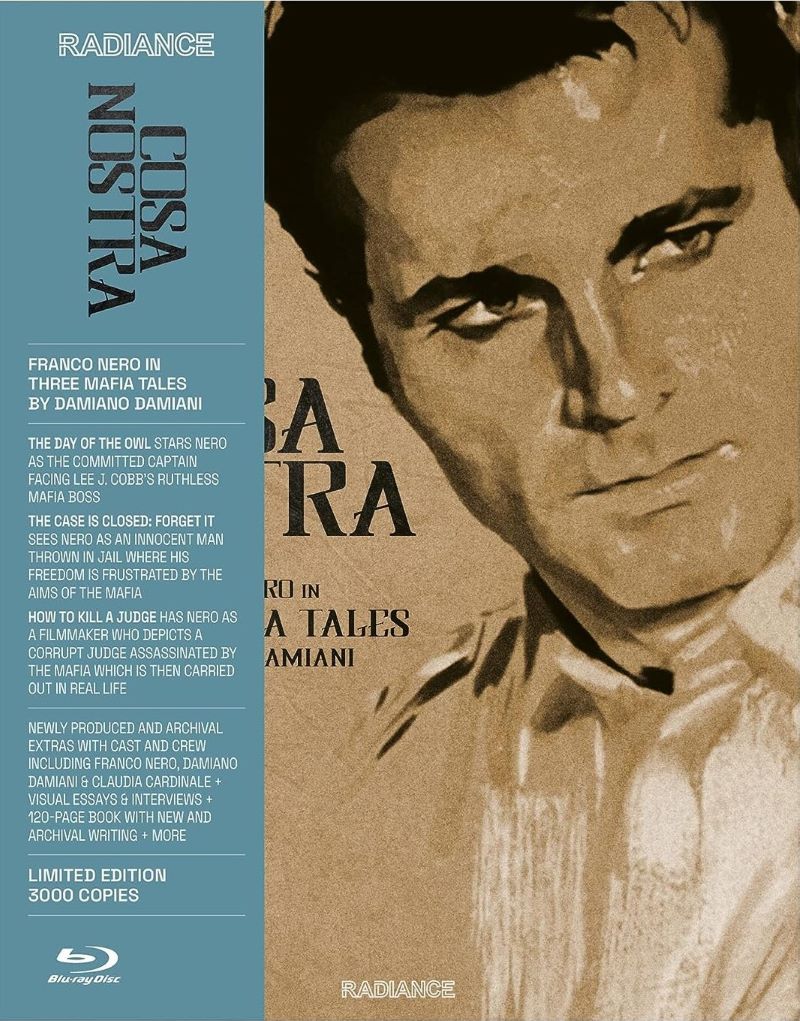 Superstar Italian actor Franco Nero headlines three separate projects by director Damiano Damiani with a unifying spotlight on the mafia and its effects on Italian institutions and citizens. These are no mere mob genre films though, as each film approaches the topic from unique character perspectives and features plots that take unexpected turns as they progress toward their unforgettable endings. Damiani also co-wrote all of the films, with his scripts proving to be highly critical of the mafia and officials under their control, but also surprisingly realistic about the inevitable outcomes of his scenarios.
The Day of the Owl (1968), also known as Mafia, showcases Nero as a principled new police captain who blows into a Sicilian town determined to eradicate its mafia presence. He's faced by American ex-pat Lee J. Cobb playing the mafia boss in a fascinating battle of wills. The action takes place much like a chess match, with each opponent stationed on balconies on opposite sides of the town's central plaza, sending out their pawns to do their dirty work as they calmly observe the action from on high. Claudia Cardinale also co-stars as a farmer's wife who turns to Nero's cop to help her find her missing husband before the mafia goons erase him for witnessing one of their hits.
The Case is Closed: Forget It (1971) has Nero playing an innocent architect thrown in jail for nefarious purposes. He soon befriends a man targeted by the mafia and the prison guards under their control, leading him to become an unsuspecting accomplice in their grand plan. The film starts out slowly as he acclimates to prison, building in intensity as he forges relationships and gradually learns of his inevitable but surprising role in the master scheme.
How to Kill a Judge (1975) starts on a high as Nero plays a film director launching a searing and successful movie indictment of a thinly veiled real-life crooked judge, but quickly falls apart for him when the judge is promptly murdered. Determined to find out who did it and erase the cloud over his reputation, Nero's character races ahead of the cops and the mafia to connect the dots.
The new box set comes from an exciting new player on the scene, Radiance Films. Borrowing a page from the Criterion and Arrow playbooks, they focus on interesting niche titles from around the world, then source and restore the best available elements to present in lush new packaging. Indeed, the first thing you'll likely notice about this box set is its heft, a combination of a super sturdy box, a massive 120-page book exclusive to the 3000-copy limited edition, and full-size Criterion-esque clear cases for each disc. The cover art for each disc is reversible and based on original posters for each film, and the descriptive label on the box is removable to allow for packaging free of certificates and markings.
The care and attention to detail continues in each film's bonus features, with roughly an hour of bonus content on each disc. The best features are the three new interviews Franco Nero contributed, as he reminisces about his time on each film and relationships with Damiani and the cast. Features also include archival making of documentaries, an amusing Belgian taxi cab interview with Cardinale recorded within the past decade, and video essays by Italian cinema experts.
Setting aside the extras and packaging, the actual films are in immaculate condition, sourced from new 2K restorations and presented with Italian and English audio options. Also, The Day of the Owl has both Italian and English version cuts. Colors are rich and tones remain rock-solid through all scenes, with a modest amount of film grain. All of the films look better than most Hollywood output of the era, a newly refreshed testament to Damiani's masterful direction and shot selection. Sound is also in great shape, exhibiting no discernible hiss, partially thanks to the sterile dubbed nature of Italian audio tracks of that time.
Cosa Nostra is the box set I didn't know I needed, offering three riveting dramas anchored by Nero's searing performances and Damiani's polished direction. Each film is closer to the best of Hollywood than by-the-numbers giallo, with superb production values and surprising narrative choices. With only 3000 copies of the limited edition available, Radiance rewards early adopters with a classy, weighty collection sure to be a centerpiece of connoisseur collections for years to come.