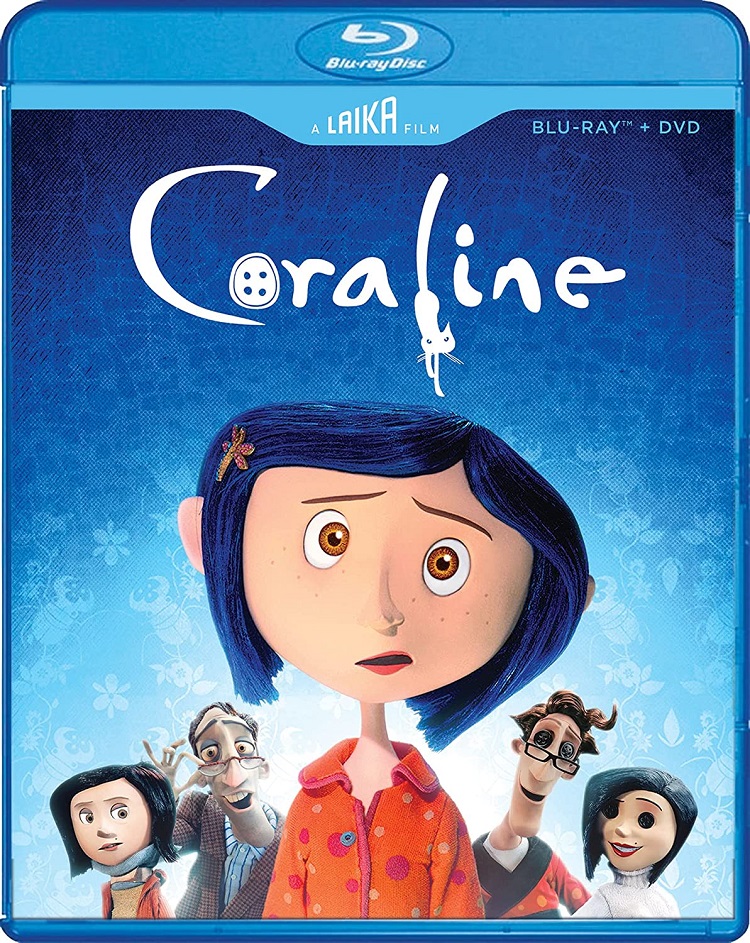 Based on Neil Gaiman's award-winning children's novella, writer/director Henry Selick's Coraline is a fantastic fairy tale about a young girl learning to appreciate what she has and that some things are to good to be true. Selick was the perfect person to helm the stop-motion animation project, the first feature film by LAIKA, which was previously Will Vinton Studios.
Coraline (Dakota Fanning) and her writer parents (Teri Hatcher and John Hodgman) move into a new apartment. Her parents are consumed with their work and don't spend a lot of time with her. Coraline meets Wybie (Robert Bailey Jr.), the landlady's grandson, who shows her a doll dressed like she is that was among his Grandma's stuff.
One night, a kangaroo mouse leads Coraline to a small door that reveals a portal to a parallel world where people have buttons sewed over their eyes, and her other parents are attentive and wonderful, too wonderful in fact. It turns out Other Mother is a creature called the Beldam (also Hatcher), and she has been capturing children and stealing their eyes. Refusing the offer to stay in this world, she returns home only to discover her actual parents have been captured by Beldam. Assisted by a black cat (Keith David), she returns to Beldam's world to recover her parents and the ghost children who are trapped there.
Coraline is reminiscent of classic children's stories. It features a strong female lead character and it doesn't shy away from scary creatures and moments. I could see very young children having nightmares after seeing this. For everyone else, it's an enjoyable spooky film that deserves to be revisited for years to come.
Previously available in 3D, this Blu-ray from Shout Factory presents the video with a 1080p/MPEG-4 AVC encoded transfer displayed in its original aspect ratio of 1.85:1. Colors appear in bold hues that pop off the screen. Blacks are inky. All objects seen were created by 3D printing systems from Objet and they exhibit impressive texture detail. Depth is apparent. Image is clean and free of dirt and defect.
The audio is available in DTS-HD Master Audio 5.1. Dialogue is consistently clear. The surrounds are filled with ambiance and Bruno Coulais's score. Items can be heard moving across channels. The mix blends the elements together well.
There are quite a number of special features in HD:
Audio commentary with Selick and Coulais.
Inside LAIKA: Discovering the Characters of Coraline (11 min) – Selick and a number of animators chat about creating the film
Inside LAIKA: Revisiting the Puppets with LAIKA's Animation Team – Animators offer minute-long looks, except for two minutes on Mr. Bobinsky, at characters: The Beldam, Mr. Bobinsky, The Cat, Coraline Jones, Other Father, Other Mother, and Wybie Lovat. Unfortunately, there's not a Play-All option.
Feature-Length Storyboards – A preproduction version of the film with the audio playing under storybaord drawings.
Making of Coraline (36 min) – Available to view separately or to be played altogether, different elements of the film's creation are explored: The Evolution of the Story, Character Design and Art Direction, Directing the Voice Sessions, Making Puppets, Coraline's Closet, Setting the Stage: How Does Your Garden Grow?, It's Alive, I've Seen Fire and I've Seen Fog, The Eyes Have It, and Wrapping Up Coraline.
Creepy Coraline (5 min) – Animators focus on the creation of rats, Other Mother/Beldam, bugs, and Slugzilla.
Voicing the Characters (11 min) – Aforementioned cast members and co-stars Ian McShane, Jennifer Saunders, and Dawn French are shown performing and giving their thougts about their characters.
Deleted Scenes (9 min) – Selick introduces the scenes and gives his reasons for cutting them
Still Galleries
Theatrical Trailer
Coraline deserves a spot in the family video library alongside spooky fare like Snow White and Sleeping Beauty, and like those titles it's not solely for kids. The Shout Factory release is a Blu-ray/DVD Combo. The Blu-ray video showcases the talents of LAIKA's animators and the Special Features allow fans of the film and of animation in general to dig deep into the filmmaking process.