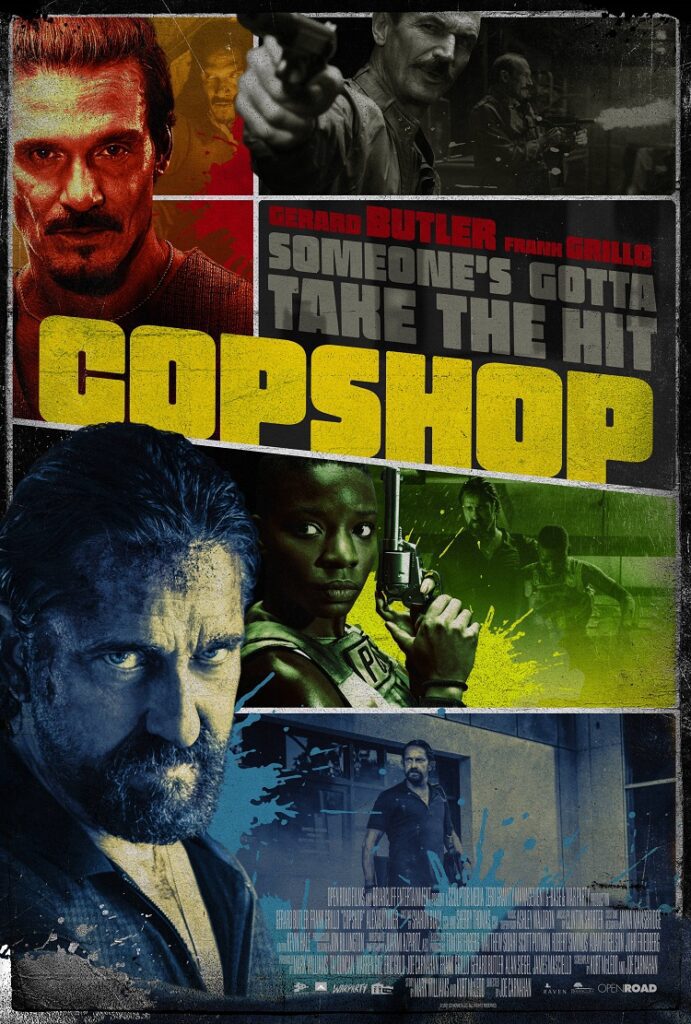 "Copshop" is a slang term for a police station and is the title of Joe Carnahan's newest film. Set in a remote Nevada police station, Copshop is the story of "fixer" Teddy Murretto (Frank Grillo), who is on the run from hitmen Bob Viddick (Gerard Butler) and Anthony Lamb (Toby Huss), who are each trying to fulfill separate contracts that have been placed on Teddy's head. Teddy hatches a plan to get arrested feeling jail will protect him and ends up unknowingly pulling in officer Valerie Young (Alexis Louder) and the local police into the deadly hunt to kill him. But once everyone is under the same roof, it becomes clear that Teddy is not the only one being hunted, that no one is actually safe, and that the differences between good and evil aren't always clear.
This movie is a fun and exciting watch. Joe Carnahan and Kurt McLeod wrote a suspenseful screenplay based on a story by Mark Williams, with tight and funny dialogue and exciting action throughout. Carnahan and crew have delivered a densely packed action film where every scene is either filled with action or strong dialogue that fleshes out the characters and moves the story along. In this age of films running two and a half to three hours long, Copshop gets the job done in 107 minutes. However, I think the cut of the film could have been better served with a few more minutes as certain character connections in the film are not as clear as they could be.
Copshop is also beautifully shot and designed. Juan Miguel Azpiroz's cinematography captures the vastness and beauty of the desert in the exterior shots, and brings the audience right into the story with incredibly well composed shots once inside. Meanwhile, the production design captures the mood, story, and personalities of these characters who are all trying to survive another day.
Gerald Butler and Frank Grillo deliver strong performances, but Alexis Louder and Toby Huss really stole the film for me. And while I know that writing is part of what makes a character so good, Louder and Huss really made these characters the stand outs that they are. Louder plays officer Valerie Young in a way that feels genuine, believable, and well-rounded. She does not come across as a 2D version of "strong, female cop who has to make her way in a male-dominated world." Louder clearly understood the holistic picture of her character and brought those nuances to the screen.
And then there is Toby Huss as Anthony Lamb. He delivers a fantastic performance as this psychopathic hitman. From the moment his character enters the action, I wanted to see more of him. Huss's Lamb is strong juxtaposition to both Murretto and Viddick and that is part of what makes him so good. Huss delivers some of the funniest lines in this film, but also shows no mercy as Lamb. His embodiment of this character makes me want a stand-alone Anthony Lamb movie that shows his exploits before Copshop.
In addition to the leads in this film, there are many other supporting characters in this film who also get a moment, even if a brief one, to shine. The writers did not waste anyone's screen time and it was clear that each character in Copshop had their own story.
Copshop is definitely worth your time. Carnahan delivers a film that is entertaining, visually pleasing, and has strong characters who will keep you engaged. The film is rated R and has a runtime of 107 minutes. It is out in theaters now.