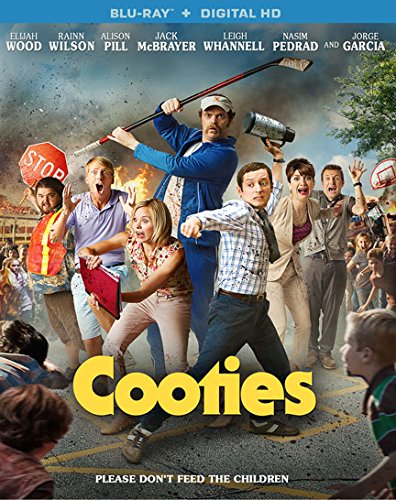 I don't know about you, but I had a mighty fine Thanksgiving. The weather outside was frightful, but inside was nice and warm, cozy and delicious. With that behind us, everybody turns to Christmas. The trees and lights go up, the holiday music plays on repeat, and everybody has a certain kind of cheerfulness. I really do love the season, even if so much of it is artificial. I used to be quite the grinch, but marriage and perhaps age has led me to enjoy all things Christmas. We buy a real tree every year and decorate it with our random ornaments. We plays all sorts of Christmas music and drink our share of eggnog. We gather together without families, share presents and laughs and have a swell sort of time.
And then I'm sick of it all. By December 26th, I'm ready to strangle anyone who sings a carol, I take the tree out back and burn it, and if I see another movie with Santa Clause, I just about barf. Which is why I'm picking Cooties as the perfect retreat from all this Christmas cheer.
The basics are that a zombie virus has infected an elementary school turning all the children into brain eating monsters while the rather inept teachers and administrators try their darnedest to escape with their lives intact.
The trailer is big, bloody, gory fun with plenty of laughs and flesh eating. It's got a nice cast too with Elijah Wood, Alison Pill, Rainn Wilson, Jack McBrayer and Jorge Garcia.
I really do enjoy the Christmas season and all that entails. But come December 26, I'm throwing in some Cooties and getting down with some brain-eating comedy.
Also out this week that looks interesting:
Downhill Racer (Criterion Collection): Robert Redford stars as an Olympic-grade skier who forsakes everyone, in order to achieve his goals. With mixed results. That plot doesn't do it for me, but Redford plus Gene Hackman, Dabney Coleman, and Criterion certainly get me intrigued.
The Walking Dead: The Complete Fifth Season: I'm still way behind on this series (I think the last episode I watched was about 1/4 of the way through Season 3. There is so much I like about the series, but the writing and acting are not those things. Which gives me a love/hate relationship with it.
Fear the Walking Dead: The Complete First Season: This prequel to The Walking Dead got some mixed reviews and considering my feelings towards the original show, I can't say I'm super excited about this one. Except it stars Kim Dickens and you can't get enough Kim Dickens in your life.
Amy: This documentary about Amy Winehouse got a lot of buzz when it came out. I very much liked the singer's voice, but I'm not sure I'm all that interested in her personal life.
Roger Waters: The Wall: The Pink Floyd singer/guitarist performed the band's concept album numerous times over the last several years. This movie fuses those performances with Waters taking a road trip and discussing his life and music.