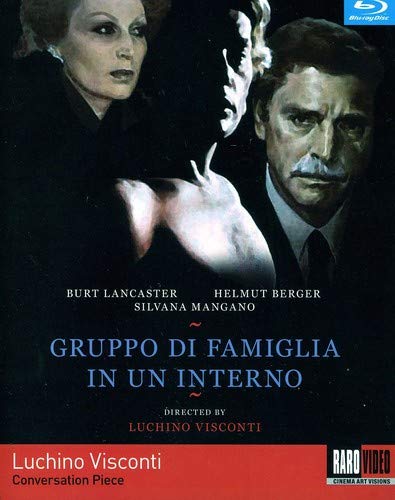 Luchino Visconti's second-to-last film, Conversation Piece (Gruppo di famiglia in un interno) is a sure-handed, character-driven chamber drama that may not reach the sumptuous, melodramatic heights of Visconti's best-known work, but certainly comes from the hand of the same probing filmmaker.
At the film's center is Burt Lancaster, playing a wealthy, retired, unnamed professor cloistered in his massive Roman palace, surrounded by art and books. A decade after playing the aristocrat in Visconti's The Leopard, Lancaster here is a man whose life has nearly been mummified — we never see him leave the palace, his memories of his late wife and mother (Claudia Cardinale and Dominique Sanda in uncredited roles) are one of his chief preoccupations and he's become wholly passive.
That passivity doesn't serve him well, when an obnoxious middle-aged socialite (Silvana Mangano) strong-arms the professor into renting his upstairs apartment to her. She stashes her much younger boy toy (Helmut Berger) there, and along with frequent visits from daughter Lietta (Claudia Marsani) and her boyfriend (Stefano Patrizi) and disruptive and unauthorized remodel work, the professor's quiet home life is all but obliterated.
Lancaster's quietly defeated performance provides a moving emotional anchor for Visconti to build around, and after a series of events causes the professor to gain an affinity for Berger's Konrad, a ray of purpose begins to gleam through. Fundamentally lonely despite being surrounded by opulence and comfort, the professor sees a chance to assemble some kind of ramshackle family out of his boorish tenants, with the enigmatic Konrad standing in as the unlikely son he never had.
Set entirely within the walls of the professor's palace, Conversation Piece sees Visconti showcasing his extraordinary ability to incorporate location as character. The grandly decorated and furnished home can feel like a mausoleum, the walls closing in on an isolated old man, but Visconti's weaving, zooming camera can also suggest effervescing signs of life just beneath the surface. Despite the professor's initial misgivings about the arrangement, there is promise in having this entirely different group of people live with him.
Raro Video's DVD of the film offers up a solid 2.35:1 transfer and presents the film in its original English language track. Visconti shot the film with the majority of the actors speaking English, and it was later dubbed for its Italian release. While both tracks would've been nice to have, the film plays quite naturally in English. Special features include an interview with critic Alessandro Benccivenni and the film's theatrical trailer, which gives a little taste of the Italian dubbing. A booklet with an essay by Mark Rappaport and biographical information on Visconti is also included.
the professor's initial misgivings about the arrangement, there is promise in having this entirely different group of people live with him.</p>
<p>Raro Video's DVD of the film offers up a solid 2.35:1 transfer and presents the film in its original English language track. Visconti shot the film with the majority of the actors speaking English, and it was later dubbed for its Italian release. While both tracks would've been nice to have, the film plays quite naturally in English. Special features include an interview with critic Alessandro Benccivenni and the film's theatrical trailer, which gives a little taste of the Italian dubbing. A booklet with an essay by Mark Rappaport and biographical information on Visconti is also included.</p>