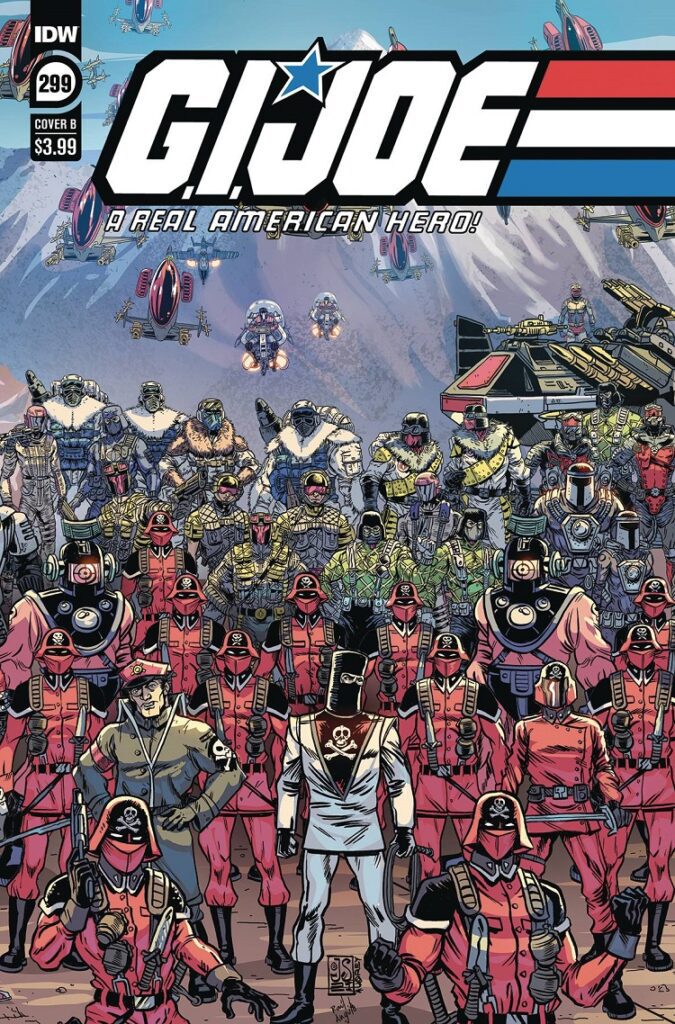 For being the penultimate issue of G.I. Joe – A Real American Hero, issue #299 (part four of the "All In!" story line) has so much going on, one wonders how they will wrap up the story in one more issue. The IDW G.I. Joe license runs out soon, but not before one last big story arc and a milestone issue #300 to come.
Written by G.I. Joe legend Larry Hama, with excellent art from SL Gallant and Rod Whigham, #299 finds Serpentor Khan having seized control of the Cobra Island Casino and imprisoning Cobra Commander. He then uses the patrons of the casino as a human shield to prevent the Joes from attacking head on in their attempts to save Sean and Dawn. Storm Shadow has other ideas though, saying he has a better chance of getting through himself, and he does just that, infiltrating the island in his own rescue attempt. Meanwhile, Dr. Mindbender has one final surprise — and it's a big one — that will no doubt play a major role in issue #300.
Over the course of 40 years and two publishers, Hama has delivered nearly 300 mostly great stories. While one would imagine the license will go someplace else if Hasbro wants it to and Hama might get a shot to write it again, 300 issues is an amazing run for anyone and issue #299 sets up what is sure to be an exciting series finale at IDW.