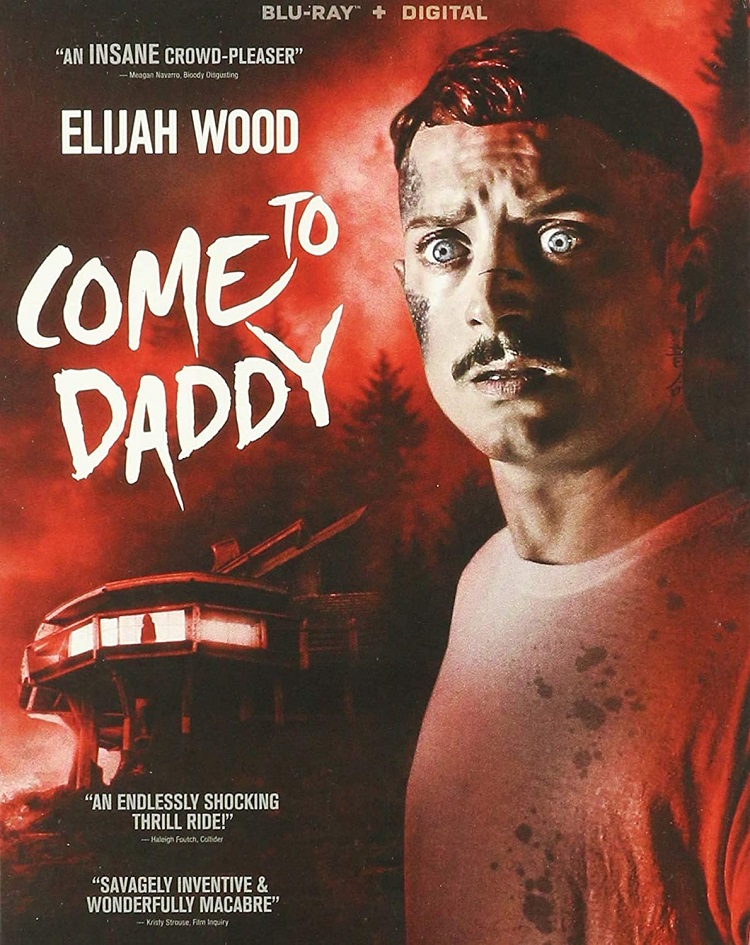 Come to Daddy is a twisty movie. A lot of its narrative power comes from its plot surprises, so as a reviewer it is difficult to decide how much to reveal, and how much to hold back to let its potential audience know whether or not the movie is worth their while. The story begins as indie drama: a not-so-young man has been sent a letter by his father, estranged for 30 years, saying that he wants to finally see his son and reconnect. Norval, the son, is having a rough few years and decides to take his dead up on the offer.
The father's cabin is not easy to reach – Norval takes a bus ride, and then walks across windy plains to get there, at a strange house his dad has sitting above the ocean. When he knocks on the door, his dad opens up, but stares at him like he doesn't recognize him. And he doesn't want to tell Norval why he sent that letter that invited him to come and reconnect and reconcile.
Norval is apparently a DJ and music producer, and tries to impress his dad, a former limousine driver, with the contacts he'd made in the music world. Norval claims to be close to some big names, including Elton John – "His real name's Reginald", he says. Well, that's a coincidence. His dad just happened to be "Reginald"'s driver for over ten years. "Let's give him a call."
The dad is calling Norval's bluff. He doesn't have the connections he pretends to have. He doesn't have the clout he affects. He's a shell – a hip hair cut with Kanji tattoo under his ear, but also a recovering alcoholic who's been living with Mom for the last few years. He apparently doesn't have anything of his own except for the empty place inside himself his absent father had left, after abandoning him and his mother for 30 years.
All Norval want to do is reconnect. But what did his Dad want? Why did he send that letter? Norval hopes for reconciliation…but Dad acts strange. He offers Norval wine. Norval declines. "I've had issues with alcohol dependence." Dad, on hearing this, fills his wine glass to the brim, swishes it around, and asks Norval if he's tempted.
He says no. His eyes say yes.
Norval is played by Elijah Wood, who has apparently decided his post Lord of the Rings career should be filled almost exclusively with weird little movies that wouldn't see the light of day if they didn't have his name attached to them. Come to Daddy begins as a somber indie drama with a misguided young man reconnecting with his absentee father, and then turns into a bizarre exploitation crime film as secrets come out, and Dad's confrontations become more overt.
It is difficult to describe what happens in the film without falling into the world of spoilers. Come to Daddy's fun comes from its on-going roller coaster of shifting circumstances. After 45 minutes, of family strife, regret and grief, it is turned on its heads and becomes a crime exploitation cinema, where Norval's true mettle is tested. In some ways, the film is reviewer-proof, because the aspects of the drama that require criticism can't be revealed without spoiling the plot for the viewer, and this is certainly a film the benefits from going in blind. Suffice to say, there is sudden violence and criminality, and Norval discovers the limits he will go to prove he is worthy of his absent father's love, and the find out if he's more than a collection of affectations and failure.
Elijah Wood plays Norval as a man slightly overgrown for his ambitions – he's closing in on middle age, and thinks he's a teenager. There's a wonderful sequence early on in the film where he's walking to his father's house, far from the road, wearing a rather pretentious hat. As he wanders, luggage in hand, across the dunes, his hat is caught in the wind and carried away. This isn't a place for the indulgence of his twee world which lets a grown man get away with nonsense like his stupid-looking hat. He's going into his father's world, where men are men, and don't let other "men" forget it. Norval learns difficult lessons about how much he has taken for granted in his own world and here is where my difficulty as a reviewer comes in, because the fun on of the film is the twists it takes… but I feel like it doesn't quite get as twisted as it could have been.
Dark and strange things happen to the characters, and Norval has to make terrible choices, but at the end, as a fan of exploitation cinema, I felt it wasn't enough. Come to Daddy straddled the line between indie crime drama and full exploitation, but never, ultimately, picks one camp completely. The performances by the actors are almost uniformly excellent, creating a sense of reality that could have taken a bigger push into the fantastic and the exploitative than the film ultimately makes. The dialogue is frequently hilarious, and often hilariously vulgar. It is the first feature film directed by Ant Timpson, a mainstay in the New Zealand cinema scene who has produced several strange independent films, including Turbo Kid and The Greasy Strangler. Come to Daddy is briskly paced, and routinely finds interesting compositions even though the film takes place in just two small locations.
Come to Daddy is a good thriller, with twists that the average audience member wouldn't see coming. It benefits greatly from taut, distinctive performances, and with little to no foreknowledge. And it has a real payoff in the third act. I just fear that it doesn't quite stick the landing. But it's funny, it's tense, it doesn't outstay its welcome.
Come to Daddy has been released by Lionsgate on Blu-ray. The disc contains no extras.