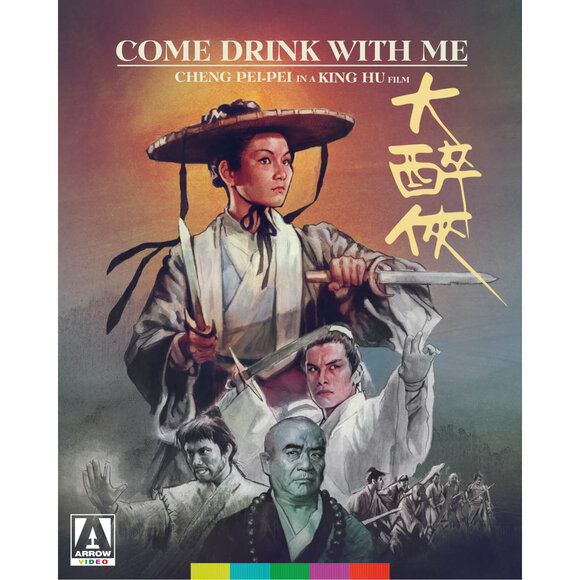 Director King Hu's Come Drink with Me (1966; 95 min) remains fresh after all these years. Produced by Run Run Shaw of the Shaw Brothers Studio, a giant of martial arts cinema, the movie laid the groundwork for wuxia pian (martial chivalry films), receiving its most notable tribute in Ang Lee's Oscar-winning Crouching Tiger, Hidden Dragon (2000). Seeing it today, Hu's landmark mix of high-spirited, even comic, swordplay and operatic spectacle takes your breath away. It's a fun, efficient machine of a sort that few directors, Hu included, would ever top.
After a team of bandits led by Jade-Face Tiger (Chen Hung-lieh) kidnap a governor's son, (they hope to spring their jailed master loose), the governor sends his tiny but fierce daughter, the infamous Golden Swallow (Cheng Pei-pei, who plays the villain in Lee's film), to negotiate the release. Dressed in drag, she puts up a hell of a fight, but she's outnumbered. Enter Drunken Cat (Yueh Hua), a singing drunk who's also a secret bad-ass of Kung-Fu. Through covert, then overt, gestures, Drunken Cat helps her battle the goons. Unbeknownst to Golden Swallow, though, Drunken Cat and the bandits share an association that could tip the outcome in different ways.
Hua delights, but this is Pei-pei's movie—and for good reason. A trained dancer, she moves with grace. Hu highlights her spry, artful movements, allowing Golden Swallow to shine as an equal, if not superior, force to the men on-screen.
I love these kinds of stories. Stakes are high for every major character, action becomes character, and nary a scene goes to waste. There's pluck to go around, and the strong leads (harboring secrets, revealing themselves over time) mesh bumpily in a striking, textured setting. Call that a winning formula for almost any narrative. Hu, however, paces a line between viscera and beauty, making Come Drink with Me a violent but lyrical and amusing romp that floats by on the economy of its elements. Next to later, more male-centric films the Shaw Brothers made—some of which are graphic, even manic, by comparison—it might seem tame. I'm here for it, though.
Between its kinetic yet lyrical approach and its colorful, tightly edited swirl of wire-work stunts and choreographed sword fights that use traditional forms of Chinese dance, Come Drink with Me looms large over the Hong Kong martial arts films that sprouted in its wake. Its influence pervades. And though its 'children' may be faster and bloodier, they're still close enough in spirit and execution to the template provided here, in King Hu's classic, for a modern generation of fans to get excited about Come Drink with Me.
I hold it in high esteem.
Presented for the first time in glorious HD, the Arrow Blu-ray of Come Drink with Me includes a booklet with essays on the film and a reversible sleeve with new and old art. On the disc itself are hours of repackaged supplements: interviews with Pei-pei (who reprised her role as Golden Swallow in a sequel of the same name), Hua, and Hung-lieh; audio commentary by film critic and historian Tony Rayns; a documentary on the wuxia genre; and original trailers for the movie and its sequel. This movie is an absolute must for a big (home) screen. The crispness of the HD transfer stuns. Some may find the original mono soundtrack (Mandarin, with English subtitles) a bother. I embrace it. As usual, Arrow has done justice to a movie that deserves placement in the pantheon. They've released other Shaw Brothers films, which I plan to purchase.