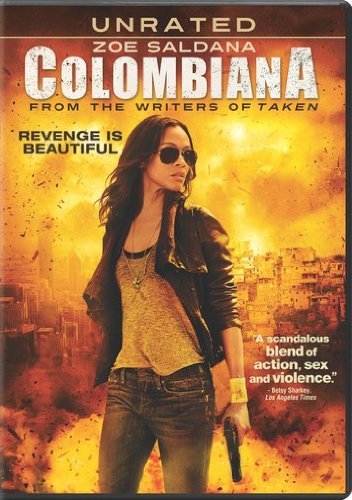 They say you start to repeat yourself as you get older. This is evidently the case with Luc Besson, the pioneering French filmmaker who brought us such gems as La Femme Nikita, Subway, and Leon (aka The Professional) in the '80s and '90s. As I watched the low-key 2011 release of Colombiana — wherein Monsieur Besson served as a co-writer and producer — I couldn't help but get a certain feeling of déjà vu. The story here tells of a young Columbian woman (Zoë Saldana) whose parents were murdered before her eyes in the '80s, and has since grown into (what else?) a skillfully trained assassin for hire.
It's almost as if Luc Besson took Natalie Portman's character from Leon and then turned her into a younger female version of Leon himself, tossing in a generous helping of La Femme Nikita. In order to get the whole "kid" aspect of the film down in the beginning, Luc brought aboard Karate Kid writer Robert Mark Kamen, who, in turn, took the liberty of borrowing cues from own works, such as Taken (a Besson co-feature), and the Transporter series. And, to top it all off, former Alias star Michael Vartan gets to co-star as Saldana's oblivious onscreen boyfriend who thinks her name is Jennifer (!).
So anyway, Colombiana's anti-heroine treads all over Norte Americana wiping out the scum who were responsible for her folks' deaths. And, my, are there ever a lot of 'em! Yet, she comes up with intricately planned ways of dispatching her enemies (ways that scream "style over substance," I might add). Sadly, the execution of Colombiana itself isn't as fine-tuned as it should be. In fact, it tends to warble quite a bit like a washing machine with an off-balance load in it. In all honesty, though, there's nothing new table. We've seen it all before, and the only difference between then and now is that the names have been changed to protect the not-so-innocent.
Colombiana isn't as finely polished as Besson's earlier flicks, but those of you who haven't seen any of his work before might enjoy this vehicle. It isn't the quickest moving of movies, which is fine by me, but it earns a point for highlighting a swingin' composition from Alan Hawkshaw ("Beat Me 'Til I'm Blue"). Sony Pictures Home Entertainment gives us a fine audio and video transfer of the film, complete with two behind-the-scenes featurettes and a handful of unrelated trailers.