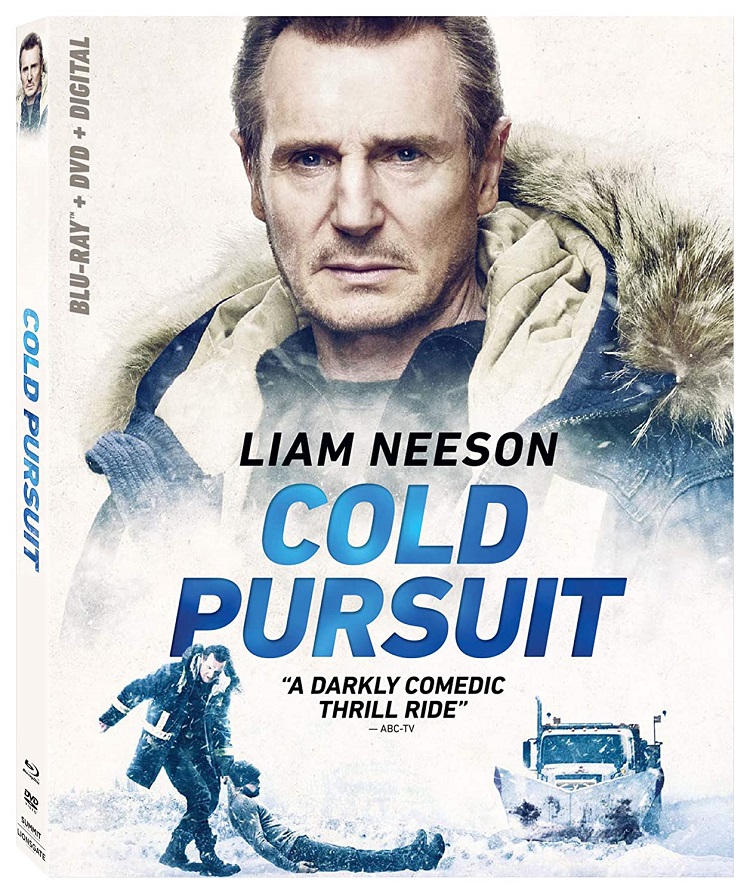 Cold Pursuit finds Norwegian director Hans Petter Moland remaking an English version of his 2014 film In Order of Disappearance (Kraftidioten). Liam Neeson stars as Nels Coxman, a man whose particular set of skills involve driving a snowplow for the fictional town of Kehoe, Colorado not killing. Yet when his son dies, he seeks revenge against those responsible, setting off a criminal gang war in this humorous crime thriller.
Nels's work driving the snowplow has made him an important figure in the community. The night he receives an award for his service his son Kyle is kidnapped and given a fatal heroin overdose. The authorities just assume the young man is another junkie, but his father knows Kyle wasn't a druggie. Kyle's death causes so much stress that Nels considers suicide, but before he can pull the trigger, Dante, Kyle's co-worker, reveals Kyle's innocence and a man named Speedo killed him. This leads Nels to a different type of clean up around the city. He does so by obtaining names from his victims before he kills them and from his brother Brock (William Forsythe), who used to be in that life.
After the third death of one of his associates, Trevor Calcote (Tom Bateman), a Denver drug kingpin that goes by the nickname "Viking," assumes the truce with a Native American gang led by White Bull (Tom Jackson) is over and has one of theirs crucified to send a message. It's not received well as they unknowingly make the same mistake and choose White Bull's son. Naturally, he wants revenge like Nels and the gangs battle each other. Rather than wait until the dust settles, Nels continues with his mission.
While the plot's revenge motif was familiar for the genre, the script wasn't. Based on Kim Fupz Aakeson's screenplay, writer Frank Baldwin created some characters with distinctive traits. The Viking was obsessed with his son's nutrition. Two of his men are in the closet and hope to run off together and leave their jobs. Brock speaks Chinese to communicate with his wife who he had been hired to kill. It felt like the actors were playing authentic people and not just cannon fodder. The film has an interesting narrative device where title cards reveal when a person dies. While not a comedic story, I did laugh at times, such as the Viking's wife getting the upper hand, and the shocking conclusion.
The video has been given a 1080p/MPEG-4 AVC encoded transfer displayed at an aspect ratio of 2.39:1. Colors appear in solid hues. Black are inky and whites are bright, contributing to a strong contrast. As an example of how good the video looks, there's a daytime exterior shot with a street running down the middle of the frame and snow-covered mountains in the background that looks too good to be true because of the clarity of depth and detail in the shot.
The audio is available in Dolby Atmos defaults to Dolby TrueHD 7.1, Dialogue is clear. George Fenton's score fills the surrounds as does the ambient effects, like the music from the nightclub with a thumping supported in the subwoofer. Objects, such as vehicles and gunfire, move across channels.
The few Special Features appear in HD:
Welcome to Kehoe: Behind the Scenes on Cold Pursuit (27 min) – A look at the making of the film.
Interview with Liam Neeson (9 min) and with Hans Petter Moland (8 min) – From some press junket, questions appear as text on screen and the men answer them.
Deleted Scenes (5 min) – With a Play-All option, five short scenes. The one scene I would have liked in the film is Nels's wife Grace (Laura Dern) feeling guilty about her son's death.
Theatrical Trailer (1 min)
Cold Pursuit is an enjoyable adventure for crime fans, offering more of interest to keep the viewer engaged with the story than the standard shoot'em-up. The film has certainly left me interested in the original film and whatever the screenwriter and director create next. Cold Pursuit is available on 4K Ultra HD Combo Pack (Plus Blu-ray and Digital), Blu-ray Combo Pack (plus DVD and Digital), DVD, and On Demand.