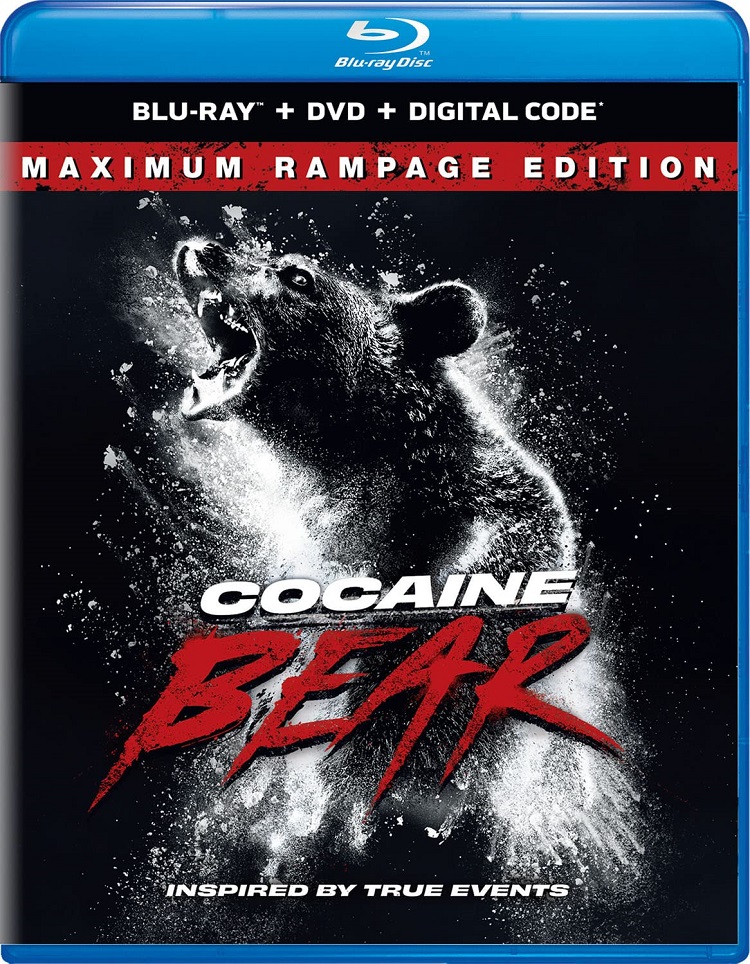 In the grand cinematic tradition of bear-rampage movies like Grizzly and Grizzly 2 comes Elizabeth Banks's Cocaine Bear, an amusing horror comedy that gets good mileage out of its ridiculous premise.
On September 11, 1985, narcotics officer/drug smuggler Andrew C. Thornton II fell to his death in Knoxville, Tennessee when his parachute didn't open as he carried 70 pounds of cocaine upon his body. Before departing the plane, he had thrown out packages of cocaine that were to be picked up later. However, an American black bear got to them first and overdosed from eating the cocaine. The movie is spun off from that true story.
Cocaine Bear opens with a clearly coked-out Thornton (Matthew Rhys in a brief though hysterical performance) throwing packages of cocaine out of his plane. They land in Georgia's Chattahootchee National Forest where Jimmy Warden's script gathers together a disparate collection of characters that end up interacting with the coked-up bear and each other.
Middle schooler Dee Dee (Brooklynn Prince) and her pal Henry (Christian Convery) encounter one package. Henry is especially funny when he pretends to be in the know when it comes to cocaine. Dee Dee's mother Sari (Keri Russell) goes in search of the kids with the help of wildlife activist Peter (Jesse Tyler Ferguson) and Ranger Liz (Margo Martindale), who attempts to woo Peter although it's unclear why. Although he has some funny quirks, Peter is the least fleshed-out character. Plus, Ferguson feels out of place in the role, like he threw on a wig and rushed out on stage for an improv sketch show, especially when most of his scenes find him with the much more natural performance of Martindale.
Syd White wants the remainder of his cocaine back to pay off his Colombian associates. Liotta is delightful because he plays the role as if he's not in a comedy. His son, Eddie (Alden Ehrenreich), is distraught because of the loss of his wife and has left his dad's business but is pulled back one more time to help his pal Daveed (O'Shea Jackson Jr.), who has to deal with a lot before he even encounters the bear.
There are a lot of funny situations and lines, but the visual effects teams keeps the viewer from forgetting the "horror" part of horror comedy. There are expected moments of gruesomeness and some wonderful surprises for those that enjoy that sort of thing.
The video has been given a 1080p/MPEG4-AVC encoded transfer displayed at an aspect ratio of 2.39:1. The image delivers strong hues, inky blacks, and is free from defects. Depth of field is deep and fine texture detail is apparent. However, the strong clarity does impact the bear, hampering the suspension of belief when it is on screen.
The audio is available in DTS-HD MA 7.1 and delivers a front-dominant presentation. Dialogue is clear throughout. The effects offer great ambiance and are well positioned in and move across channels. The song selections and Mark Mothersbaugh's score sound robust. The subwoofer delivers robust support to the bear and other bottom-end effects.
The bonus features are:
Feature Commentary director/producer Elizabeth Banks and producer Max Handelman offer great insight into the making of the movie.
Alternate Ending (1 min) – Understandable why this scene was not used. The same goes for the three Deleted & Extended Scenes (5 min).
Gag Reel (2 min) – Hard to believe with a such a talented cast, that such an insignificant gag reel would be assembled.
All Roads Lead to Cokey: The Making of Cocaine Bear (9 min) – Banks and the cast talk about coming together for this project.
Unbearable Bloodbath: Dissecting the Kills (8 min) – Behind the scenes of a few death scenes.
Doing Lines (4 min) – Cast dramatically reads from the script. Why, I have no idea.
Cocaine Bear is the fun, bloody romp that its name promises. While it won't shake up everyone's Top Ten Horror Comedy lists, it won't be surprising to see the movie pop up on the bottom of a few in the future. "Maximum Rampage" is overselling it, but the Blu-ray delivers a satisfying high-definition experience with a few bonus features of interest.