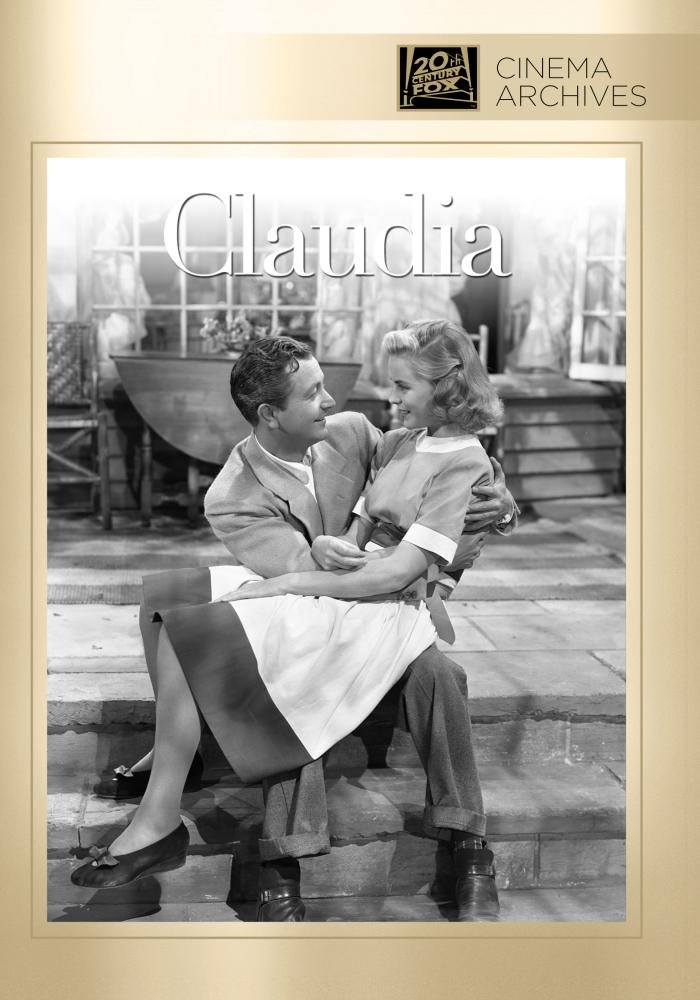 Twentieth Century Fox's 1943 cinematic release of Claudia, directed by Edmund Goulding (The Grand Hotel, The Razor's Edge, and dozens more) is interesting in that it's merely the middle point of a rather lengthy franchise featuring the Naughton family and the day-to-day stir that brings hilarity and heaviness to their wartime world. Novelist and playwright Rose Franken wrote stories about the goings on of David and Claudia Naughton, their two boys, maid, and extended family that were serialized in popular women's magazines Redbook and Good Housekeeping in the mid-1930s before being published as an eight-novel series. In 1941, Franken adapted the story of the Naugthons for stage, delighting Broadway audiences with Claudia, which starred the then-25-year-old Dorothy McGuire as the mischievous co-head of a new household (children not yet included).
After having transferred the same charisma that won her favorable reviews on Broadway to the big screen in the film version of Claudia two years later, McGuire reprised her role in the sequel, Claudia and David (1946), which continued the tale of the couple's attempts at reconciling marriage and parenthood. The movies were such a hit that they were reworked into a five-day-a-week, 25-minute serial that debuted on radio in September 1947. Although the actors playing the key roles had changed, the radio show enjoyed a successful run that breathed new life into the housewife-friendly soap opera genre. When it ended, there was no better option than to take Claudia: The Story of a Marriage (1952) to television.
If you're unfamiliar with any of the above and are wondering what the big deal is about this young bride, simply put: Claudia is irresistible—and this Fox Cinema Archives release of the 1943 film illustrates why. Our protagonist has the looks of a starlet and the demeanor of a tomboy. She's aware of what's expected of her—at least when she can wrap her head around it—but does things that are wholly inappropriate, because it doesn't dawn on her quickly enough that perhaps she shouldn't.
David Naughton, played by Robert Young of Father Knows Best fame, bears the brunt of Claudia's impishness, as well as her miscalculations. As the days living on a farm, miles away from Claudia's mother (Ina Claire) in New York, transpire, Claudia gets up to any number of things—from valiantly trying to ascertain who took money from egg sales, to eavesdropping on her neighbors via the party wire, to doing an unfavorable impression of one particularly patronizing neighbor, with whom she'll ultimately take flirtation a little too far. At one point, she even makes a deal to sell off the farm to a Russian songstress (Olga Baclanova), a friend of David's sophisticated sister. When asked about the Naughtons' mortgage, Claudia replies, "We haven't any mortgages, but we have a beautiful brook!"
It's this mixture of assuredness and naiveté that makes Claudia so likable. And, certainly, McGuire's impeccable knack for timing makes the contrast work. When the visiting Mrs. Brown, from whom Claudia obviously gets her fire, divulges to David a serious illness, Claudia catches wind of it by listening in on the line. Here, McGuire utilizes her range to transform her character from a carefree young woman who has retained her individuality and spirit in spite of marriage into a young woman facing the reality that she must soon assume the role of family matriarch and all the harsh truths that come with it.
Unfortunately, this no-frills Cinema Archives release lacks bonus materials of any kind, but after one viewing of the dramedy, you will walk away with some sage advice. In the words of dear Claudia: "Don't ever envy anyone."