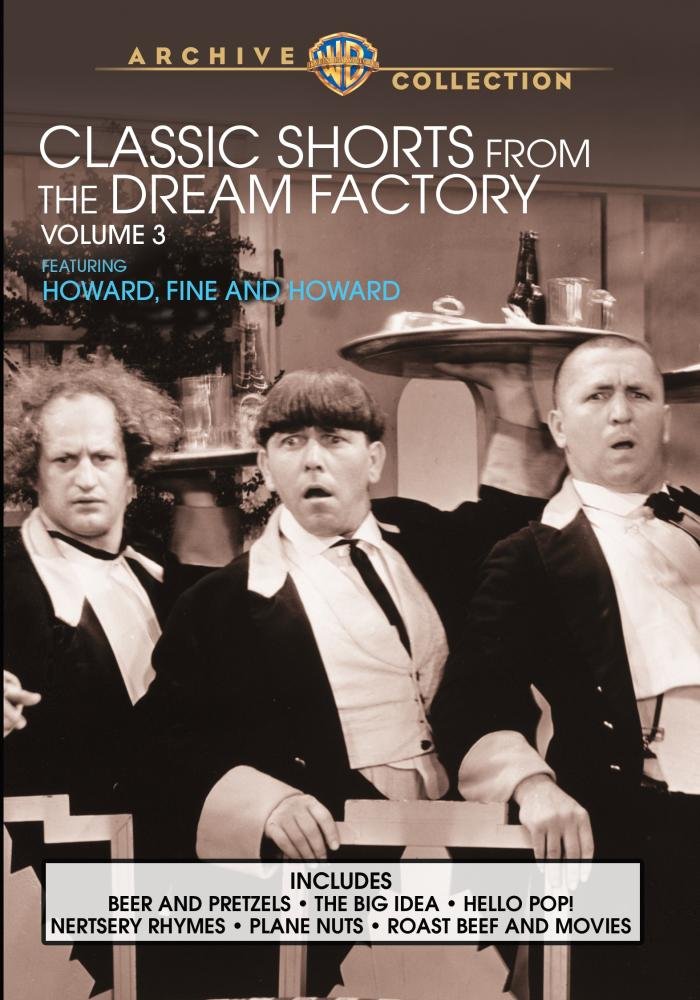 The early filmic legacy of The Three Stooges – or the comedy troupe of Howard, Fine, and Howard, as they were sometimes known – is quite the bittersweet affair when viewed and compared to the later output the iconic team has since gone down in history for. Beginning via several different incarnations as stooges for vaudevillian Ted Healy (wherein the word "stooge" was used to define someone who played an audience member until called up onto stage), the antics of the leader and his outrageous flunkies became prime moving picture material fodder when representatives of an infant film industry started looking for an act – any act – to shoot and show in movie houses.
And any proof one might require to see just what I mean by "any act" need only dive into the Warner Archive's release of Classic Shorts from the Dream Factory, Volume 3 – which presents us with some of the earliest filmed material to feature the trio who would later be referred to as The Three Stooges, as made and released by MGM between 1933 and 1934. Made at a time when shorts (or "two-reelers", as they were usually called) were not only commonplace but even somewhat vital to the presentations of cinemas near and far, and when audiences demanded (or maybe were just forced to witness) elaborate musical numbers in the style of MGM's own legendary dance routine visionary Busby Berkeley.
Presented in no order whatsoever, the single-disc release opens with Plane Nuts (1933), which probably presents us with a fairly faithful idea of how Ted Healy and his Stooges (another booking alias) acted on a stage. In fact, the short is filmed as a vaudeville show, on-stage. The entire short finds Healy trying to do nothing more than make it through a (bad) song, to wit the boys constantly interrupt, with forgotten stage comedienne/singer Bonnie Bonnell (who was reportedly Healy's offscreen girlfriend at the time) joining in the fun. Ms. Bonnell is also present throughout most of the other shorts in this collection, thus representing the bulk of her very limited career as an actress in the moving pictures.
Most of the shorts pause from the filmed (or staged, as the case often is) action to showcase a big dance production number. While the routines – most of which, if not all, were lifted from other (and in one instance, unfinished) MGM productions – are boring at best, the gigantic rotating sets they often take place on and the decidedly pre-Code outfits the various pretty lasses wear are worth noting. Also, some of the numbers – when filmed from above to really emulate (or perhaps, plagiarize) Berkeley's magic (the dancing sequences from Plane Nuts, taken from 1931's Flying High, actually were choreographed by Berkeley) – can give off an unintentional hallucinogenic effect, wherein they actually become watchable.
The same is hardly true for the second entry, Roast Beef and Movies from 1934. A two-strip Technicolor monstrosity, the just-as-funny-as-its-name-implies short does not feature Moe, Larry, or Ted; instead, it forms a forgettable combination between lead comic George Givot, Curly (billed here under his real name, Jerry), and a feller named Bob Callahan. The painfully unfunny short also features an unknown Dorothy Granger, Frank O'Connor (a bit player who specialized in playing uncredited security guards throughout a very long career), and lifts footage of the Albertina Rasch Dancers from two different musical features.
Third in line is The Big Idea from 1934, which would serve as the final short to star Healy and the boys, before Moe, Larry, and Curly set off to work for Columbia. Here, Healy tries desperately to write a story, only to be interrupted by a kleptomaniac cleaning lady (Ms. Bonnell) and three musicians with the uncanny ability to shoot water from their instruments. The interruptions are interrupted from musical numbers taken from Dancing Lady, and one account of the history of this short states that the main footage itself was culled from an aborted feature. Muriel Evans and the "Three Radio Rogues" (an act even tougher to follow than the sinking of the Titanic) also star in this possible cut-and-paste affair credited to a known alias of prolific B movie director William Beaudine.
It isn't until the madcap antics of Beer and Pretzels (1933) that we start to see the very formula The Three Stooges would take with them to Columbia the following year (which should serve as very little surprise when one notes that Healy and Moe were two of the project's three credited writers). Tossed from a theater for being not only a terrible act, but because of their frontman's womanizing, Ted and the Boys worm their way into a posh night club as waiters. Bonnie Bonnell is once again on-hand (this time as a singer who has little interaction with her top-billed performers), and character actor extraordinaire Edward Brophy (The Thin Man) has one of two appearances in this set as a theater manager in this, what is arguably the best short of the lot.
1933's Nertsery Rhymes presents another early two-strip Technicolor oddity, but it also the very first short to star Ted Healy and the Stooges, with Mr. Healy and Mr. Moe Howard once again co-writing the effort. Here, Ted plays the father of the boys. All their father wants to do is go out, drink it up, and meet a dame (which pretty much sums up Ted Healy's entire life according to most accounts), but his children are most reluctant to go to sleep until they hear a bedtime story, which leads to another bedtime story, all of which leads into musical numbers torn from the abandoned prints of a rightfully unfinished musical item. Bonnie Bonnell plays a closet fairy (no snickering) who catches Ted's wandering eye after appearing to help the story move along.
Lastly in the Warner Archive's Classic Shorts from the Dream Factory, Volume 3 is the 1933 two-strip Technicolor ditty Hello Pop!, which is the collection's Holy Grail, as all copies of the short were believed to have been lost in a fire back in the '60s. After a nitrate 35mm print was found in an Australian garden shed by film collector Malcolm Smith, the short was shipped to the US for restoration and re-release, and here it is at last. Here, Healy is a theater producer set to premiere his new egotistic magnus opus, but the arrival of his three little bratlings (guess who) threatens to disrupt everything. Bonnie Bonnell is a lost musician, Edward Brophy is a stage manager (again), and regular Laurel and Hardy foil Tiny Sandford can also be seen in this previously lost gem.
The Warner Archive presents all six Classic Shorts from the Dream Factory, Volume 3 in their original 1.37:1 aspect ratios with their mono (and quite often fuzzy) English audio tracks. For the most part, these titles are in wonderful condition, and the occasional scratch (especially noticeable in Hello Pop!, which is to be expected, all things considered) is nowhere near as distracting as the frequent unwanted dance number. But these were products of a different time, before the Hays Code ruined everyone's fun (and before the concept of comedy was practiced in the instance of Roast Beef and Movies), and the set comes recommended to any serious collector of The Three Stooges.