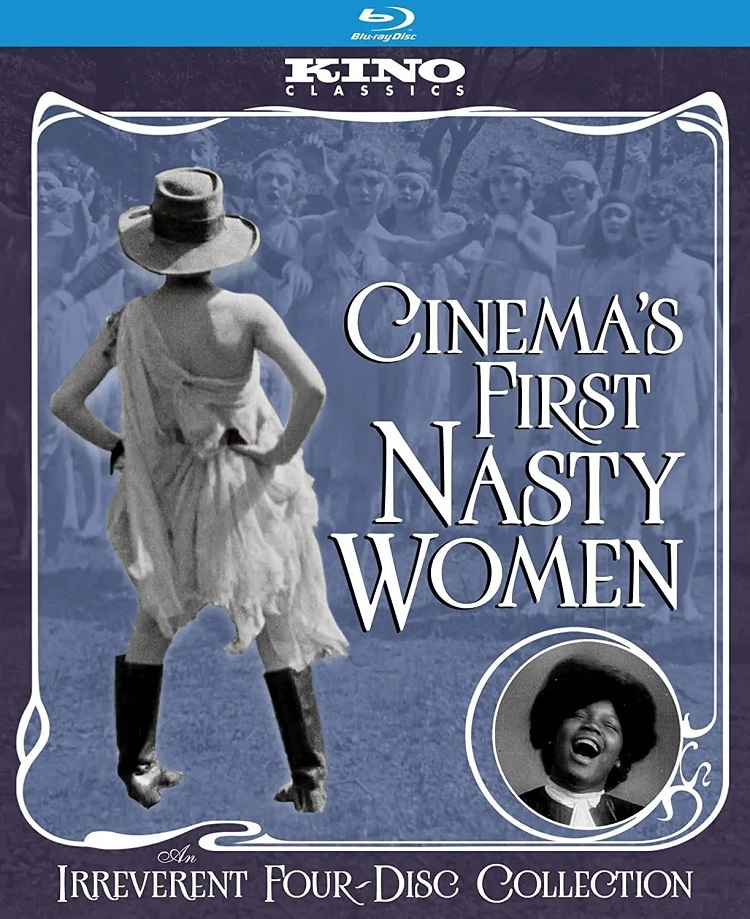 When Donald Trump called opponent Hilary Clinton a "nasty woman" at a 2016 televised debate, the term came back to the forefront, but in a good way, because in this case it means that "nasty" women can now regard themselves as powerful women, tough women, strong women, women who refuse to let the male patriarchy put them in a corner. These women speak for themselves and speak their minds. They don't wait for men to rescue them from life's situations; they rescue themselves.
This is what Kino's new set, Cinema's First Nasty Women, is really all about: the first women of film that paved the way for a new generation of women by being delightfully and inspiringly nasty.
You may think that this set includes famous cinematic women like Mabel Normand, Gloria Swanson, Pearl White, and Josephine Baker are apart of this set, but they are missing because Cinema's First Nasty Women thoughtfully highlights unknown performers from different walks of life, such as Sarah Duhamel, Bertha Regustus, Lea Giunchi, Berthe Dagmar, Little Chrysia, Ellen Lowe, and Leontine, among others.
These women challenged domesticity in the house, as well as out. They rebelled against a society that tried to tell them how to behave and how to present themselves, and went against the supposed gender norms. In comical and dramatic situations, they protest, organize labor strikes, bake inedible and dangerous desserts, destroy the police force, get revenge against sexual harassment, and wore the pants, literally.
Disc 1 centers on the films of Leontine, France's bad girl of early slapstick; Lea (Giunchi), Italy's first comedy actress, and catastrophes in out of the kitchen. Disc 2 presents films featuring three famous French comedienne characters: Cunegonde (played by Little Chrysia), Rosalie and Petronille (both played by Sarah Duhamel, and a section on chaos and tyranny at home. Disc 3 includes The Girl Spy series, created by Gene Gauntier, and Edna "Billy" Foster's work at Biograph, as well as gender frontiers. Disc 4 contains films about same-sex attraction and women dressing as men to survive the mean streets of the early 20th century. Some of them refer to "Don't Believe Your Eyes", "The Snowbird", "Phil-For-Short", and Topsy-Turvy Gender Madness.
There are 99 American and European films, most of them shorts. Lovingly, there are women of color that are also represented as well. You get the best of both worlds with this collection. It's a great set and must have for film buffs, feminists, and those who want to experience a different and equally important area of film history.
Special features includes video introduction from series curators Laura Horak, Maggie Hennefeld, and Elif Rongen-Kaynakci; 11 video intros to films and performers from Liza Black, Maciname Jean Cuthand, Hennefield, Horak, Rongen-Kaynakci, Dana Reason, Arigon Starr, Susan Stryker, and Kyla Wazana Tompkins; and audio commentaries for select films. There is also a wonderful 116-page booklet with essays on the collection and performers, interviews with the curators, photos, and very detailed film notes.