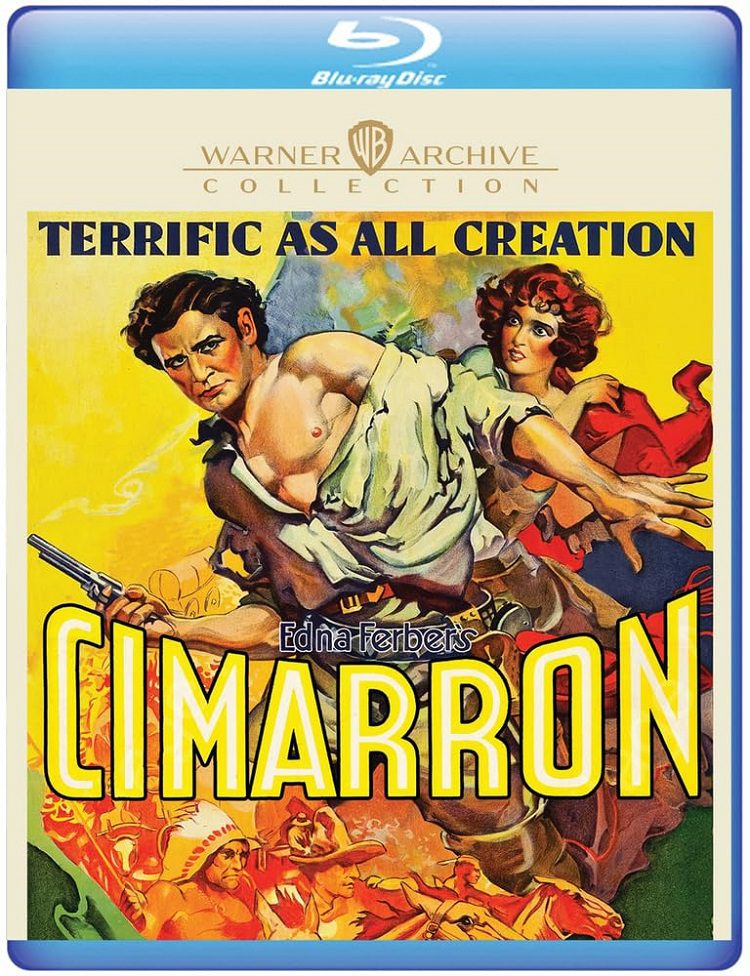 The Warner Archive Collection presents RKO Pictures' Cimarron directed by Wesley Ruggles, based on the novel by Edna Ferber, and starring Ricard Dix and Irene Dunne. Cimarron released in1931 took home the Best Picture award that year and is an epic western that spans 40 years.
It's 1889 and land is up for grabs in Oklahoma territory. Newspaperman, lawyer, gunfighter, all-around white-hat-wearing good guy, Yancey Cravat (Dix) loses out on some prime land to soiled dove Dixie Lee (Estelle Taylor) during the free-for-all land rush. Thwarted but not defeated, Yancey packs up his wife Sabra (Dunne) and young son, and heads to the booming town of Osage. Destined to play a big part in the rapidly expanding frontier, Yancey opens a newspaper and helps bring law and order to the town. As he rids the land of unsavory, trouble-making fellows, he is not afraid to file a few notches on the butt of his gun and fill some plots on Boot Hill. While clearing the way for good and decent folks to flourish, he's unfortunately forced to kill an old friend who walks on the other side of the law. Distraught, Yancey flees to the more wild parts of the territory, not to be seen or heard from for five years.
Upon his return from rough riding with Roosevelt, he finds that Sabra has done a fine job in his absence, making quite the name for herself and the paper which still boasts him as owner/editor. Fortunately, he's just in time to show off his lawyer skills as he jumps to defend Dixie Lee who's about to be driven from town as a public nuisance. Yancey wins the day and stays put for a few good years fighting the good fight for the oppressed and Native American rights as oil is discovered on their lands. Trouble is old Yancey has the call to adventure constantly ringing in his ears and he's itching to answer, so he disappears yet again to parts unknown.
While Yancey roams, who knows where, Sabra again takes the reins of the paper and continues to champion the causes that he stood for. Some of those causes she was reluctant to take up and constantly argued with Yancey over while he was home. Ferber winds up her long saga in 1930 with the Cravats all grown up and holding places of prominence in Oklahoma. Yancey Jr. marries an Osage woman, daughter Donna marries an old rich man, and Sabra has become a congresswoman. One day as Sabra tours an oiled field, a terrible accident occurs and word quickly spreads that some gray beard called "Old Yance" has heroically saved them all from death. She hurries to the scene of the accident to be reunited one last time with the larger than life hero that is her husband Yancey Cravat!
Cimarron is melodramatic, slow, and the dialogue is a bit hokey at times. It is 1931 after all and this sound/talking stuff was still fresh and new but what a saga! With an epic story like that how could it not win Best Picture? Edna Ferber, who gets writing credit as well, is at her extra long, yarn-spinning best while Ruggles brings the budding town of Osage to life with some great sweeping shots of the landscape. There are scenes that could have easily been whittled down or reworked differently to improve timing and the pace of the film. Ruggles does manage the epic land rush scene well but it's the 1960 version that will have a bigger impact on movie-goers memories as its more action packed and stunt filled.
Some views and portrayals are outdated and saturated in the stereotypes of the day. The story itself does its best to bring some of those topics front and center, such as women's rights, the Osage tribe's right to the oil found on their land, and the fight to not to have it swindled out from under them (a topic covered well in the book Killers of the Flower Moon). The world was different then and different things were deemed acceptable. The world of cinema was changing as well, caught between the old silent film era and the new talkies that would soon dominate theaters.
Special Features include two classic Merrie Melody cartoons. Lady, Play Your Mandolin, features Mickey Mouse look-a-like Foxy as he and his friends get wicked drunk during prohibition times. The other, Red-Headed Baby, is about toys that come alive at night after the toy maker goes to sleep and they try to survive being terrorized by a huge spider. The "classic short subject" The Devil's Cabaret was filmed in technicolor and features a creepy CEO-like Satan as he and his right hand man do their best to lure more souls to Hades' doors. Loaded with dancing girls and packed with silly puns about Hell and fire, this is a fun little look at what played in front of crowds before the feature film was shown.
Cimarron (1931) is a product of its time, both cinematically and in its politically incorrectness, but an enjoyable 124 minutes overall. Throughout, I was concerned with nothing else but the Cravat family as I marveled at how crisp and clear the picture quality is on this Blu-ray of a movie originally released nearly 100 years ago. I also wondered why Dracula (1931) wasn't considered for Best Picture and what the hell took the academy 59 years to recognize another western?