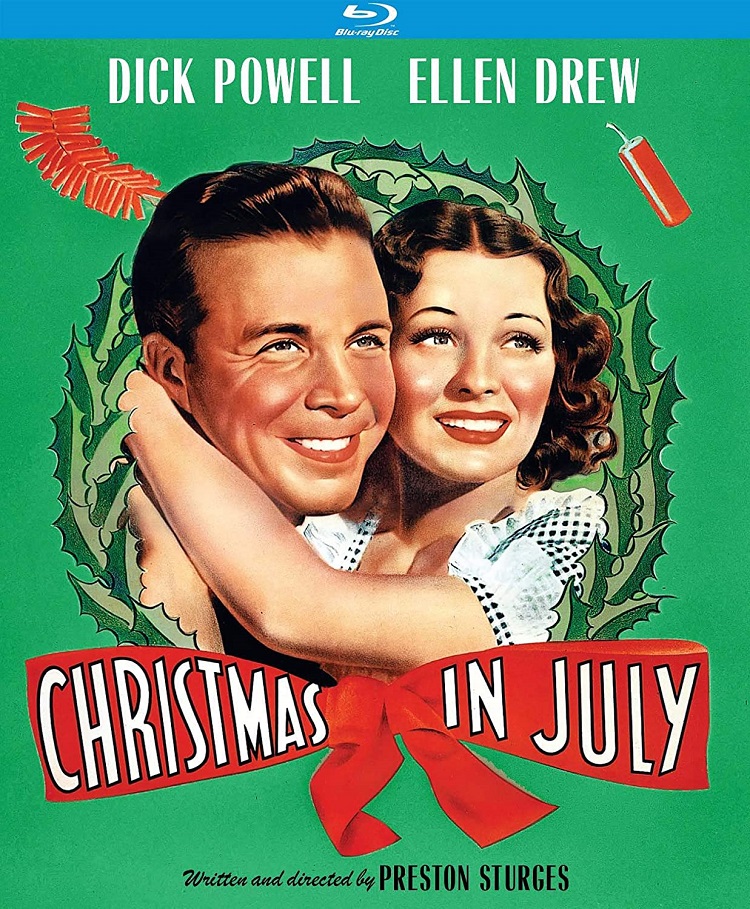 Christmas in July, the second outing for Preston Sturges as a writer/director, is based on his play A Cup of Coffee. Despite the film's title and artwork containing a wreath, this is not a Christmas movie. It's an entertaining comedy and the message it contains about the value in believing in one's self and having the belief of others is a gift to audiences.
Maxford House Coffee is holding a slogan contest with a first prize of $25,000. The jury is deadlocked on picking a winner because of lone holdout, Mr. Bildocker (William Demarest). One of the entrants is Jimmy MacDonald (Dick Powell), who thinks he can win with "If you can't sleep at night, it's not the coffee, it's the bunk," a pun that also plays on an Austrian researcher's idea that coffee doesn't keep people awake. He plans on spending the winnings on his mother (Georgia Caine), who he lives, and his fiancee Betty Casey (Ellen Drew).
A trio of co-workers play a prank on Jimmy, putting a phony telegram on his desk and convince him he's won. While celebrating in front of the staff, company president J. B. Baxter (Ernest Truex) gets wind of what's happened. Wanting to keep this resource in house for their own products, Baxter promotes Jimmy to ad executive with an office and Betty as his secretary. Seeing how far the gag has gotten out of hand, it's believable that Sturges keeps the men from coming forward to spare themselves trouble.
When Jimmy goes to pick up his winnings, Dr. Maxford (Raymond Walburn) hands over the check after seeing the telegram. Jimmy and Betty head to Shindel Bros. department store and after verification for the check comes through, they are given a large store credit, allowing the couple to buy presents for their mothers and friends in the neighborhood, bringing Christmas in July to their block.
The real fun commences once Maxford discovers the contest hasn't concluded. There's mayhem in the streets once the store owner tries to take back the "stolen" property and accuses Jimmy of being dishonest. Jimmy is crest fallen, not about losing the money and promotion, but in being wrong about himself. However, the neighbors and Betty reveal their faith in him and that's what allows him to succeed. There's a great humorous twist in the story's epilogue.
The video has been derived from a brand new 4K master, has been given a 1080p/AVC MPEG-4 encoded transfer, and is displayed at an aspect ratio of 1.37:1. Black are inky, and whites are bright, making for a strong contrast. Objects have a sharp focus in the foreground, but the backgrounds in most shots are soft. Film grain is apparent but not distracting, as are the minor marks of black and white pop that appear on occasion. The mono audio track doesn't exhibit signs of age or wear. Dialogue can be heard clearly and the shouting doesn't distort. It blends in with the score (by John Leipold and Leo Shuken, which went uncredited) and effects.
The bonus features include an audio commentary by film historian Samm Deighan, who in her thorough presentation discusses Sturges' life and filmography, as well as the material in the film. There are also trailers for Christmas in July, and upcoming Kino Lorber Studio Classics: Pocketful of Miracles, I'll be Seeing You, The Great McGinty, and The Good Fairy.
Christmas in July is a delight. It's impressive how much ground Sturges' story covers in its brief 67-minute runtime while neither feeling overstuffed nor rushed. The talented cast helps bring the characters to life. Kino's Blu-ray offers a satisfying high-def experience for a film that is nearly 80 years. Highly recommended.