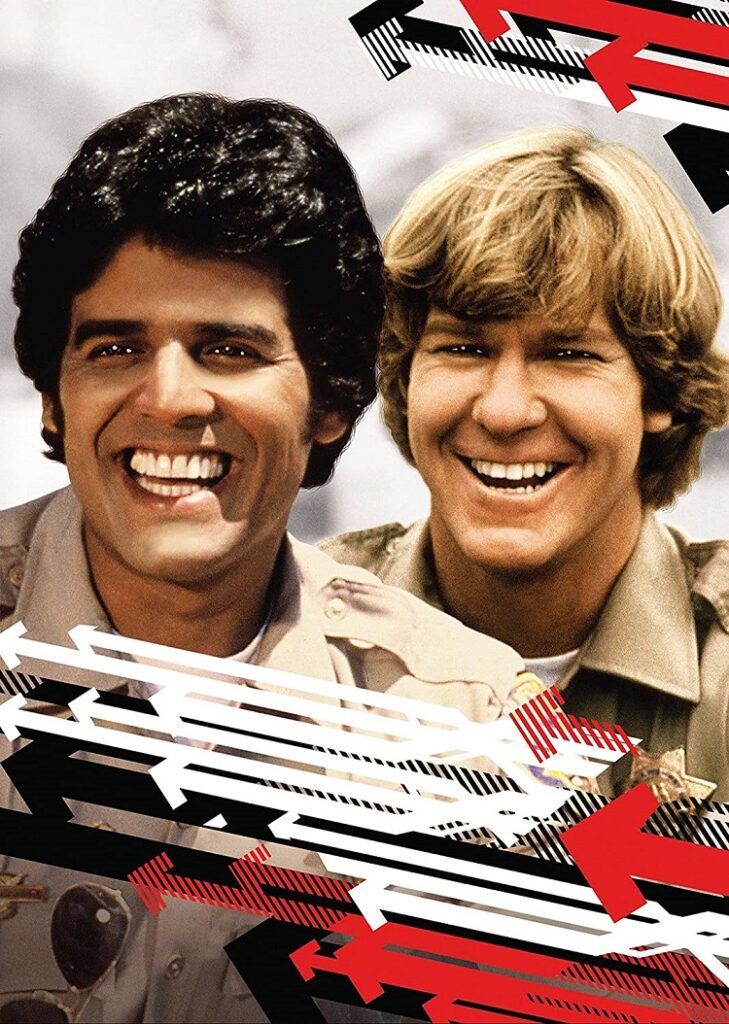 With the recent release of CHiPs: The Complete Fourth Season on DVD from Warner Brothers we once again get to see the recipe for success during that era of television. By season four, we already know Jon (Larry Wilcox), Ponch (Erik Estrada), and the gang, and respect the job NBC had done in finding a collection of pin-up people to throw into uniform. Now all they needed were some uniform stories to feature our toothy team triumphing over troublemakers, and uniform was exactly what these stories were. A main story that featured criminal activity usually perpetrated by either people with self-righteous motivation or simply bad guys. Those with motivation they could justify were usually portrayed by likable character actors from the 1960s and '70s. The bad guys were usually portrayed by less likable character actors. Secondary stories often included sports, children, and events that the CHP were involved in.
Though Jon and Ponch were on city streets more that highways in season four, we got more than enough older four-door sedans crashing into each other and miraculously becoming airborne. This created a popular drinking game where if you were the first to spot the often poorly concealed ramps; you could force others to take a drink.
Season four makes attempts at drama that are a bit heavier handed than in past seasons, but the level of success is mixed. In "Satans Angels," Bonnie (Randi Oakes) is kidnapped by a group of over-the-hill bikers. The writing and acting in the episode don't support what should be a dramatic situation and the episode fails to reach the height obtained by the "micro-lite" planes that are also featured in this episode.
Where the drama works best is "Karate" where Ponch faces off with an old friend who is corrupting young kids in a story that has a tone unlike previous endeavors. "Karate" features a grown-up Danny Bonaduce as a delinquent who is into martial arts. The former member of the Partridge Family appears to have taken the role in an attempt to change his image
Where CHiPs works best is when they keep it light, and let the stars look good and have fun. Sure, the two-part episode "The Great 5K Star Race and Boulder Wrap Party" makes little sense, but the performances of Ken Barry and Alex Rocco as comedic criminals, displays classic timing that leaves you wanting more. We are expected to ignore that the charity event seems to be attended by more celebrities than potential donors.
Recommendation: No one is ever going to mistake CHiPs for anything more than cheesy fare, but during its six-year run, it took on some of the best queso the other networks could produce and continued to have the highest fromage factor.
Sure, the new release could have looked better as the picture ratio is quite annoying, but the stars' hair looks great and that is all that really matters. Could there have been bonus material? I doubt very highly that it would have been difficult to get any of the cast to participate in some interviews, but let's be honest, bonus material probably would not have impacted sales.
CHiPs was fun in its day and remains a pleasant distraction, but is not meant for the binge-watching habits of modern viewers. Cholesterol and blood-sugar levels have been known to skyrocket in people watching more than one episode per day. Take CHiPs in small doses and you'll be happy you chose to ride along.