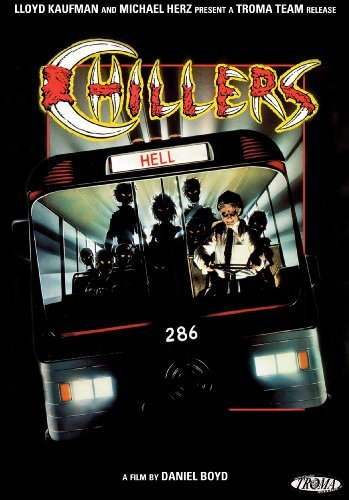 For those of you who — like me — miss those days of wandering through mom-and-pop video stores in search of weird, wild, and sometimes wonderful movies, its sometimes nice to see a retro scary flick find its way to digital home video. In the case of Troma's "first time" DVD release of Daniel Boyd's Chillers however, I have to wonder where the fascination is. For starters, the movie has been released on disc before: eight years ago, actually (by BCI), as part of a Toxie's Triple Terror set — so any anticipation one might have had for this no-budget anthology film is already null and void.
The arrival of this movie on DVD — timed to greet fans with a the introductory issue of a new series of a graphic novel series by Boyd himself — is nothing spectacular. In fact, it's a pretty shoddy affair all-around. The film itself (complete with a no-star cast) found inspiration from the classic Amicus anthology films of the '60s and '70s, bringing us the tale of a five travelers who come together at a lonely bus station one night and begin to tell each other about the terrifying nightmares they recently had. Yup, as you probably guessed, these people are all doomed. Big whoop. Seen it all before with much better deliveries. Moving on…
Troma's DVD is also a subpar item in the audio/video department since the presentation — as best I can tell — is nothing more than a slightly upscaled VHS rip. From the bleeding (though vibrant, I'll give 'em that) colors, to the muddled two-channel mono sound, anyone on the make for an honest-to-goodness "good" transfer will be sorely disappointed here. Likewise, anyone looking forward to hearing Daniel Boyd's audio commentary on his classic mess-terpiece shall also be disillusioned — as the only Chillers-oriented special feature here is a VHS-sourced trailer.
Additional bonus materials consist of three non-related previews, a message from Lloyd Kaufman on Net Neutrality, the annoying Radiation March that Troma discs have housed for forever now, and some pointless featurette wherein an attractive young Tromette girl reveals her breasts.
Were it not for that, this disc would hardly warrant a viewing. I'm still not certain it does, to be perfectly honest — and a pair of boobies almost always improve things for me.