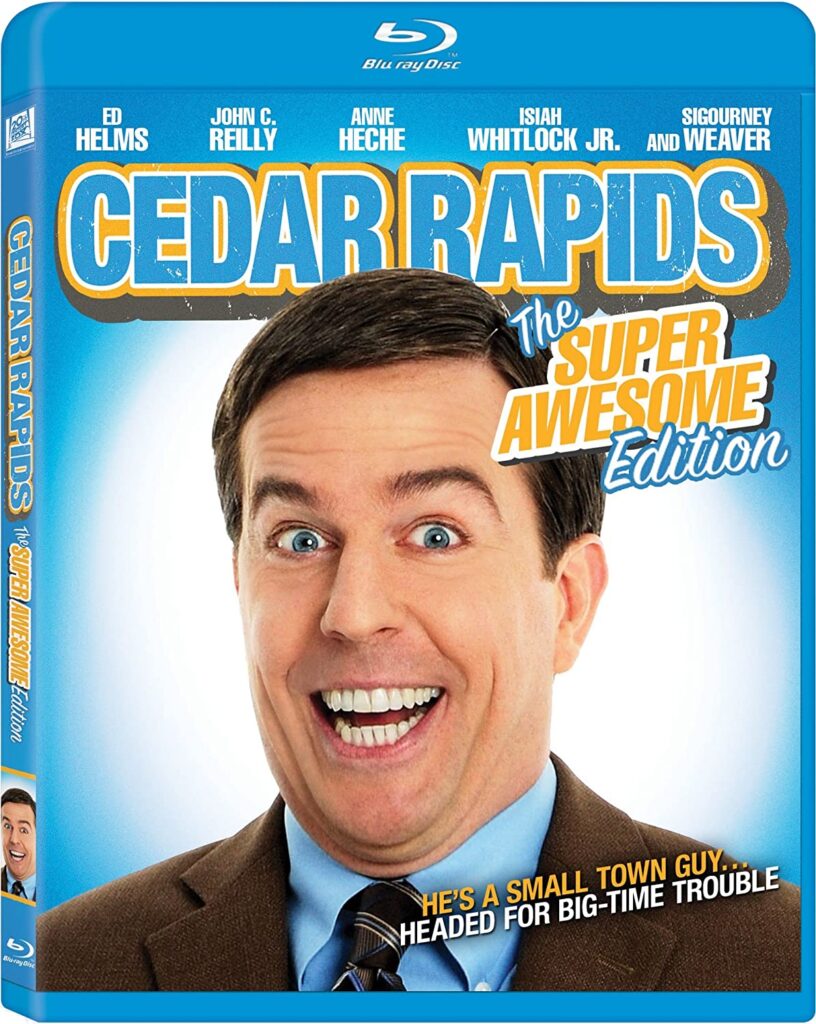 Tim Lippe (Ed Helms) is a sheltered and naive small-town insurance agent who is given the chance to attend a convention in the big city of Cedar Rapids when his co-worker dies suddenly. Bill (Stephen Root), the insurance company owner, is hoping that Tim will be able to secure the agency the coveted two-diamond award for the fourth year in a row. Tim leaves his older girlfriend/ex-teacher (Sigourney Weaver) behind and embarks on an adventure that starts with him flying on airplane for the first time and results with him drinking, doing drugs, and many other things he would have previously thought impossible.
He is joined in his adventures with Dean Ziegler (John C.Reilly), a real partier whom Bill warns Tim to stay away from; Ronald Wilkes (Isiah Whitlock Jr.), the first Afro-American person Tim has ever met; and Joan Ostrowski-Fox (Ann Heche), a married mother looking for some fun.
Cedar Rapids has glimpses of promise which in the end fizzle from sterotypical characters and a lackluster, ridiculous story. Ed Helms has perfected the shy, innocent bumpkin but it is getting old. Heche and Weaver are the most interesting and dynamic; however, they are never fully developed while Reilly and Whitlock hint at depth as well. All of this talent brought together is completely wasted.
The video is presented with a 1080p/MPEG-4 AVC encoded transfer at an aspect ratio of 1.85:1. The color palette has strong, warm tones, leaning toward golden and brown at times. Shot digitally, there is no grain, and objects are well defined. The audio is presented with a DTS-HD Master Audio 5.1 mix. As expected with a comedy, it is heavy from the front and with dialogue. Surrounds offer limited ambiance and the music.
The two-disc set includes the film on Blu-ray with features that include deleted scenes, a gag reel, a theatrical trailer, and an additional "Top Notch Commerical". There are also several featurettes, "Fox Movie Channel Presents: Direct Effect with Miguel Arteta" and "Writer's Draft with Phil Johnson" are behind-the-scenes looks with the director and writer, "Convention Connection" focuses on the main characters with interviews with the actors and "Mike O'Malley – Urban Clogger", "Tweaking in the USA" and "Wedding Belles – Crashing a Lesbian Wedding" all highlight those specific scenes. The second disc offers a digital copy of the film.
Cedar Rapids had great potential, a good cast with a funny premise but it failed to deliver on laughs and lacks an engaging storyline. It felt as if the filmmakers were trying to be a balance between a touching story about life, growth and development and an outrateous Hangover-type male comedy which resulted in confusion and a failure of achieving either.