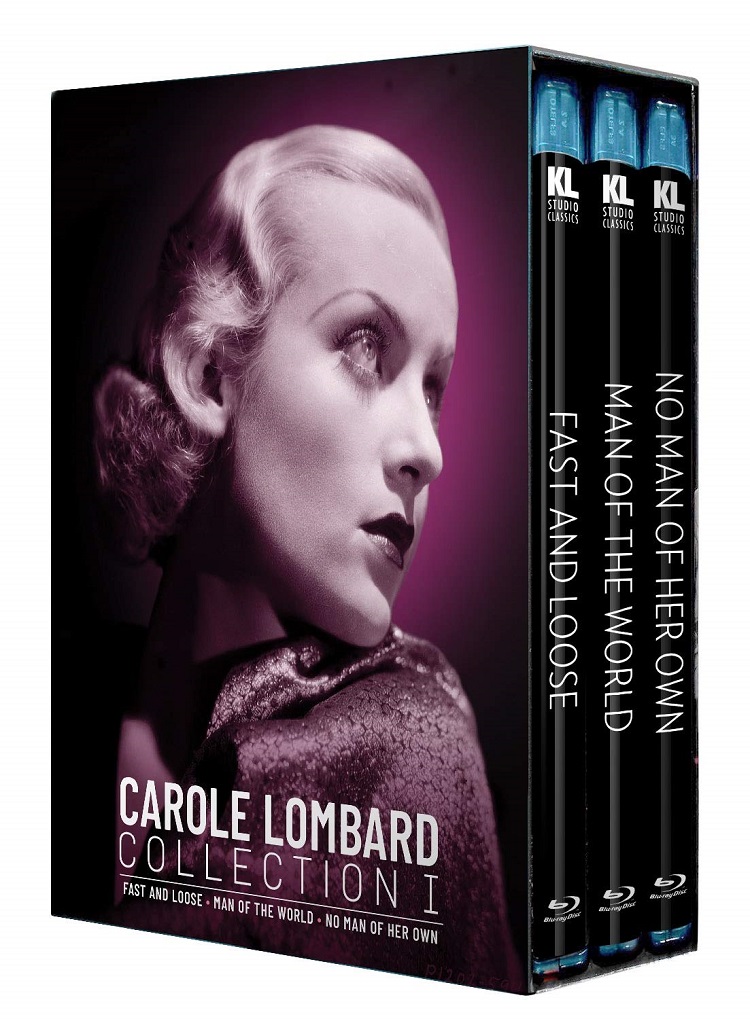 Kino Lorber Studio Classics have released a Blu-ray collection of three pre-Code films featuring Golden Age of Hollywood star Carole Lombard. Film buffs know Lombard as the queen of screwball comedy classics such as Twentieth Century (1934) and Nothing Sacred (1937). Lombard starred in numerous bit parts before making it big – she started her film career at Fox Studios in 1921 at the age of 12. Six years later, a car accident left her with a small facial scar and Fox dropped her contract. She worked for Mack Sennett of Keystone Kops fame for a few years before getting a contract at Paramount Studios, which changed her career and her life. The three films in this Blu-ray collection are titles from her early years at Paramount.
Fast and Loose (1930), directed by Fred C. Newmeyer (The Freshman), was the second film Lombard did under her new Paramount contract. A typo in the film titles added an "E" to her first name, and she was billed that way ever afterward. Fast and Loose is a fun and fast romantic comedy of manners, but instantly forgettable almost as one is watching it. The film has a very stagy quality – it is based on a 1924 play, The Best People. It's an odd entry for this collection, as Lombard's character Alice is hardly featured in the plot. The film was a star vehicle and the first film for stage star Miriam Hopkins, who brings flapper style and wild hair to her character of Marion, a Long Island socialite who falls for a mechanic. Frank Morgan (The Wizard of Oz) appears as Hopkins' father, although he is only 12 years her senior. Ilka Chase (Now Voyager) provides comic relef. The rest of the cast speaks loudly in that Hollywood mid-Atlantic speech patter, but are otherwise unmemorable.
The Fast and Loose Blu-ray includes trailers for three other Lombard films – Supernatural, Nothing Sacred, and Made for Each Other.
In 1931, Lombard had a starring role in Man of the World, directed by Richard Wallace (A Night to Remember) and written by Herman J. Mankiewicz (Citizen Kane). It was her first film with screen legend William Powell. The two stars didn't have much in common except crazy chemistry, but they soon found themselves in a relationship and subsequent marriage. They were divorced just a few years later, but remained lifelong friends. Their easy banter and rapport with each other is very evident in Man of the World. They would go on to make two more films together, Ladies Man (1931) and My Man Godfrey (1936).
Man of the World stars Powell as Michael, an embittered ex-newspaperman who is now living abroad and making ends meet by swindling gullible Americans in Paris. He falls for Mary (Lombard), the niece of his latest victim (Guy Kibbee). Will the beautiful Mary help Michael change his wicked ways? Released just a year later than Fast and Loose, the film has a higher quality of production and more natural style of action and acting than Fast and Loose. This in part is due to Powell's incredible ease and charm in front of the camera. Lombard also proves in Man of the World why she was considered a style icon, as she appears in a succession of gorgeous outfits.
The Man of the World Blu-ray also includes an audio commentary by film historian Samm Deighan.
Carole Lombard is probably known as much for her iconic screen roles as she was for an iconic romance – with Hollywood legend Clark Gable. No Man of Her Own (1932), directed by Wesley Ruggles (I'm No Angel), is the only film they made together and the two would not become romantically involved until years later, in 1936. The pair married in 1939. The film features the oddball romance between gambler and con man "Babe" Stewart (Gable) and bored small town librarian Connie Randall (Lombard). The two have some great on-screen chemistry, although reportedly didn't think much of one another during filming. In an interview with Garson Kanin, Lombard said,
"[We] did all kinds of hot love scenes … and I never got any kind of tremble out of him at all."
The No Man of Her Own Blu-ray also includes an audio commentary by film critic Nick Pinkerton.
The film world was devastated when in 1942 Lombard died in a plane crash, returning from a a war bond rally with her mother, Bess Peters, and Gable's press agent, Otto Winkler. Gable, although married two times after her death, never got got over it and was buried next to her and her mother in 1960.
All three films in The Carole Lombard Collection I are in B&W with aspect ratios of 1.20:1, 1920x1080p with English subtitles. running times of each film are Fast and Loose (70 min), Man of the World (74 min), and No Man of Her Own (85 min). This Blu-ray collection is a nice glimpse into the early career of a woman who would become the queen of screwball comedy and one of the biggest stars of classic Hollywood.