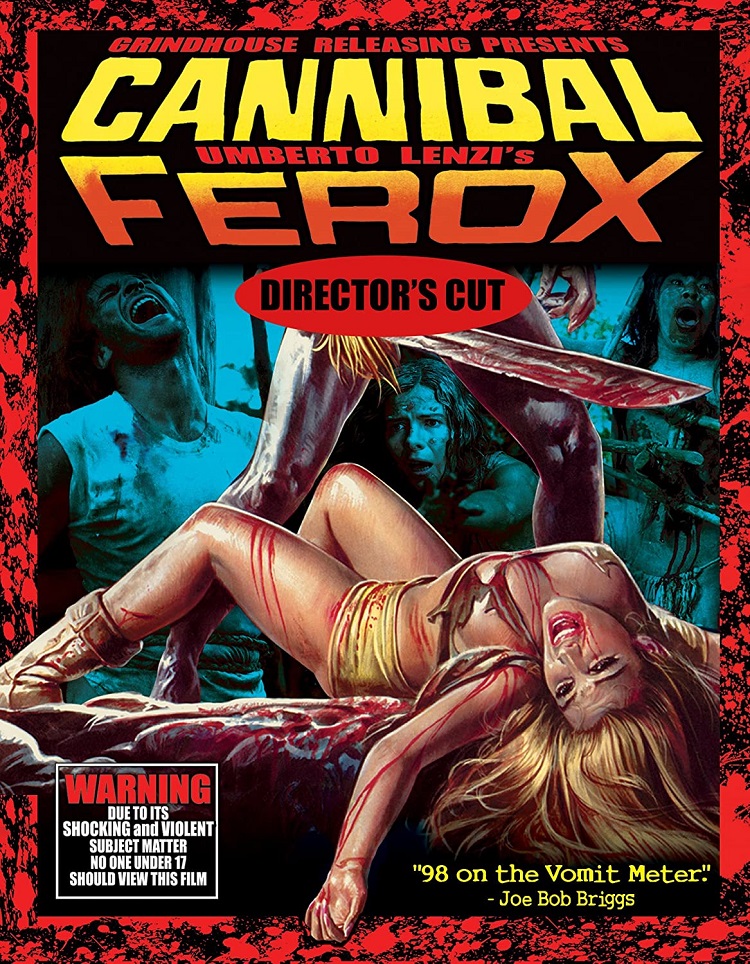 In 1970, with the entire world in a state of change, Elliot Silverstein's A Man Called Horse was released to cinemas. Like the environment that spawned it, the film was about a transformation: a white man named John Morgan (as played by the late Richard Harris) – captured and enslaved by a group of Native Americans – soon becomes one with the very tribe that had previously seized and humiliated him. Of course, no groundbreaking work of art goes unnoticed abroad – especially in Italy, where filmmakers were keen to cash-in on anything that generated so much as a dollar-fifty at the box office in America – and it wasn't long before an Italian exploitation filmmaker named Umberto Lenzi came up with his very own take on the tale.
Entitled Man from (the) Deep River, the film found Serbian-born Italian B movie favorite Ivan Rassimov – as a character named John Bradley – being captured and enslaved by a remote, primitive tribe in modern-day Thailand. Like the much more popular American film that "inspired" it, John eventually becomes one of the gang here. But the thing that made Lenzi's occasionally sleazy story a hit around the world was the introduction of cannibals on the silver screen. Sure, the threat of headhunters and jungle-based maneaters has been in existence to photoplay adventurers since the dawn of moving pictures themselves – but Lenzi was quite possibly the first uomo to show their heinous, bloody, gory acts for all to see.
Thus, the Italian Cannibal genre was illegitimately born unto a bastard form of cinema. However, it wasn't until Ruggero Deodato all but refilmed Lenzi's initial (accidental) entry of the short-lived exploitation craze in 1977 with Jungle Holocaust that the horror subgenre officially came to be recognized by a world that mostly wanted nothing to do with it. Soon, many other filmmakers – mostly Italian – were creating monstrous gut-munchers to nauseate audiences and boost sales near and far before the trend peaked and subsequently waned (though over a very long period of time) with one of the most notorious cult classics ever made, Deodato's Cannibal Holocaust in 1980. But Signori Lenzi was not about to sit idle and watch his own inadvertent creation pass.
And so, after snatching the starring talent of Cannibal Holocaust – '70s porn star Robert (R. Bolla) Kerman – and rising Italian cult antihero John Morghen (Giovanni Lombardo Radice), Lenzi counteracted Deodato's combination of high art and zero taste with his 1981 gory guilty pleasure Cannibal Ferox. Like the film it was inspired by (nothing is sacred to Italian exploitation filmmakers: they will even rip-off their own ripoffs!), Cannibal Ferox is a sleazy, violent journey into depravity, though the teensiest shred of art Deodato may have incorporated into this most revered film is sorely missing amid Lenzi's schlocky mayhem. But of course, that's why we still love the movie today – even if it does feature the required bit of animal cruelty.
Beginning in New York City (because all great Italian cannibal, zombie, and Alien-inspired movies do, you know), we soon learn that A) disco music is still alive and well, and B) everyone – from the mob to the police – is after an unscrupulous drug dealer named Mike Logan. But this magic Mike isn't in the Big Apple; he's down in friggin' Paraguay for some ungodly reason! To make matters worse, Mike (Morghen/Radice) has an injured partner whose wounds have allegedly been inflicted by a nearby tribe of cannibals. At least, that's the story Mike lays on a trio of adventurous college-aged thirty-somethings – brother and sister Rudy (Bryan Redford/Danilo Mattei) and Gloria (Lorraine De Selle) and their buxom blonde bombshell Pat (Zora Kerova) – who are in this particular neck of the woods to put an end to the myth of cannibalism once and for all.
Alas, it's not a myth. Especially when you wind up in the manipulating, drug-crazed clutches of bad guy Mike, whose mere association with the trio of innocents soon has them all in hot water. And in cold water, leech and piranha infested water, too. It's only a matter of time before everyone's privates are being made public before being impaled, chopped off, and well, you get the idea. Robert Kerman's role here is limited to a supporting part in a parallel story, as a police detective in New York City searching for John Morghen's missing character, interacting with cult Italian bit players like Fiamma Maglione (aka Meg Fleming, also in Lenzi's outrageously wacky atomic zombie/vampire anti-epic, City of the Walking Dead), who helped to provide Cannibal Ferox's funky score along with Robert Donati (the pair credited as Budy Maglione).
Ripe with nudity, gore, and some truly unsettling real-life violence committed towards some poor critters (that's just how they used to do things, people), Umberto Lenzi's Cannibal Ferox has been re-edited, banned, and re-released many times since its initial release in 1981, where it wound up being projected stateside in an eviscerated (heh) form as Make Them Die Slowly. In the late '90s, when DVD firmly planted its flag onto the home video terrain, a newly-formed Grindhouse Releasing managed to acquire the rights for this former video nasty, giving it its first official uncut presentation in the U.S. This time around, Grindhouse has not only included their old extras (an audio commentary with director Lenzi and actor Morghen, a behind-the-scenes look at a 1997 theatrical re-issue, and a handful of international trailers), but has added even more for fans to ogle at.
Firstly, there's the new presentation of the film, which looks better than anyone probably ever imagined it would look like. The movie is also presented in two cuts: the original cut, and an extended cut. The latter is a whopping twenty seconds longer, and the audio for its excised bits is missing in some parts (though I could have swore I heard said audio in an older home video release once upon a time, possibly on a LaserDisc rip; I don't recall anymore). Both missing bits are also included as extras, and the lineup if this two-disc set continues in the form of a CD soundtrack (make that a three-disc set), a new feature-length documentary on the Italian Cannibal film genre, five (five!) interviews with assorted cast and crew (Lenzi, Kerova, Morghen/Radice, Redford/Mattei, and FX man Gino De Rossi), a huge assortment of stills, and even a booklet penned by Bill Landis and Eli Roth.
At the end of the day, Cannibal Ferox is essentially little more than a cash-in of a craze beget by the cash-in of a cash-in. It's unapologetically brutal in most spots, while remaining laughably and sheepishly garish in a few others. But it's the kind of sleazy jungle movie fare that an entire generation of exploitation cinema aficionados grew up with, and hold a soft spot in our otherwise blackened and dead hearts for to this day. Thankfully, the folks at Grindhouse Releasing had so much love for this one that they went all out in order to give us the quintessential home video version of a movie that – realistically – we would have never seen the likes of if it hadn't been for A Man Called Horse. So just remember, boys and girls of America, as you drop your jaws and shield your eyes from Lenzi's madness here: it's your own damn fault!
Highly recommended.