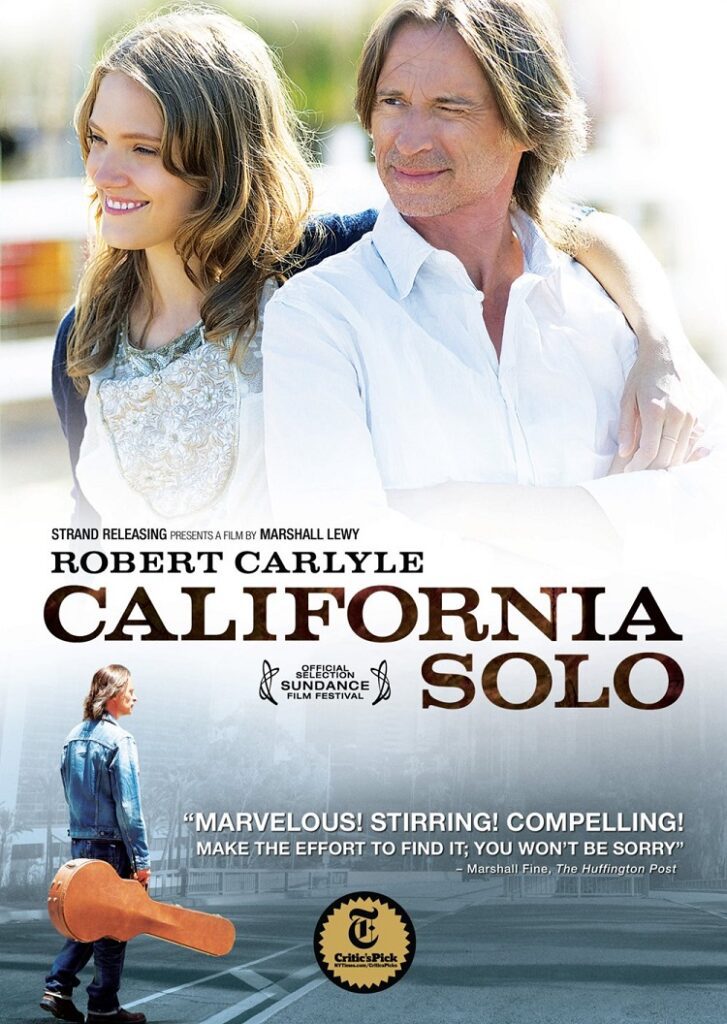 California Solo, the latest film from director Marshall Lewy (Blue State), is about a musician's journey of self-discovery and redemption. Robert Carlyle (Trainspotting, 28 Weeks Later) gives an understated performance as former Britpop star Lachlan MacAldonich. Lachlan's rock 'n' roll days are behind him and he's resigned to live a quiet life working on an organic farm in Southern California. His only connection to his past , a music podcast he hosts, focuses on musicians who've died tragically. Lachlan has a personal tie to the subject — his brother Jed, the lead singer of the Cranks, his former band, died of a drug overdose. This tragedy ended the band and derailed Lachlan's music career.
Lachlan strikes up a causal friendship with a hipster girl named Beau (Alexia Rasmussen), one of his customers at the Silver Lake Farmers' Market, The hope of an eventual romance between them is dashed by the appearance of her on-again, off-again boyfriend Paul (Danny Masterson), a club DJ. Beau's flirtations seem to serve partly as a ploy to get Lachlan to appear at a nightclub event.
Lachlan unwinds at a local bar one night after work. He imbibes a bit too much and is nabbed on a DUI on the way home. His boss, Warren (A..Martinez), supports him above and beyond the call of duty, both as a friend and employer, after this incident.
The DUI costs Lachlan more than a hefty fine. It puts his status as a U.S. resident in jeopardy due to a marijuana possession charge from his band days. This ultimately leads to tense visits with his ex-manager Wendell (Michael Des Barres) and his ex-wife Catherine (Kathleen Wilhoite), to find a way out of this legal morass. The only way for Lachlan to stay in the U.S., according to his lawyers, is to have a relative claim that they'd experience extreme hardship if he left the country.
The DUI conviction forces Lachlan to confront his past and renew his relationship with his teenage daughter, Arianwen (played with earnest self-assurance by Savannah Lathem).
Lachlan maneuvers a maze filled with lawyers and Immigration officials, and his legal prognosis deteriorates with each new encounter. The stress becomes too much for him, and he makes several poor choices before owning up to his situation.
The film's pace speeds up during the third act, as Lachlan has an unexpected last-minute meeting that reinforces his desire to make some hard decisions and change his life. California Solohumanizes a man's midlife crisis and focuses on character study rather than melodrama to make its point. The film has its share of clichés, but Carlyle's realistic, nuanced performance keeps them in check.
California Solowon the 2012 Woodstock Film Festival's jury prize for Best Narrative Feature and the Festival's Best Editing Award (for editing work by Alex Jablonski) earlier this year. The film opens November 30 in Los Angeles and New York with a national release to follow.