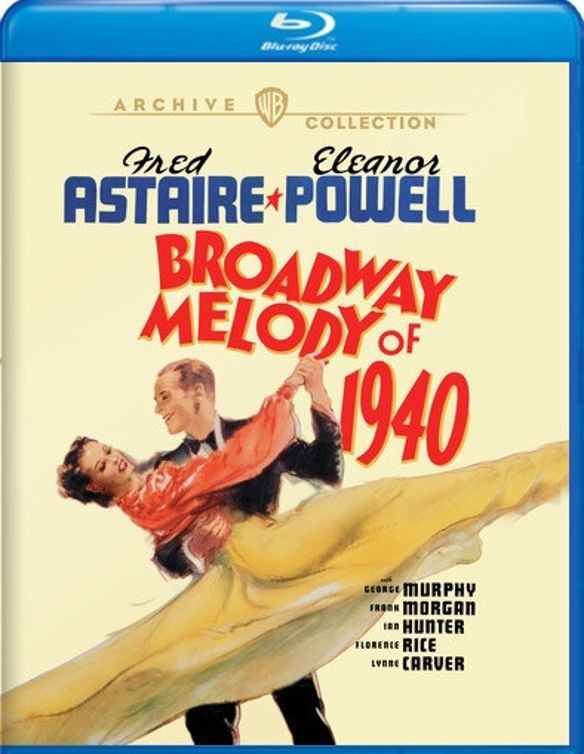 The obvious draws for this classic MGM musical are the star turn by Fred Astaire and the songs written by Cole Porter, but co-star Eleanor Powell nearly steals the show with her incredible dance athleticism. She easily matches Astaire's moves in their pair numbers, but really explodes in her solo performances, especially her first number that finds her being swung and flipped around by backup dancers to such extremes that it still looks incredibly daring today. She clearly should have been a much bigger star instead of only averaging one film per year during her peak career between the mid-'30s and mid-'40s, but thankfully her amazing prowess is preserved in this fantastic new Blu-ray restoration.
Astaire is no slouch of course, still channeling some of his youthful strength as he entered his 40s. The film features one spectacular number where he plays piano and sings while also using the piano as a tap instrument before moving into an amazing dance solo. His numbers with Powell might make you forget Ginger Rogers entirely; they're really that good together.
The story is fairly tired, serving up a tepid love triangle between the stars and Astaire's previous performing partner (George Murphy) as they all try to become famous on Broadway, but the story is just an excuse to move from one Cole Porter song to the next. Many of the songs were written by Porter exclusively for the film, although a couple of his catalog tunes get put into rotation too, including his hit "Begin the Beguine" which serves as a late showstopper.
Warner Archive's new Blu-ray features a 1080p HD master sourced from a new 4K scan of the film's original nitrate preservation elements, along with a DTS-HD Master Audio 2.0 soundtrack. The original mono track is also included. The black and white image quality is exquisite, cleaned to perfection and exhibiting superb contrast, especially in a couple of the big production numbers staged on a massive soundstage that at the time reportedly had the biggest sets ever constructed.
Bonus features are led off with a 10-minute archival retrospective titled Cole Porter in Hollywood that oddly has little to do with Porter. Instead, fellow musical screen star Ann Miller provides some details on the making of the film, including the intense practice sessions that Astaire insisted on for both himself and Powell. The other bonus features are shorts that might have run on similar bills of the film's era: an amusing Our Gang short featuring some early special effects for Alfalfa, and an animated short about three hungry kittens dreaming of feasting in the Milky Way. The bonuses are just the cherries on top of a winning musical treat that belongs in the collection of all movie musical fans.