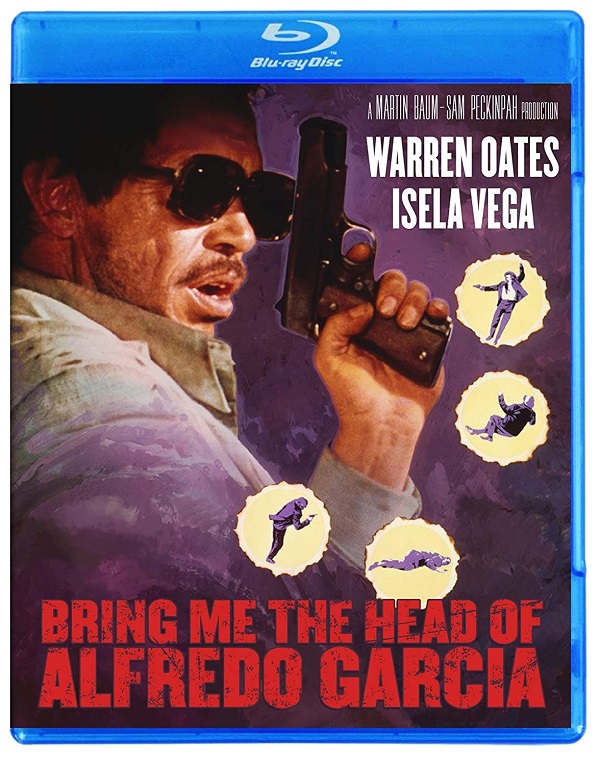 As many film buffs know, legendary filmmaker Sam Peckinpah remains one of the greatest and most unpredictable directors in the history of film. He's also one of the most controversial and incendiary as well, especially the way that he depicted on-screen violence. His type of violence wasn't exactly used as a means of just shock value; the type of violence in his films in fact showcased the darker side of humanity. In this case, he basically made violence a sheer art form. One of the finest examples of this is his subversive 1974 classic Bring Me the Head of Alfredo Garcia, which also contains a streak of modernity that most directors wouldn't touch.
The film stars the late, but extremely great Warren Oates (character actor royalty) as a small-town bartender who is recruited by two obsessive hired killers (Gig Young and Robert Webber) after a Mexican land baron puts a million dollars on the head of the man who seduced and raped his daughter. He and his prostitute girlfriend (Isela Vega) help them perform their dirty work. But as things get more dire, so does the body count, which of course leads to nasty consequences for everyone involved.
As with most Peckinpah works, the violence is indeed graphic and almost bordering gratuitous, but he also knows how hold back, especially when the time is right. There is also a streak of dark humor in the mix, due to the fact that Oates carries around the severed head in a sack throughout the film. Sooner or later, the sack is going to smell, but the more he has to deal with that, the more comedic it actually gets. However, the humor is not excessive, and Peckinpah, again, knows how to not take things too far.
Of course, Oates is fantastic as our rugged anti-hero, who is forced into situations that are definitely beyond his control. Vega is also great as the girlfriend along for the ride, which is ironic considering that Peckinpah did have a reputation for being a misogynist, which is another story.
Although not as stacked with special features from previous releases (especially the Arrow one), the new Blu-ray from Kino does have two commentaries: one with co-writer/co-producer Gordon Dawson, the other with film historians Paul Seydor, Garner Simmons, David Weddle and Nick Redman; TRAILERS FROM HELL segment with writer/podcaster Josh Olson; image gallery; and trailer/TV spot.
So if you're a fan of Peckinpah or '70s cinema as a whole, then this release should make a wonderful addition to your home entertainment collection. Just make sure that the kiddies are fast asleep though.
Other notable releases:
Touki Bouki (Criterion): A 1973 classic of African cinema centering on two lovers who long to leave Dakar for the comforts and promise of France, but find their escape plan is paved with mystical and harsh complications.
Queens of Evil (Mondo Macabro): A young hippie man commits a murder and finds refuge at the lakeside home of three beautiful sisters. He lives to regret that decision, considering the dark secret that the sisters are hiding.
Little Fugitive: The Collected Films of Morris Engel & Ruth Orkin (Kino): A collection of landmark gems of American independent cinema by pioneers Engel and Orkin, capturing the lives ordinary people in New York City.
The Great Caruso (Warner Archive): Mario Lanza stars as a promising singer who leaves his hometown to America to sing for the Metropolitan Opera. His lack of education and background makes him an outcast at first, but he eventually garners fame and respect of fans. However, sadistic drive threatens his success and eventually his life.