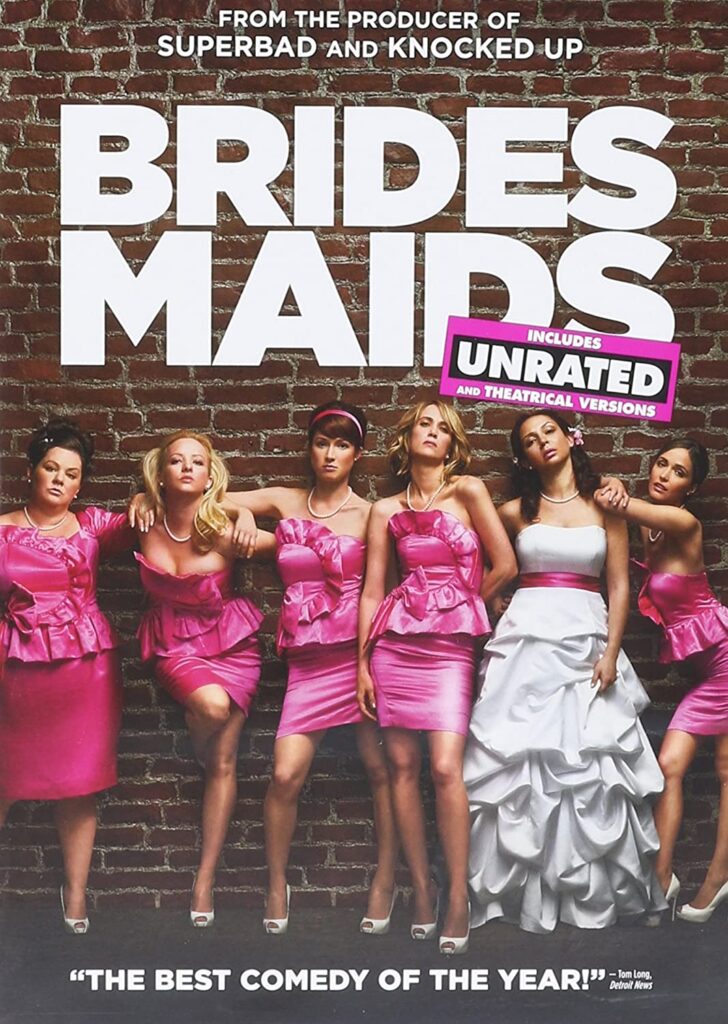 Don't let the title and picture fool you: this movie is all about Kristen Wiig. Sure, there's an ensemble cast and a story about a wedding, but the core of the film is bridesmaid Annie's (Wiig) voyage of self-discovery as she hits rock bottom and learns what's most important in her life. If that sounds like a Lifetime movie, further enforcing the chick-flick appeal of the film, rest assured that Annie's journey is packed with side-splitting humor with broad appeal to both sexes.
Annie is a bit of a sad sack loser, with little more to show for her 30-something years than a lifetime friendship with bride-to-be Lillian (Maya Rudolph) and a failed bakery. She has an occasional boyfriend (Jon Hamm in full comedy mode once again) who views her as little more than one of many casual conquests, offering none of the intimacy she craves. She's looking forward to her involvement in Lillian's wedding, until it becomes apparent that she no longer holds the alpha position in the wedding party due to overachieving bridesmaid Helen (Rose Byrne), a perfectionist intent on topping anything Annie can contribute. That doesn't stop Annie from trying though, and the film gets plenty of comedic mileage out of the battle between Annie and Helen to be the best bridesmaid at any cost.
Meanwhile, the crass and somewhat repellant bridesmaid Megan (brand new Emmy winner Melissa McCarthy) strikes up an unwanted friendship with Annie, offering hilarious advice on all aspects of Annie's life that Annie slowly comes to appreciate as her relationship with Lillian becomes more tenuous. But wait, there are still two more bridesmaids, even though they're little more than afterthoughts in the grand scheme of the film. Ellie Kemper (The Office) plays Becca, and Wendi McLendon-Covey (Reno 911!) plays Rita, failing to contribute any plot momentum but adding some comedic flair to an already stacked project.
Annie also strikes up a relationship with a sweet and supportive cop (Chris O'Dowd), clearly an ideal match for her but one that she fails to capitalize on until it's nearly too late. Like most movie love stories, they meet, they like each other, something drives them apart, then they realize they're meant for each other, but in this case the "driven apart" stage lingers far too long as the cop holds a grudge for an uncomfortably lengthy timeframe, reducing his appeal somewhat as we wonder what's wrong with him. That's really the only wrong note the film strikes, as it's otherwise overwhelmingly sweet and good-natured in spite of its bawdy humor. After years of strong supporting roles in films and her ongoing work on Saturday Night Live, it's great to see Wiig step fully into the spotlight in this winning and star-making turn.
The unrated version of the film packs in around six more minutes, but I was hard pressed to determine what was different from the theatrical cut so it's not really essential viewing. On the other hand, the DVD bonus features are well worth your time, with lots of funny deleted footage. The best: filthy ad-libbed solo scenes by a few of the bridesmaids that prove that it must have been a major challenge to choose the best lines for the film.
Bridesmaids is available on Blu-ray, DVD and digital download on Tuesday, September 20th.