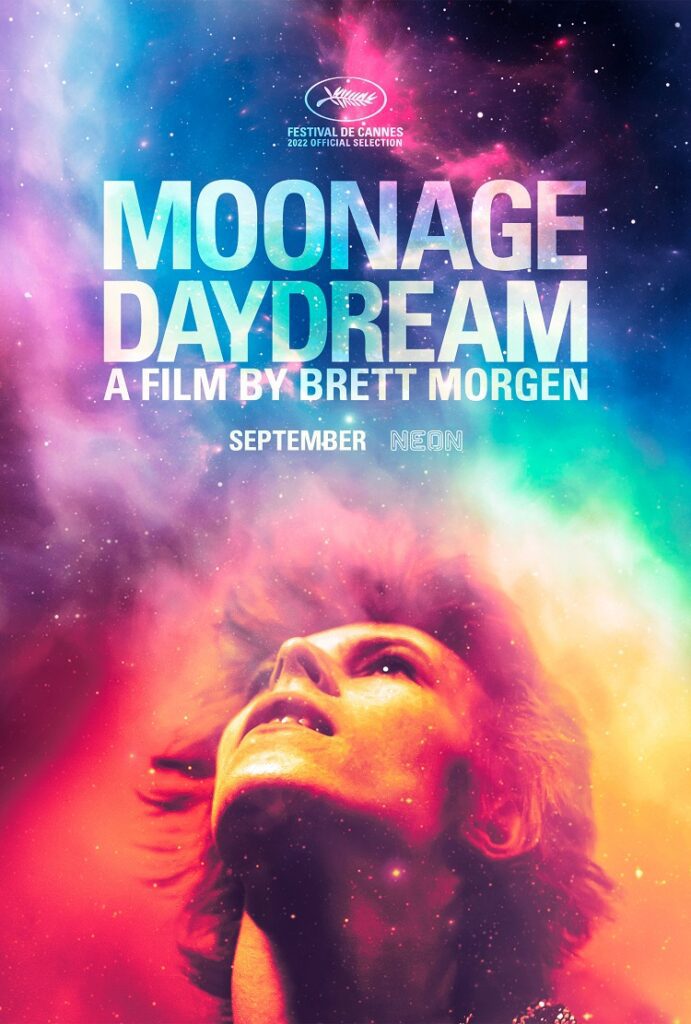 Following its successful launch out of the Cannes Film Festival, NEON and IMAX Corporation (NYSE: IMAX) announced today acclaimed filmmaker Brett Morgen's (The Kid Stays in the Picture, Cobain: Montage of Heck, Jane) David Bowie film Moonage Daydream will be released exclusively in IMAX theaters for a week-long special engagement beginning September 16.  Told through sublime, kaleidoscopic footage, performances and music, Morgen's feature length experiential cinematic odyssey explores David Bowie's creative, musical and spiritual journey. The film is guided by David Bowie's own narration and is the first officially sanctioned film on the artist.
Moonage Daydream illuminates the life and genius of David Bowie, one of the most prolific and influential artists of our time. David worked across several disciplines, most notably music and film, but also explored various art forms throughout his life: dance, painting, sculpture, video and audio collage, screenwriting, acting, and live theatre. The motion picture reveals the celebrated icon through his own voice and features 48 musical tracks, mixed from their original stems. David Bowie fans worldwide will be immersed in the ultimate Bowie experience only IMAX can deliver, including exceptional picture clarity and next-generation IMAX precision sound. Audiences are in for a truly spectacular and immersive experience.
To coincide with the film's premiere at the Toronto International Film Festival, fans across the country will have early access to sneak IMAX screenings across North America on September 12.
Moonage Daydream is written, directed, edited, by Brett Morgen and produced by Morgen and his production company, Public Road Productions. Executive Producers are Hartwig Masuch, Kathy Rivkin-Daum, and Justus Haerder for BMG; Michael Rapino, Heather Parry, and Ryan Kroft for Live Nation Productions; Bill Zysblat, Tom Cyrana, Aisha Cohen, and Eileen D'Arcy from RZO; Billy Gerber, and Debra Eisenstadt. BMG and Live Nation Productions financed the film.
The team also includes: Bowie's long-time collaborator, friend and music producer Tony Visconti; Academy Award-winning sound mixer Paul Massey (Bohemian Rhapsody) and David Giammarco (Ford v. Ferrari); the Academy Award-winning sound design team of John Warhurst and Nina Hartstone (Bohemian Rhapsody); and VFX Producer Stefan Nadelman (Kurt Cobain: Montage of Heck).
All tickets are now on sale at www.imax.com/moonagedaydream. For a listing of participating theaters and for more information, please visit www.moonagedaydream.film.