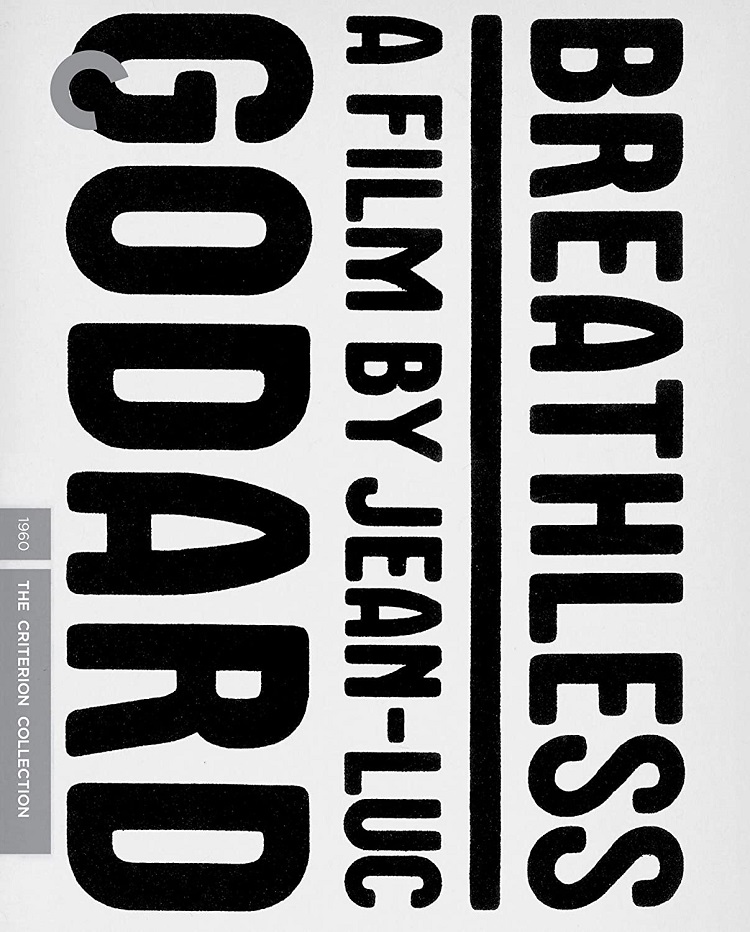 Jean-Luc Godard's Breathless helped launch the French New Wave movement, which challenged norms of the medium. Godard's directorial choices appear intended to increase the realism by paradoxically never letting you forget you are watching a movie. Even half a century later, the results remain fascinating though history has inevitably dulled its full impact. How amazing it must have been able to witness its groundbreaking debut in 1960 from a first-time feature filmmaker as it challenged all comers.
Michel (Jean-Paul Belmondo) is a young criminal. As the film opens, he steals a car and murders a cop. He returns to Paris where he reconnects with Patricia (Jean Seberg), an American student. He claims to be in love with her and wants them to run off to Italy. To do this, he is trying to collect on debts. Patricia is unsure of their feelings for each other. They have some chemistry but fit together oddly. Her parents want her to enroll at The Sorbonne if she expects them to send more money. She sells the New York Herald Tribune and is working towards becoming a journalist.
Over a few days, we see them together and apart. They spend time in her apartment as he relentlessly badgers her into making love. They go out on dates. Alone, Patricia moves her life forward through work. We see her attend a press conference for author Parvulesco (Jean-Paul Melville). He flounders about almost aimlessly. When they reunite, it's because he is insecure, exhibited through his jealously and neediness, and she has nothing else better to do. The tables are turned in contrast to how we see Michel with another woman earlier in the film.
As the police search for Michel, they eventually talk with Patricia. They inform her of his crimes but she dismisses knowing him well and offers little assistance. But how will this revelation impact their relationship? Will it bring them together or push them apart?
Breathless is many things. It's a crime story, it's a romance, and it's also a movie about movies as Jonathan Rosenbaum details in his video essay "Breathless as Criticism" (11 min) included as an extra. Homages are littered throughout the film. Michel idolizes Bogart as we see as he takes in a movie poster and mimics a mannerism. He uses an alias that is the name of a character Belmondo played in Claude Chabrol's Leda. The main character from Melville's Bob le flambeur is referred to as being in jail, suggesting the films take place in the same world.
IMDb's trivia section for the film revealed to me Godard has a cameo as a man on the street that sees Michel from his picture in the newspaper and tells police. In essence, we see the director forcing the plot and characters in a direction. Such heavy-handedness is usually a detriment, and while it could have been unintentional, it comes off as an extremely clever bit that plays with the medium.
The film is most notable for its off-kilter editing style called "jump cuts". Rather than cut out the boring scenes, he cut out boring bits within scenes. Shots didn't match up as they normally do; yet the scenes still work because there seems to be a purpose why a scene plays out the way it does, causing the missing parts not to be missed.
Breathless continues The Criterion Collection's high standard for Blu-ray releases. Cinematographer Raoul Coutard approved the 1080p/AVC MPEG-4 encode which was made from a 35mm master positive and is presented in its original 1.33:1 aspect ratio. The many shades across the gray scale come through well. Whites are strong; however, blacks can be inconsistent. I tend to believe any flaws are more likely issues with the source, which looks clean. There are fine details evident throughout and no major digital artifacts. The French mono track presents the dialogue clearly and it balances well with Martial Solal's jazzy musical score. I had no trouble seeing the subtitles regardless of the image and color they were superimposed over.
The extras are all in presented in 1080i. Quite a number of interviews are available. The archival set (27 min) features two with Godard in 1960 and 1964. What's most interesting is he seems put off by the film's success. We get Belmondo in 1961 and Seberg in 1960, which takes an uncomfortable turn as the French female reporter gets too personal. Both talk more about themselves and acting. Melville in 1963 talks about French film industry. In 2007, Coutard and assistant director Pierre Rissient (22 min) talked about the making of the film. "Pennebaker on Breathless" (11 min) finds the famed documentarian D.A. Pennebaker exploring Godard's statement that Breathless is "a documentary about Jean-Paul Belmondo and Jean Seberg," which I don't completely agree with.
The set is rounded out by interesting material. Mark Rappaport presents a video biography about "Jean Seberg" (19 min). Chambre 12, Hotel De Suede is an 80-min French documentary from 1993 about the film. It's shot in black and white and shows the host going to the locations and meeting with the cast and crew. A Godard short from 1959 "Charlotte et son Jules" (13 min) stars Belmondo and explores a couple's break-up. The disc is accompanied by a booklet containing articles written by and interviews with Godard as well as fellow New Wave director Francois Truffaut's treatment and Godard's scenario that expanded on Truffaut's work.
Jean-Luc Godard's Breathless is a wondrous film that may make you reevaluate what you know about movies, and The Criterion Collection presentation of it on Blu-ray offers a film class worth of extras for those who want to learn more about it.