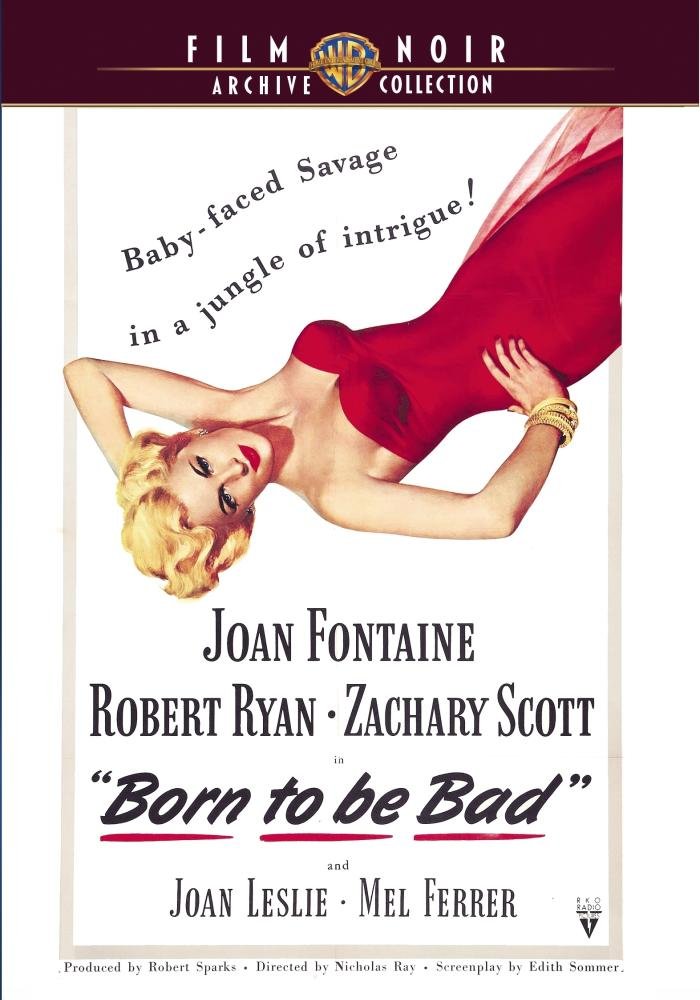 Part soapy potboiler, part society noir, Nicholas Ray's Born to Be Bad is, in the bowdlerized version released by RKO in 1950, a flawed film. But now, thanks to a new DVD release from the Warner Archive Collection with a previously lost alternate ending, we can see what might have been.
Prim and proper Christabel Caine (Joan Fontaine) comes to San Francisco to live with her uncle's secretary Donna (Joan Leslie), who is engaged to mustachioed millionaire Curtis Carey (Zachary Scott). Chris "mistakenly" arrives at Donna's house a day earlier than expected, and meets Donna's sharp-tongued friend Gabriel "Gobby" Broome (Mel Ferrer). Handsome bachelor Gobby seems conspicuously immune to Chris' faux demure charms, and instead offers to paint her portrait.
"I'll paint anyone with a rich uncle," he sneers.
Christabel's uncle John (Harold Vermilyea) is a successful publisher, but he's nowhere near as wealthy as Donna's husband-to-be. And Chris' intentionally early arrival allows her to attend a party where she has ample opportunity to cozy up to Curtis and Nick Bradley (Robert Ryan), a charmingly roguish writer Donna has discovered. The acerbic author's book is about to be published by Uncle John, and Chris is about to replace Donna as his assistant.
"Not planning to take Donna's place, are you?" Nick smirks, while eyeing Christabel up and down like a piece of rump roast.
Of course she is. And that's exactly what happens, but not before Chris and Nick begin a torrid affair, consisting mainly (on-screen, at least) of Robert Ryan assault-kissing Joan Fontaine, and director Ray fading to black. Such were the realities of filmmaking under the Motion Picture Production Code, a self-censorship doctrine that sanitized American film from 1934 until 1968.
Mixing a toxic cocktail of subtle innuendo and masterful manipulation, Chris soon elbows Donna out and marries the dashing but dim-witted Curtis (accompanied by a delightfully malevolent rendition of The Wedding March). But this doesn't stop her from continuing her "fade outs" with Nick. The pot comes to a boil when Chris ducks out on a vacation at the lake for a tryst, blaming it on an emergency visit to her ailing Aunt Clara. One minor problem: Aunt Clara dies, and Christabel is nowhere to be found.
And then, after zipping along for a tight 80 minutes, it all goes to hell in the final 10. The original ending, included as a special feature, is a revelation. I won't reveal it here, but it's witty and perfectly in keeping with the narrative tone of the rest of the movie. And the final image functions as a perfect callback to the first scene, when Gobby offers to paint Chris because of her moneyed pedigree. The revised conclusion, forced on Ray despite his protestations, is a muddled mess. Even worse, it allows the adulterous villain to escape remarkably unscathed, usually a no-no in Code Era Hollywood.
With the smoldering chemistry of Fontaine and Ryan and the intact original ending, this sharply satirical, cautionary tale would likely have been as well remembered as Nicholas Ray's In a Lonely Place, released just a few months earlier. The restored Born to Be Bad plays like a noir-ish take on All About Eve (also released in 1950, to Academy accolades), with a strong ensemble all falling victim to the counterfeit charms of a duplicitous blonde. It's a timeless story. And luckily for film fans, Christabel Caine's time has come again.