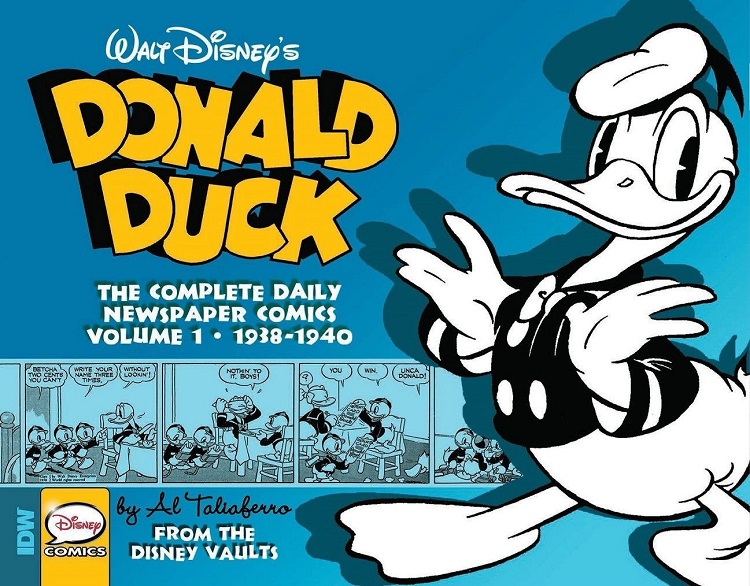 Starting out as a supporting character in the 1934 Walt Disney short "The Wise Little Hen," Donald Duck went on to become renowned and beloved the world over thanks to the talents of many skilled writers and artists. In addition his numerous animated appearances, Donald's vast popularity is due in part to the comic strips and comic books he was featured in over the years.
Author and animation historian David Gerstein reveals in his introductory essay, that the character made the leap to newspapers thanks to Disney staff artist Al Taliaferro, who drew the strip for over 30 years, from its debut on February 7, 1938 until his death in 1969. Before drawing the Donald strip, Taliaferro inked Mickey Mouse strips and then inked and later drew Silly Symphonies / Silly Symphony where Donald was the exclusive star for over a year, starting on August 30, 1936, before venturing out into his own title.
The first volume in the Library of American Comics' Walt Disney's Donald Duck series presents 750 daily strips, starting with the first and running through to July 13, 1940. While Homer Brightman wrote scripts with Taliaferro for the first two months, the artist worked predominantly with Bob Karp during this run. Also, a dozen gags are credited to Carl Barks, another notable contributor to Donald Duck's history.
The strip is a gag-a-day and finds Donald to be the same scheming, feisty character fans will recognize from the cartoons. He frequently looks to get one over on others, including breaking the law at times, although he usually suffers from his choices. I was surprised Donald never had to deal with any holidays, like the Peanuts gang did, but that might have helped the strips' international appeal and reprintability. In a testament to how well the character transferred to the strips, the creators were successful without having the benefit of being able to use Donald's most distinctive feature: his iconic raspy voice
Taliaferro's art is outstanding, from his line work, which clearly defines all objects, to his shading, which affects both textures and lighting. The gags take place in a wide variety of locations, even Antarctica (presumably), and Taliaferro sets every scene with ease as he transports the reader. He also helped expand Donald's family by co-creating nephews Huey, Dewey, and Louie; his St. Bernard Bolivar; and third cousin Gus Goose; all of whom appear in the strip.
The publisher warns delicate readers that Walt Disney's Donald Duck: The Complete Daily Newspaper Comics, Volume 1 contains "cartoon violence" and "gags about smoking, drinking, and gunplay," which is a positive selling point for a longtime cartoon/comic fan like myself. I recommend it, and am eager for Volume 2.