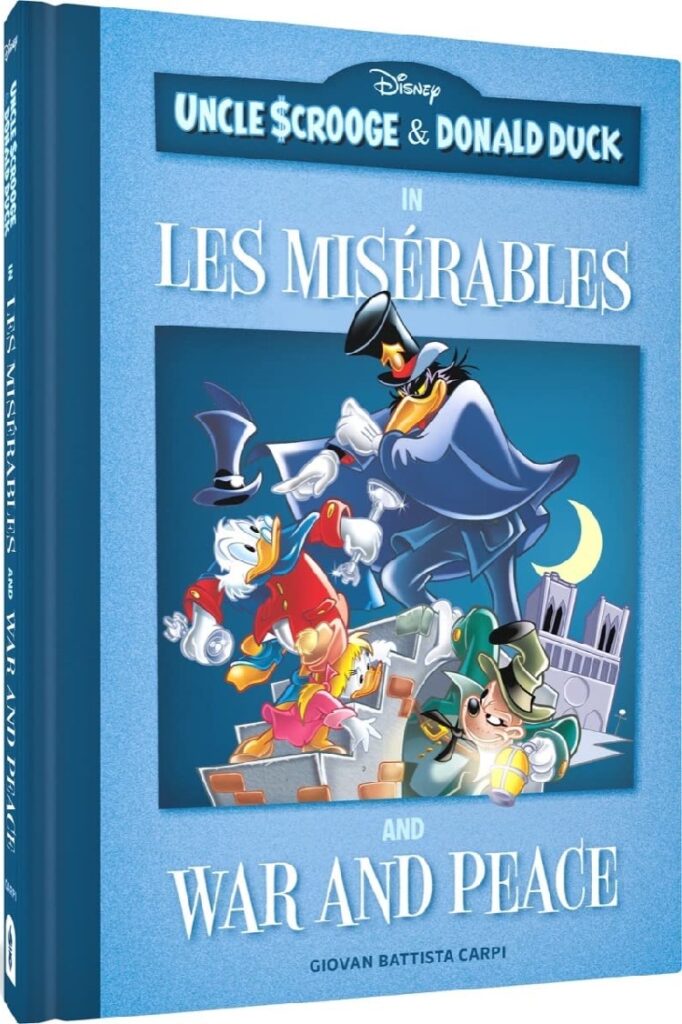 Disney presents a new addition to the Fantagraphics series of collected cartoons. In this volume we get both "The Secret of the Candlesticks," based loosely of off Les Misérables (originally published in Italy in the magazine Topolino #1743 – 1745, April 23 to May 7, 1989), and War and Peace (Topolino #1604 – 1605, August 24 and 31, 1986). Both story arcs were written and drawn by Giovan Battista Carpi. Les Misérables was translated by David Gerstein and War and Peace was translated by Thad Komorowski and Sam Davis.
Carpi whittles down Les Misérables into "The Secret of the Candlesticks," in which Uncle Scrooge plays reformed convict Jean McJean and Daisy Duck plays Daisette, his ward. Donald Duck plays "punk poet" Donaldius Duckmercy. Pete, the Beagle Boys, and Inspector Javert round out the baddies. The series is made up of three 40-page issues.
War and Peace gets to keep its name and stars Donald Duck and Uncle Scrooge in a mad caper where Uncle Scrooge has made gold cannonballs and painted them black to keep them safe from the Beagle Boys. Luckily for the reader, the gold cannonballs have accidentally been moved to the Russian/French front where they are being fired off one by one to Uncle Scrooge's pure dismay. War and Peace is a collection of two 40-page issues.
Does Carpi take liberties with the stories? Of course, he has tackled two juggernauts of 19th century literature: Victor Hugo and Leo Tolstoy. Because of this, Carpi has sliced the stories down to manageable bites. And it absolutely works. "The Secret of the Candlesticks" is a mad romp through French sewers, and War and Peace is both a series of whimsical romps for Donald and a touching romance with Daisy.
Bonus features include a recap of the original stories of Les Misérables and War and Peace, and lengthy biographies of Victor Hugo and Leo Tolstoy written by Alberto Becattini and translated by Fantagraphics editor David Gerstein. The book ends with a long biography of the author and illustrator, Giovan Battista Carpi, written by Luca Boschi and translated by David Gerstein. This edition ends with an essay on "Carpi and Les Misérables" by Alberto Becattini and translated, again, by editor David Gerstein.
Fantagraphics puts out absolutely beautiful books with high production values. This volume is an over-sized hardcover with vibrant end papers depicting the characters from the stories. Inside, the comic pages are thick and over-sized for ease of reading. The colors are bright, clear, and perfectly separated. The type is crisp and easy to read, while the translation is clear, detailed, and feels modern.