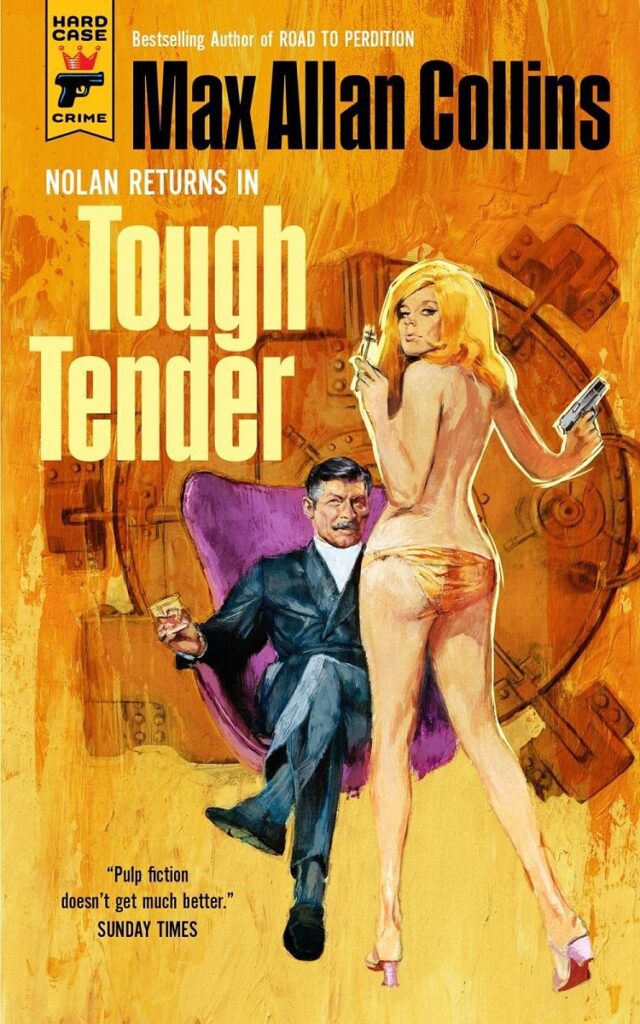 Tough Tender, by Max Allan Collins, is the latest double-issue reprint from Hard Case Crime book publishers and includes two early novels (Hard Cash and Scratch Fever) about the tough-as-nails master thief, Nolan, and his comic books loving artist and musician sidekick, Jon.
The first novel, Hard Cash, finds Nolan running the Pier, a seafood restaurant in Iowa City. Nolan would like to be a legitimate businessman who has retired from his thieving ways, but Iowa City is too close to some of his past crimes, and he is eventually spotted by the wrong man – the manager of a bank Nolan robbed in the first book of the Nolan series, Bait Money (recently re-published in the two-fer titled Two for the Money. The bank manager, Rigely, and his girlfriend, Julie, want Nolan and Jon to rob the bank a second time, splitting the money between the four of them. Unfortunately, Julie is the real brains behind the operation and as trustworthy and deadly as a pit viper. Added to these troubles is the fact that the delusional and immensely dangerous Comfort clan are on Nolan's trail to settle the score for a family member's death which they have pinned squarely on Nolan's chest.
The second half of Tough Tender, Scratch Fever, picks up a year later, and sees the return of the delightfully scary Julie and anybody she hasn't figured out how to kill. Jon is traveling with a successful cover band through the bars of the Midwest when he catches a glimpse of Julie in a crowded honky-tonk. This leads to a cat-and-mouse chase that pits Nolan and Jon against Julie and her disparate crew of bad guys. There are kidnappings, shoot-outs, car chases, sex, and all the other types of fun one expects from a Nolan novel.
Max Allan Collins' novels are a joy to read, and the current boon of reprints are a must-have for collectors and crime lovers alike. Each book will have you racing to discover if Nolan can solve how to wiggle his way out of this new mess, and whether he will keep Jon and their friends safe. The relationship between Nolan and Jon is far beyond the usual one-dimensional characters found in pulp fiction; the two of them just might stand up and walk off the page. This collection includes a short, but insightful, introduction by Max Allan Collins, and is highly recommended, as are all books in the Hard Case series.