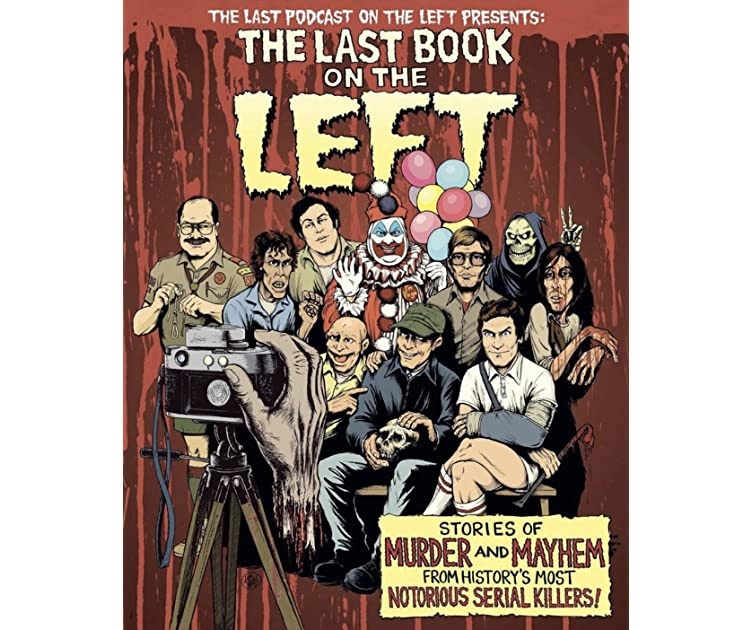 Dark humor and dark subject matter seem to go hand in hand. Combine those things with the incredible illustrations of Tom Neely, and you have The Last Book on the Left: Stories of Murder and Mayhem from History's Most Notorious Serial Killers by Ben Kissel, Marcus Parks, and Henry Zebrowski.
Fans of the podcast The Last Podcast on the Left are no stranger to the tales, jokes, and voices that emanate from these three on their weekly podcast. And fans of the comic Henry and Glen are familiar with the incredible and hilarious work of Tom Neely. But even if you are not familiar with the podcast or the comic, The Last Book on the Left is a fun, funny, and informative read. (Of course, that is, if you like reading about serial killers. And I do). It contains the stories of Ted Bundy, Richard Chase, Ed Gein, John Wayne Gacy, Richard Ramirez, David Berkowitz, BTK, Andrei Chikatilo, and Jeffrey Dahmer.
When I first heard about this book being in the works, I was not sure how Kissel, Parks, Zebrowski, and Neely would translate an audio podcast into a book. But this work captures the same energy of the podcast, and takes the theater of the mind and gives it a physical stage.
Park's narrative about these notorious figures is engaging and well-written. His voice and humor definitely come through while still moving each story along. And the comedic timing of Kissel and Zebrowski's jokes is spot on and easy to navigate with the format they chose for this publication.
Neely's cover art and interior illustrations not only give context to these stories, but to the jokes of Kissel and Zebrowski as well. Besides changing the font color to signal the joke breaks, their jokes have been accompanied by different emotive drawings of their faces which add depth and tone to their comedic commentary. These little touches by Neely play very big throughout these pages. Neely's art is remarkable for so many reasons, but throughout The Last Book on the Left the reader really gets to see the range of his talent and attention to detail.
The Last Book on the Left is definitely worth the purchase as both a great read and as a work of art. It is available now where ever books are sold.