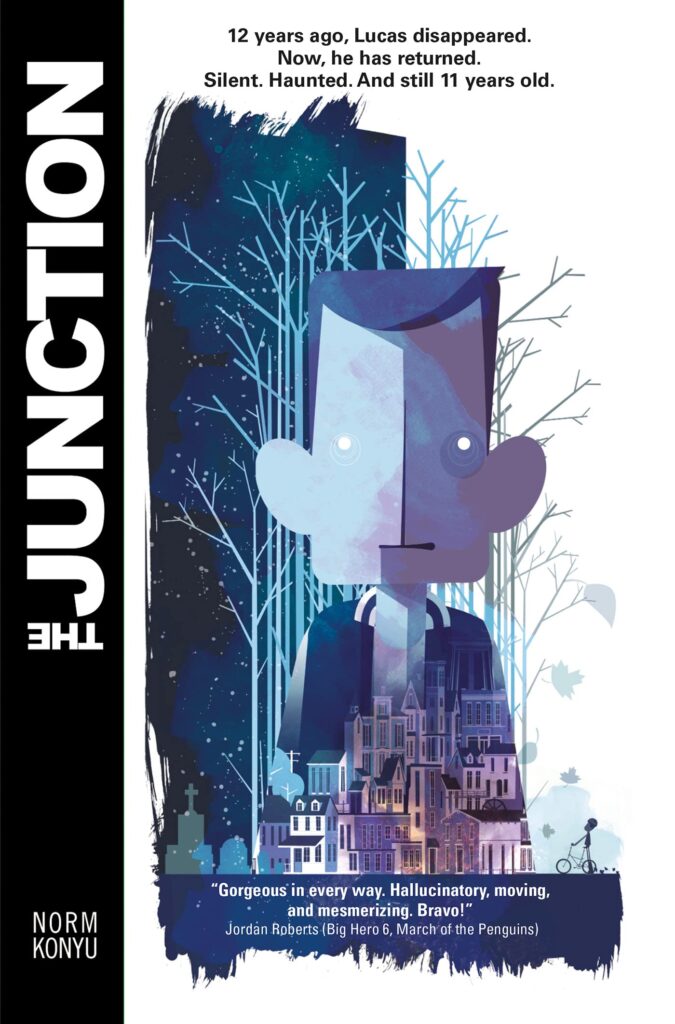 Far too rarely, a graphic novel lands in the market with such an assured sense of style and substance that its mere existence seems like a miracle. Norm Konyu's debut falls squarely in that category, and is so accomplished that it's primed to be a breakout title this year.
When 11-year-old Lucas Jones appears on his uncle's doorstep, he triggers a major investigation because he's been missing for 12 years and hasn't aged a day. Where is his father, who also disappeared with him? Where has he been? How is he still the same age? All is revealed by the end of the book, but the story has a fascinating structure to dole out its secrets.
Rather than a strictly linear tale, Konyu follows a police investigator reviewing journal entries by Lucas to jump back and forth through the 12 years between 1984 and 1996, as well as a child psychologist interviewing Lucas in the present day of 1996. It's a concept that could easily become confusing, but in Konyu's capable hands the plot is always laser-focused. More than that, his story is well-paced and packed with ample emotion to make us care about Lucas and his future.
Konyu is an animation veteran, and it shows. His characters are deformed, with huge heads, spindly bodies, and beady eyes, the likes of which normally totter around on screen, not in print. His outstanding color design is so vibrant it's almost too gorgeous for comics. His design aesthetic is wholly original and captivating, with excellent panel composition as well. I was so stunned by his lovely art that I futilely casted about for comparisons, finally settling on only slight similarities to the classic comic work of Scott Morse, children's picture book artist Oliver Jeffers, and lowbrow graphic artist Shag, but Konyu is clearly forging his own distinctive path.  While his art style initially appears to be wholly digital, not hand drawn, it's a welcome bonus to find a brief process section at the end of the book to lift the curtain on his magic. 
All the pretty pictures in the world can't cover up bad writing, so it's a particular delight to find Konyu excelling on both fronts in his first professional attempt at the graphic novel format. I can't wait to see what he cooks up next.
The Junction is now available in print and digital from Titan Comics.