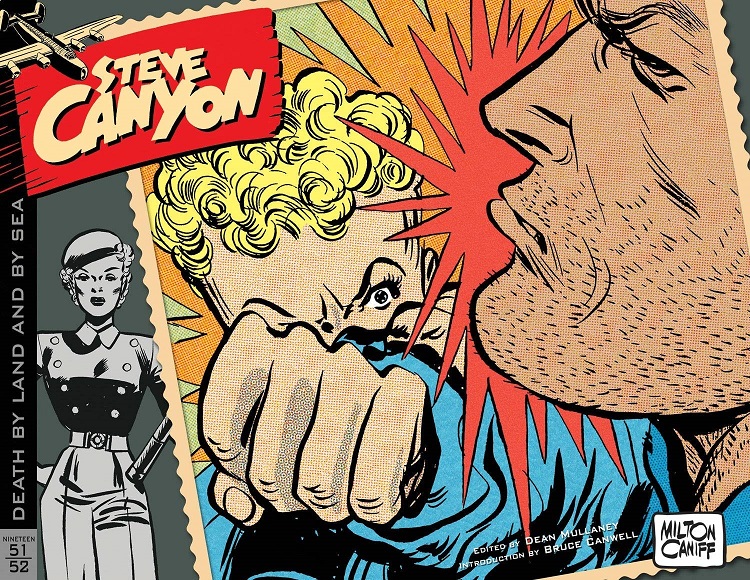 Since January 2012, the Library of American Comics, by way of IDW Publishing, has been releasing collections of Milton Caniff's Steve Canyon newspaper comic strips. Volume 3 was released in January 2013 and presents the strips from January 1, 1951 to December 31, 1952, covering the 5th and 6th year of the strip's 41-year run. While the Korean War raged on in the real world, Air Force Major Steve Canyon was sent around the globe conducting official and unofficial missions. Library of American Comics associate editor Bruce Canwell wrote the essay "Promotions of Every Stripe," which provides annotations to the strips as well as comparisons to Caniff's previous strip, Terry and the Pirates.
The book opens with about the last two weeks of a story. Steve is briefly in the clutches of Herself Muldoon, which he escapes thanks to help from Cheetah. Herself gets away, leaving behind her daughter in true villain fashion, but it's hard to believe one man she sneaked past didn't notice considering how close they got.
Steve's next assignment is a secret assignment into Red China to rescue prisoners. He is assisted by Foo Ling, a regrettable Asian caricature who speaks broken English and on Sundays his skin drawn yellow. Lieutenant Breck Nazaire and Dr. Deen Wilderness, who hides her credentials and poses as a nurse so she can help the war effort, return to the strip. They grow romantically interested in one another which almost derails the mission. This humanizes these characters, who strive to make up for their mistake. They risk all and neither comes away unscathed.
Off to Hong Kong, Steve and Foo Ling work to break up a white slavery ring involving the Duchess of Denver, whom Foo Ling knew from vaudeville, and her creep of an abusive husband, Fungo. Steve and the Duchess think they have safe passage until Captain Curly Kew shanghais them, for crew and companionship respectively. The trip is dangerous as Kew is delivering goods to the Chinese in spite of a United Nations embargo, but they turn on him and sink his ship while Steve and the Duchess are trapped below. Speaking of dangerous, Caniff gets a little racy as Curly was hoping to get the Duchess in a revealing sailor's shirt, but she noticed in time and turned it around, avoiding a scandal in every city the strip appeared. Caniff's drawing of her from the back as she changes is very alluring.
After surviving in the harsh ocean and with harsh navy men, Steve gets what all around him think is a terrible assignment, serving on Eel Island under Colonel Sam Index, an overly jealous man whose wife Delta gives him reason to be. The situation grows more uncomfortable when it's revealed she and Steve have a past together. With the help of two young lieutenants, Bucket and Fitch, traitors are discovered on Eel Island. The young men are fun characters and I hope to see Steve team up with them again. Steve's nobleness is on display in his dealings with Index, whose flaws compromise his command.
Steve is sent to Maumee University to help protect Dr. Summit and his experiments on quick-drying cement. As cover, he is going to be seen dating the doctor's secretary, who turns out to be Summer Olsen, who was introduced to the strip on May 29, 1949 as Summer Smith. She was engaged to Leyton Olson, who is M.I.A. from a mission Steve sent him on, and had his child. While the Air Force's concern proves valid and a mystery needs to be solved, love blooms between Steve and Summer, which has huge ramifications for the strip moving forward. They almost get married until she receives a telegram from Leyton Olson. Heartbroken, Steve races away on another mission before Caniff delivers an interesting twist for readers.
Wise-cracking Miss Mizzou makes her strip debut wearing only a trench coat. She catches a plane out of the Alaskan territory with Steve and others. A fog rolls in and they crash in the Canadian wilderness. A French Canadian, Bonbon, is hiding from the Royal Canadian Mounted Police and takes the survivors prisoner so they don't to give him away, but it's likely the authorities will come looking since one of the passengers stole a diamond necklace. Caniff delivers another smart plot as the culprit is revealed and before they get back to civilization, the story switches from mystery to adventure as a distraught Mrs Himmerskorn who attempts suicide by roaring rapids that had for Sourdough Falls. Even though presented in static panels, the presentation is thrilling.
The last two months of the strip find Steve reuniting with Summer, but she is working as a secretary for his former boss, the wickedly entertaining Copper Calhoon. Unfortunately the job pays so well that Summer puts up with Copper's around-the-clock tasks, which puts a monkey wrench into any wedding plans. Steve gets promoted to Lieutenant Colonel Canyon and transfers to Indian Cape where the locals aren't too pleased with the Air Force.
I found myself utterly impressed with Milton Caniff's artwork as I dove back into the world of Steve Canyon. He is in such command as he creates characters with varied facial expressions that make their emotional state obvious. Panels are packed with details for the costumes and settings that make the strip play like a movie. His use of blacks to create shadows and his decisions to not include background detail at times helps elevate the art. If there was any knock, some of the women do have similar facial features.
Even though the book opens during the conclusion of a story, The Complete Steve Canyon, Volume 3 makes a perfect introduction to the strip and Milton Caniff.