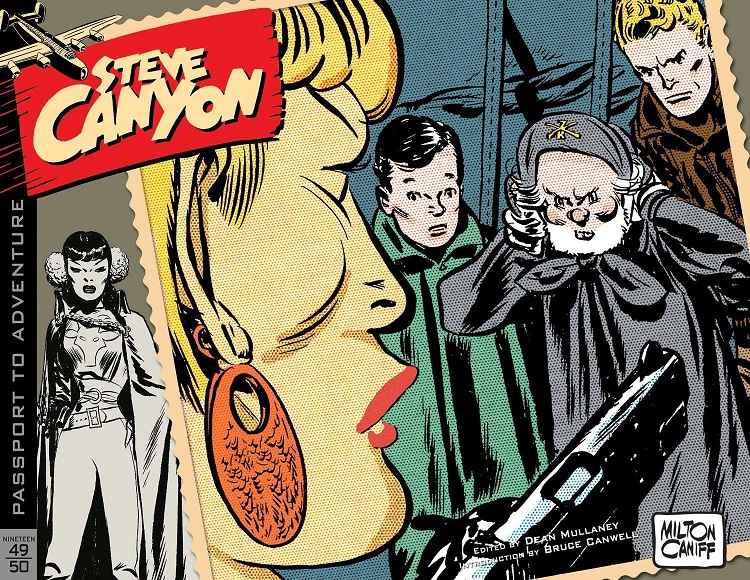 Since January 2012, the Library of American Comics, by way of IDW Publishing, has been releasing collections of Milton Caniff's Steve Canyon newspaper comic strips. Volume 2 presents the strips from December 30, 1948 to December 31, 1950, covering the third and fourth year of the strip's 41-year run. Library of American Comics associate editor Bruce Canwell wrote the introductory essay "A Return Ticket," which covers the strip's audience-participation campaign that had readers "nominate the film that best reflected American life," and how both current and historical events impacted the plotlines.
As 1949 begins, Steve is still a pilot-for-hire and he has taken a job running an airlift into the fictional Asian county of Damma only to later discover he is working for Copper Calhoon, whose wicked, ill treatment of others is always funny to read. Steve takes Reed Kimberly on as a crew member, a decision fraught with own problems as the kid helps the troublemaker Cheetah stowaway and is the cause of Steve frequently fighting with hothead Dogie Hogan. Happy has a surprising way to handle Cheetah when she pulls a gun on the crew during flight.
Copper has no qualms about sending Reed to meet with the daughter of the local natives leader who turns out to be Princess Snow Flower. A romance blossoms, but before much happens rebels overrun Copper's camp and Dogie inserts himself to Reed's frustration.
Steve's next job is for Romulus Brandywine who employs Summer Smith as a secretary, who will becomes a longtime love interest of Steve. Romulus wants to fly into China where a civil war is raging to assist the government against rebels. On the government side is an international group of dubbed the Dragonflies. Their leader is Oley, who has a relationship with Summer, making her flirtations with Steve awkward,. This love triangle gives the strip a soap opera feel during this story. Spies abound in the Dragonflies camp, and they try to get the men to turn on each other. I finally get to see Steve allowing Oley out on his fateful mission that is often talked about during Summer's appearances.
Female speed flier Doe Redwood joins Steve and the Dragonflies, and is given an undercover assignment with Steve. The whole thing goes sideways when a young woman recognizes Steve and they fall into the hands of Captain Shark. Steve and Doe then help the children at an orphanage, which finds Steve caught up in a rope trailing a plane, in the most ridiculous stunt of the strip.
Ending up on a train, Steve dyes his hair and beard to pose as a Russian soldier. Not only can't he speak the language, but the soldier has a wife, Madame Lynx, and a mission that awaits involving an American, Mr. Ganglia, selling a computer to help foreign militaries. Working for Ganglia is Steve's former secretary Feeta Feeta.
After that story concludes, Steve disappears from the strip for four months, returning after having asked for active duty "when the business in Korea started." Readers get two adventures over that time: one with Dogie and the Princess deep in China, and another featuring surprise returning characters. The book concludes with Steve a prisoner of M'sieu Gross (Mr. Big), a criminal in Indo-China who has been shipping war goods to the Red Star Guerillas.
Steve is much more an adventurer in these stories though there a number with a military influence and there is no lack of romance. Although set up in believable manners, and probably because it's early in the strip's run, characters return more often than expected. With Reed as a main focus for long stretches, it feels like Caniff is trying to capture the interest of young readers.
The art is the usual high standard I have come to expect from Caniff. The characters and locations exhibit impressive details, from facial expressions to texture details. The shadows from the inks create depth within scenes. Action is evoked in the panels by characters and vehicles.
The Complete Steve Canyon, Volume 2 is marvelous display of Caniff's skills as an artist and a writer as it sets a high mark for adventure comic strips. The characters are memorable and it's fun to see Steve Canyon in his early days before becoming a solider.