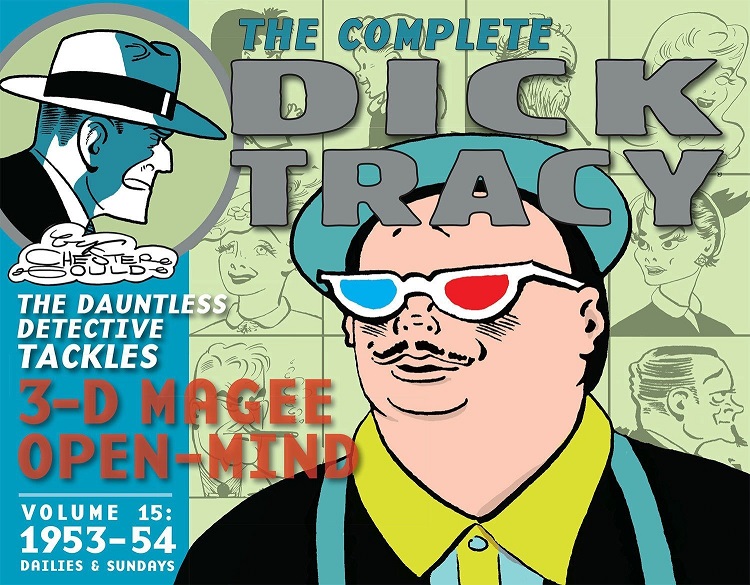 Chester Gould's Dick Tracy comic strip debuted on October 4, 1931 named after the lead character, a square-jawed, yellow-hat-and-jacket-wearing police detective. In 2007, the Library of American Comics and IDW Publishing began publishing The Complete Dick Tracy. Volume 15 presents the dailies and Sunday Strips from April 19, 1953 – October 24, 1954. The book has an introductory essay by consulting editor Max Allan Collins, "A Good Samaritan…Stabbed to Death," which provides commentary on the strips and stories included.
The book opens with Detective Dick Tracy in the middle of a case. Odds Zonn and his daughter Little Wings are suffering radiation poisoning from a special paint he used in a crime. When she is helped by a crotchety doctor from Switzerland, he comes out of hiding for the cure, armed and dangerous, causing turmoil in the hospital.
The next story, which ran for seven months, begins when hillbilly B.O. Plenty's rich brother Kincaid, aka Canhead, comes to town. He owns 32 oil wells and has been married five times. His ex-wife Pony, with the help of 3-D Magee, a man good with a knife, is blackmailing Canhead for $100,000 to not report a dead body lodged in one of this oil wells. To show how ruthless 3-D is, he harms B.O.'s children. Later, they place Canhead in an explosive vest and eventually leave him in the woods to die. Gould creates good suspense as the time ticks by until the vest blows up. Miss Smithly pays a price for being a good Samaritan in the Canhead case. Her sister Chick, an actress, works with Tracy to catch the crooks. As the net tightens, Pony and 3-D turn on each other.
Just as the Canhead case is wrapping up, Junior stumbles across Tracy's next one, as a baby's voice is heard crying in the woods. They find a baby hidden inside a tree with an insulated space. While inspecting the site, the mother, Mrs. Green, shows up demanding her baby. She is arrested for child abandonment and put in jail.
Sticks and Dewdrop Hepbeat are using Green's baby to trick Dewdrop's ailing father, Mr. Richy. He disinherited her after she married a musician, but after "having" a child, she was reinstated to receiving an estate, worth millions. With Green in jail, Dewdrop is concerned the jig is up, so she suffocates her father. Sticks pays Green's fine, which naturally arouses suspicion. With Mr. Richy dead, the mother expects ten grand, the deal for using her baby to dupe the old man. Because they have to wait for probate, the Hepbeats hire her on as a nurse for $200 a month to fool the maid Hannah.
Readers sees Hannah find a broken tooth in Mr. Richy's bed. Green learns of the tooth and knows it means the old man was killed. She blackmails them for a bundle, but it backfires, and then their plan backfires. Dewdrop goes on the run, going to see Sticks' brother, Open-Mind Monty, who has an tiny knife protruding from his skull. Monty, who is involved in a nationwide stolen jewelry ring, seeks revenge against Tracy, but fails to outsmart him.
A massive flood causes the Plenty girls, Sparkle and Little Wingy, unbeknownst to their parents, to float away in a wading pool. They are rescued by a blind woman, Rainbow Riley, whose house is floating in the flood waters. After running aground, the trio finding refuge in a farmhouse, where the toupee-wearing Rughead, formerly known as Chrome-Dome, has been stashing fur coats. While the girls are rescued, Rughead remains on the loose when the book ends.
While readers of Gould's strip won't be surprised that in the end the good guys prevail and the bad guys and girls are punished, there are twists and turns in the plots that keep the stories of Volume 15 interesting for readers over the months they run. And it's especially delicious when the crooks turn on each other.
Gould and his team are in full control of the artwork at this midway point in the series. The characters look consistent throughout. The villains aren't as monstrous but a couple still have a unique look from Magee's 3-D glasses to the tiny knife in Monty's head. There are some great panels of Tracy shooting crooks in the eye and head.